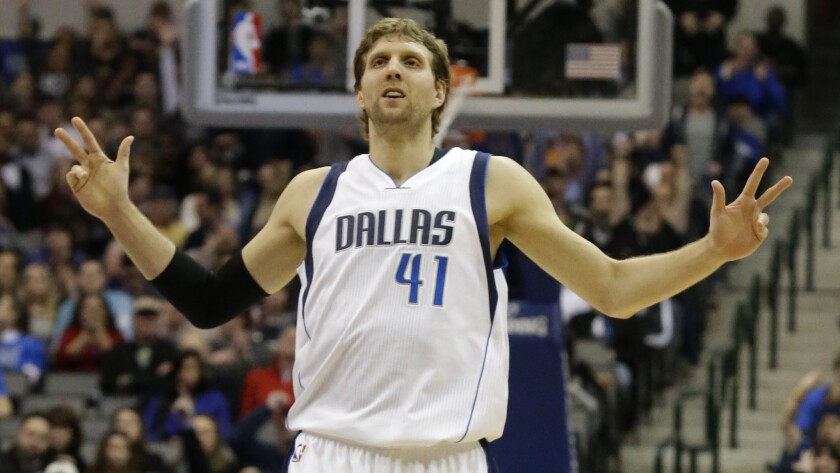 The Lakers (16-45) return home on Sunday, after a three-game road trip, to host the Dallas Mavericks (40-24) at Staples Center.
With four-straight losses, the Lakers face a Mavericks squad that has dropped two in a row. Dallas is currently in sixth place in the Western Conference, while the Lakers are in 14th.
Davin Harris (hand) and Chandler Parsons (ankle) have been sidelined recently, may return to action against the Lakers.
Nick Young is still dealing with a knee injury. The Lakers will play without Ronnie Price (elbow), Kobe Bryant (shoulder), Julius Randle (knee) and Steve Nash (back), all done for the season.
Key matchup
In his 17th season, Dirk Nowitzki is still one of the Mavericks' leading scorers at 17.4 points a game, although his shooting percentage has dipped to 45.8% from the field and 35.3% from behind the arc.
Dallas is one of the league's better offensive squads, averaging 104.5 points a night.
The Lakers have to deal with Nowitzki, likely with players like Carlos Boozer, Jordan Hill, Ed Davis, Ryan Kelly and even Wesley Johnson, but the Mavericks have a roster loaded with scorers.
Both Boozer and Hill are important scorers for the Lakers, although it's rare for both to have big night simultaneously.
X-factor
The Lakers need to find a way to contain Monta Ellis, who is averaging 19 points a game, along with Parsons at 15.4 (presuming he plays), and even newcomer Amar'e Stoudemire, recently picked up after he was cut by the New York Knicks.
Jordan Clarkson, Jeremy Lin and Wayne Ellington have been the primary drivers of the team's offense of late. Clarkson is coming off a career-high 25 points in a loss to the Memphis Grizzlies.
Outlook
Dallas is still fighting for postseason position, while the Lakers are looking to play spoiler.
Expect the Mavericks to extend the Lakers' losing streak to five.
Email Eric Pincus at Pincus at eric.pincus@gmail.com and follow him on Twitter @EricPincus.
---