Lakers draft Julius Randle with 7th overall pick, 2014 NBA draft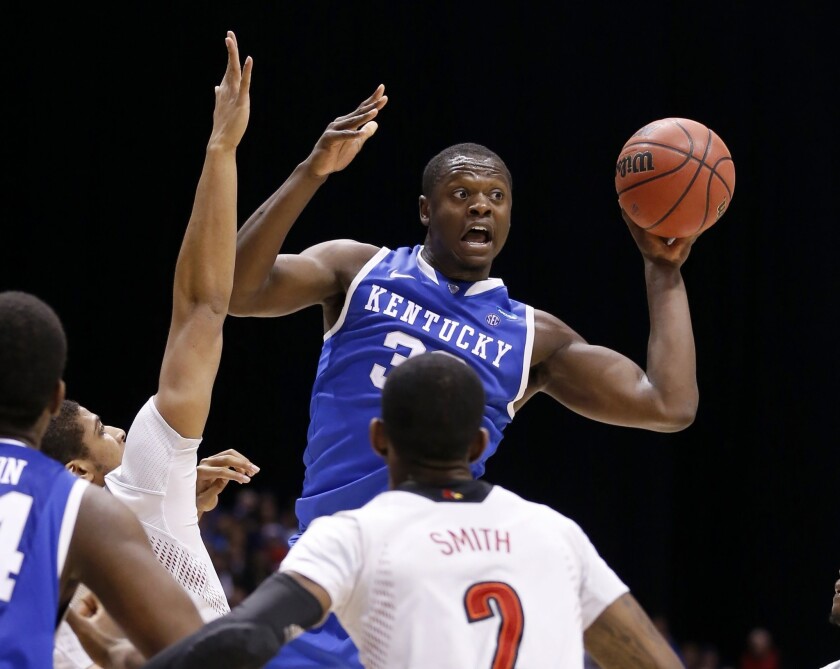 With the seventh overall pick in the 2014 NBA draft, the Lakers selected Kentucky forward Julius Randle
Randle is a 6-foot-9, 19-year-old left-hander who averaged 15.0 points and 10.4 rebounds, helping the Wildcats to the NCAA championship game, where they ultimatel lost to Connecticut.
"He's got big-time skills," said General Manager Mitch Kupchak after the selection. "He can put the ball on the floor. He can drive and get to the rim."
"He plays and competes at a very, very high level. He loves contact," continued Kupchak. "Although I don't expect Kobe [Bryant] to talk to him until January, I think he'll like him."
Bryant has a reputation for being hard on rookie teammates.
Reports surfaced that Randle might need surgery to remove a screw from his foot after a high school injury, but the forward recently denied surgery was under consideration.
"I met with the best foot doctor in the country, and he said he wouldn't do anything for my foot," said Randle, after his workout at the Lakers' facility in El Segundo last week. "There's no scheduled surgery or anything. I feel healthy, athletic. I'm moving great -- no problem recovering. I'm ready to go."
"He had surgery about 18 months ago. He's been cleared," said Kupchak. "We just felt that his talent was such, that even if he did have to miss a period of time ... it would not impact his career. At his age, even if he does reinjure, there's no reason why he can't play 12-14 more years at a very, very high level."
Randle also auditioned for the Lakers, in an impressive workout against player development coach (and former Lakers power forward) Mark Madsen.
The Lakers passed on the opportunity to draft a number of available players at No. 7, including Indiana's Noah Vonleh, Louisiana-Lafayette's Elfrid Payton, Creighton's Doug McDermott, UCLA's Zach LaVine, Michigan's Nik Stauskas, Syracuse's Tyler Ennis, NBA D-League's P.J. Hairston and Kentucky's James Young -- all players who worked out for the Lakers in El Segundo.
The first six players taken in the draft ahead of the Lakers were Kansas' Andrew Wiggins (Cleveland Cavaliers), Duke's Jabari Parker (Milwaukee Bucks), Kansas' Joel Embiid (Philadelphia 76ers), Arizona's Aaron Gordon (Orlando Magic), Australia's Dante Exum (Utah Jazz) and Oklahoma State's Marcus smart (Boston Celtics).
Kupchak indicated that Randle was higher than seventh on the Lakers' draft board.
Email Eric Pincus at eric.pincus@gmail.com and follow him on Twitter @EricPincus.
---
All things Lakers, all the time.
Get all the Lakers news you need in Dan Woike's weekly newsletter.
You may occasionally receive promotional content from the Los Angeles Times.