Lakers owner Jerry Buss dies at 80
Jerry Buss and Magic Johnson.
(Ken Levine / Getty Images)
Jerry Buss, center, stands between Kobe and Vanessa Bryant after the Lakers defeated the Boston Celtics to win the NBA title in 2010. Kobe is holding up the trophy he won as series MVP.
(Lisa Blumenfeld / Getty Images)
Lakers owner Jerry Buss is interviewed after his team defeated the Indiana Pacers in six games to win the 2000 NBA championship.
(Ezra Shaw / Getty Images)
Coach Phil Jackson and owner Jerry Buss enjoy a Lakers victory party hosted by Buss and Jackson at the Mondrian Hotel in West Hollywood on June 16, 2002. The Lakers swept the New Jersey Nets in the NBA Finals.
(Kevin Winter / Getty Images)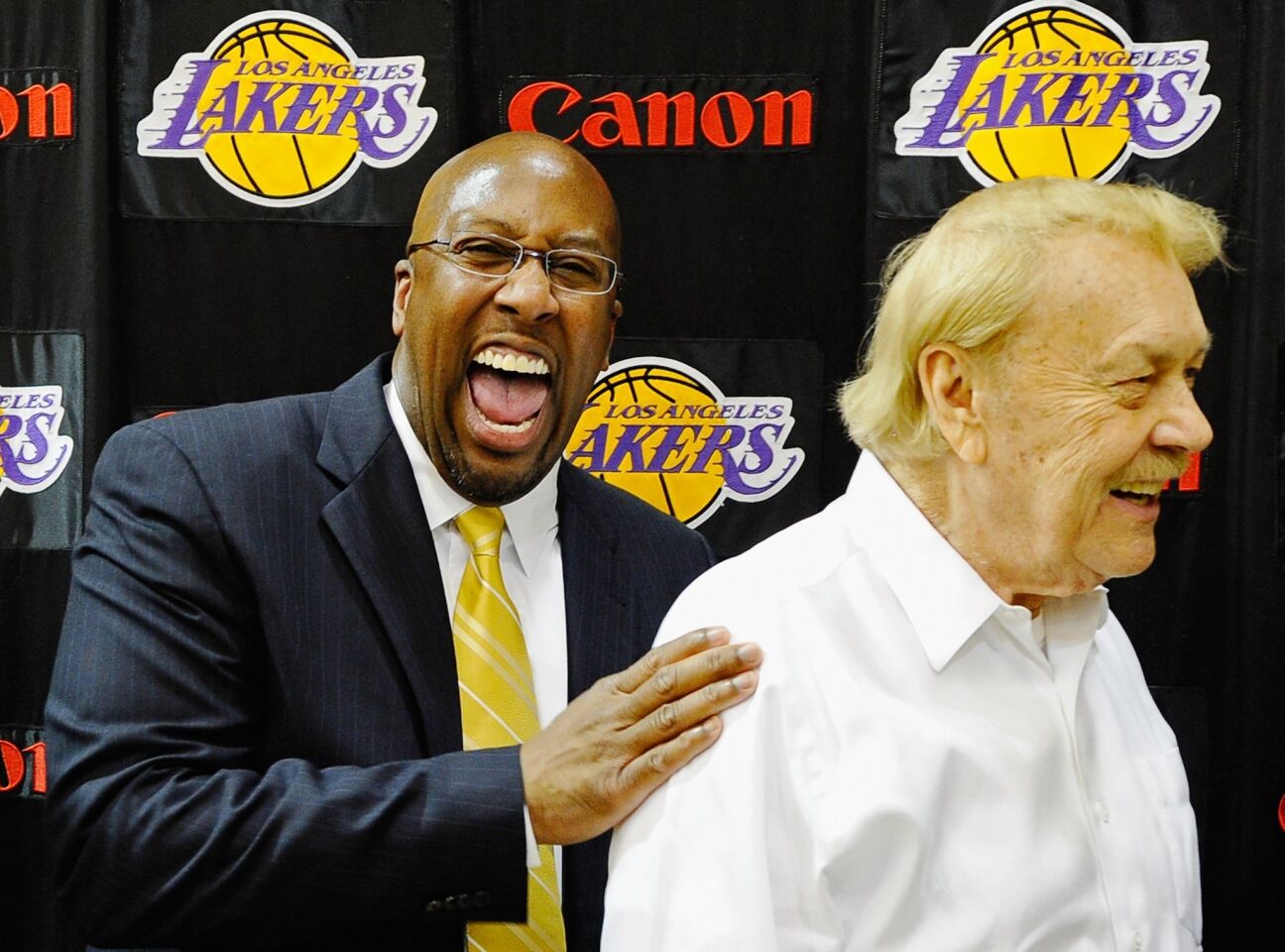 Mike Brown, left, the new head coach of the Los Angeles Lakers, laughs with team owner Jerry Buss after Brown's introductory news conference at the team's training facility on May 31, 2011 in El Segundo. Brown replaced coach Phil Jackson, who retired at the end of the season.
(Kevork Djansezian / Getty Images)
Los Angeles Lakers owner Jerry Buss, right, gives a thumbs up as he walks with his son Jimmy Buss after the NBA basketball team owners meeting in Dallas on Sept. 15, 2011.
(LM Otero / Associated Press)
Los Angeles Lakers owner Jerry Buss is doused with champagne as he holds the championship trophy after the Lakers defeated the Boston Celtics, 106-93, in Game 6 to win the 1987 title.
(Lennox Mclendon / Associated Press)
Kobe Bryant, with his daughters Natalia, left, and Gianna, is congratulated by Lakers owner Jerry Buss after receiving the NBA Most Valuable Player award in Los Angeles.
(Ric Francis / Associated Press)
After winning the NBA Most Valuable Player award, Shaquille O'Neal poses with Lakers owner Jerry Buss at Staples Center in Los Angeles.
(Andrew D. Bernstein / Getty Images)
Lakers owner Jerry Buss and son Jim listen along with player Matt Barnes to new head coach Mike Brown during a news conference in El Segundo.
(Wally Skalij / Los Angeles Times)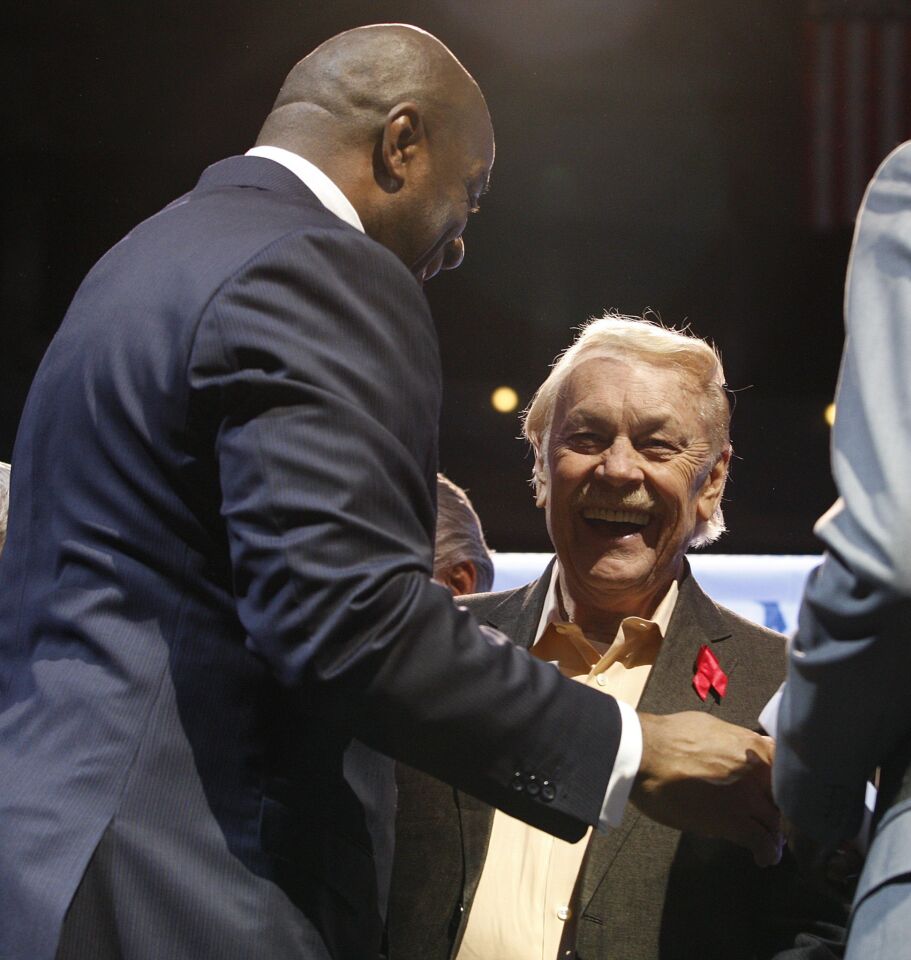 Ervin "Magic" Johnson, is greeted by Lakers owner Jerry Buss at a Staples Center news conference marking the 20th anniversary of Johnson's retirement as a professional basketball player.
(Gary Friedman / Los Angeles Times)
Jerry Buss, with Lakers legends Magic Johnson, Kareem Abdul-Jabbar and Pat Riley at his side, speaks during his Pro Basketball Hall of Fame enshrinement in Springfield, Mass.
(Elise Amendola / Associated Press)
Jerry Buss
takes center stage, along with Kobe Bryant and Derek Fisher, during the Lakers' ring ceremony after claiming their 16th
NBA
championship.
(Wally Skalij / Los Angeles Times)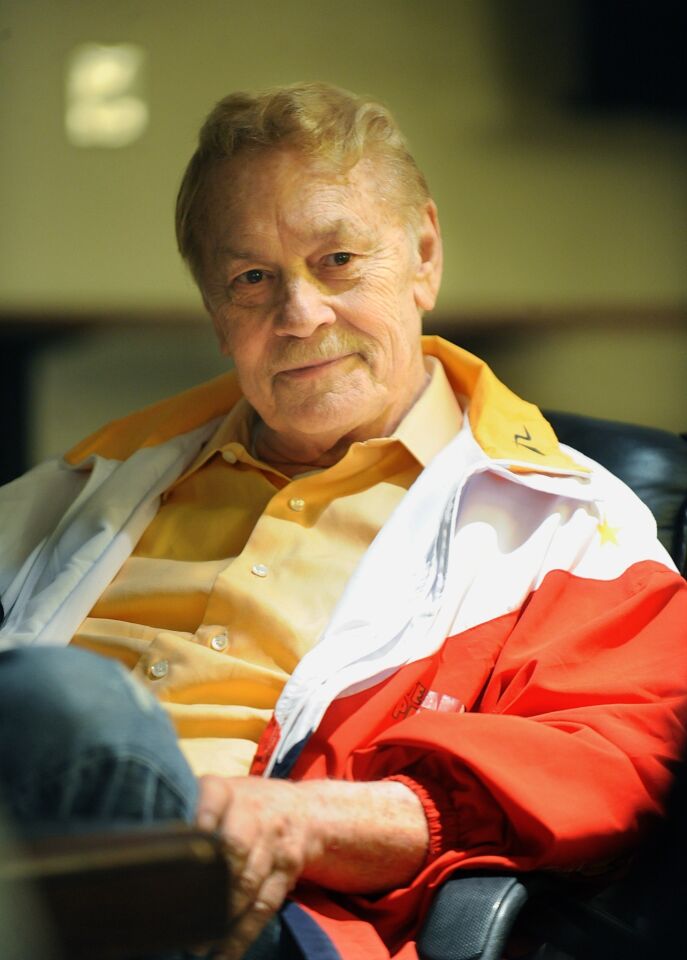 As owner of the Lakers,
Jerry Buss
would hold a private interview session with beat reporters before the season began.
(Wally Skalij / Los Angeles Times)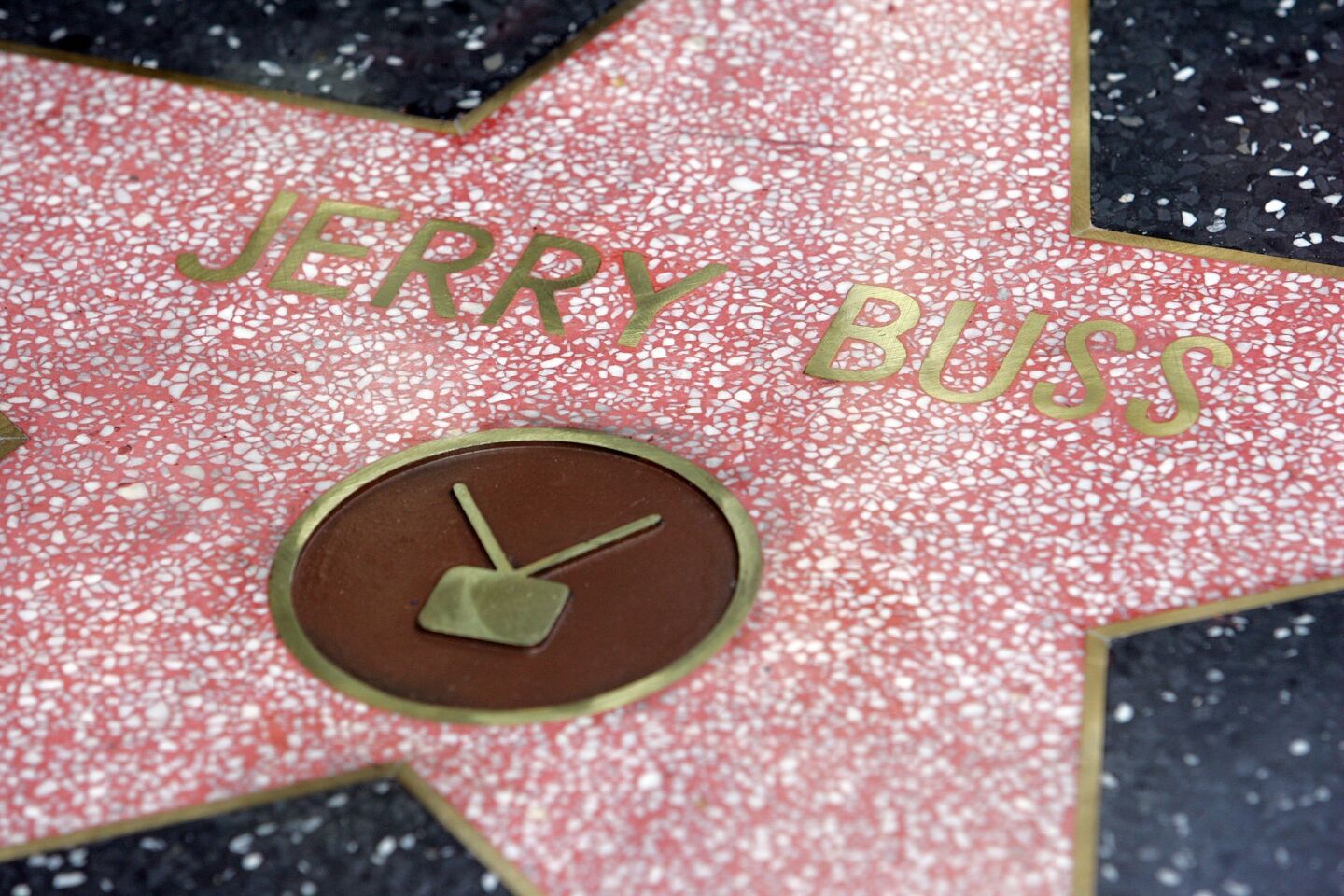 A look at Jerry Buss' star on the Hollywood Walk of Fame. He was honored for his work as a television producer and for creating the concept of regional programming.
(Spencer Weiner / Los Angeles Times)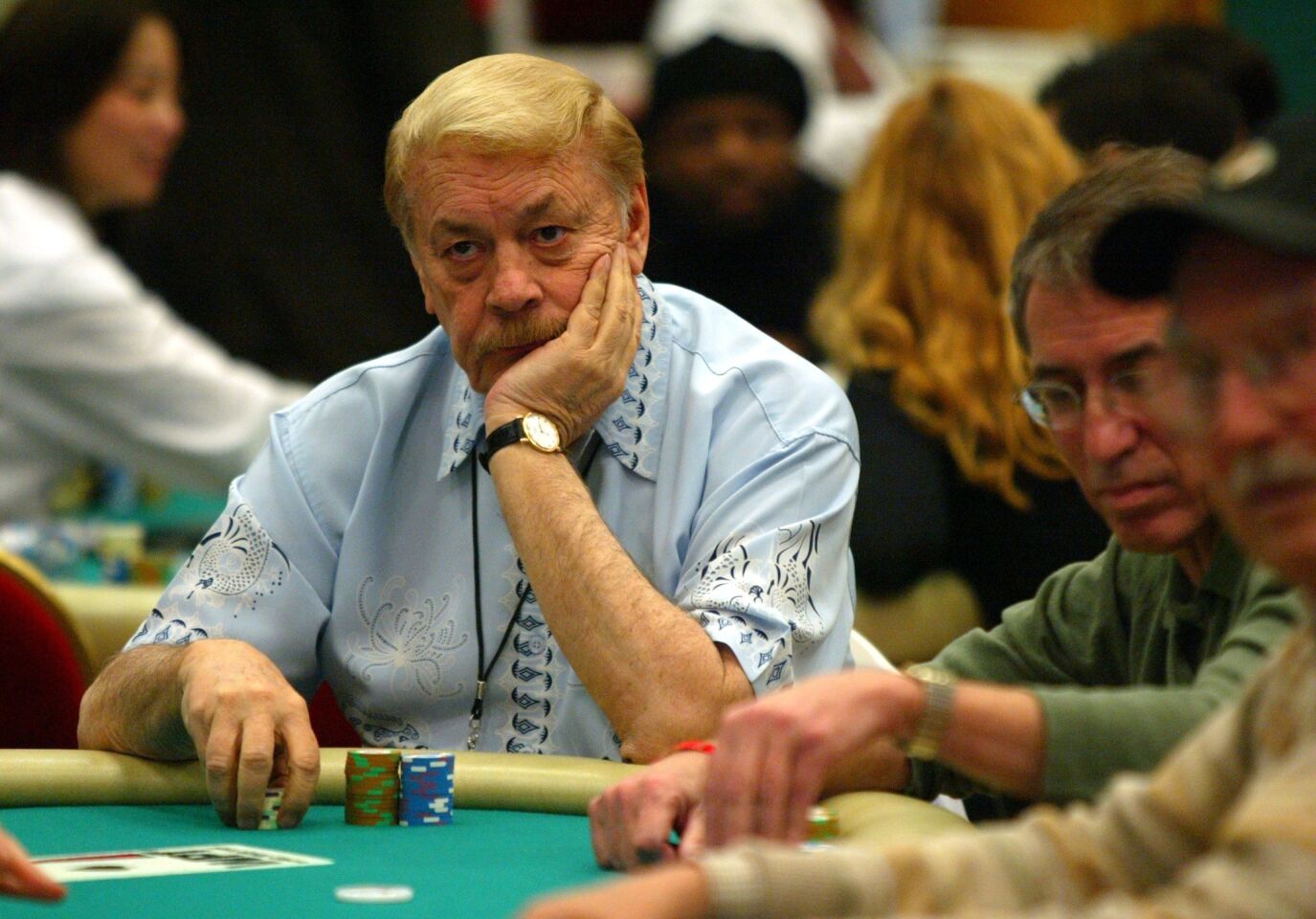 Jerry Buss
, taking part in one of his favorite activities, plays in a World Poker Tour celebrity tournament at Commerce Casino.
(Bryan Chan / Los Angeles Times)
Jerry Buss
holds aloft the
NBA
championship trophy after the
Lakers
defeated the
Indiana Pacers
for the 1999-2000 title, the franchise's first since the Showtime Era in the 1980s.
(Tom Hauck / Allsport)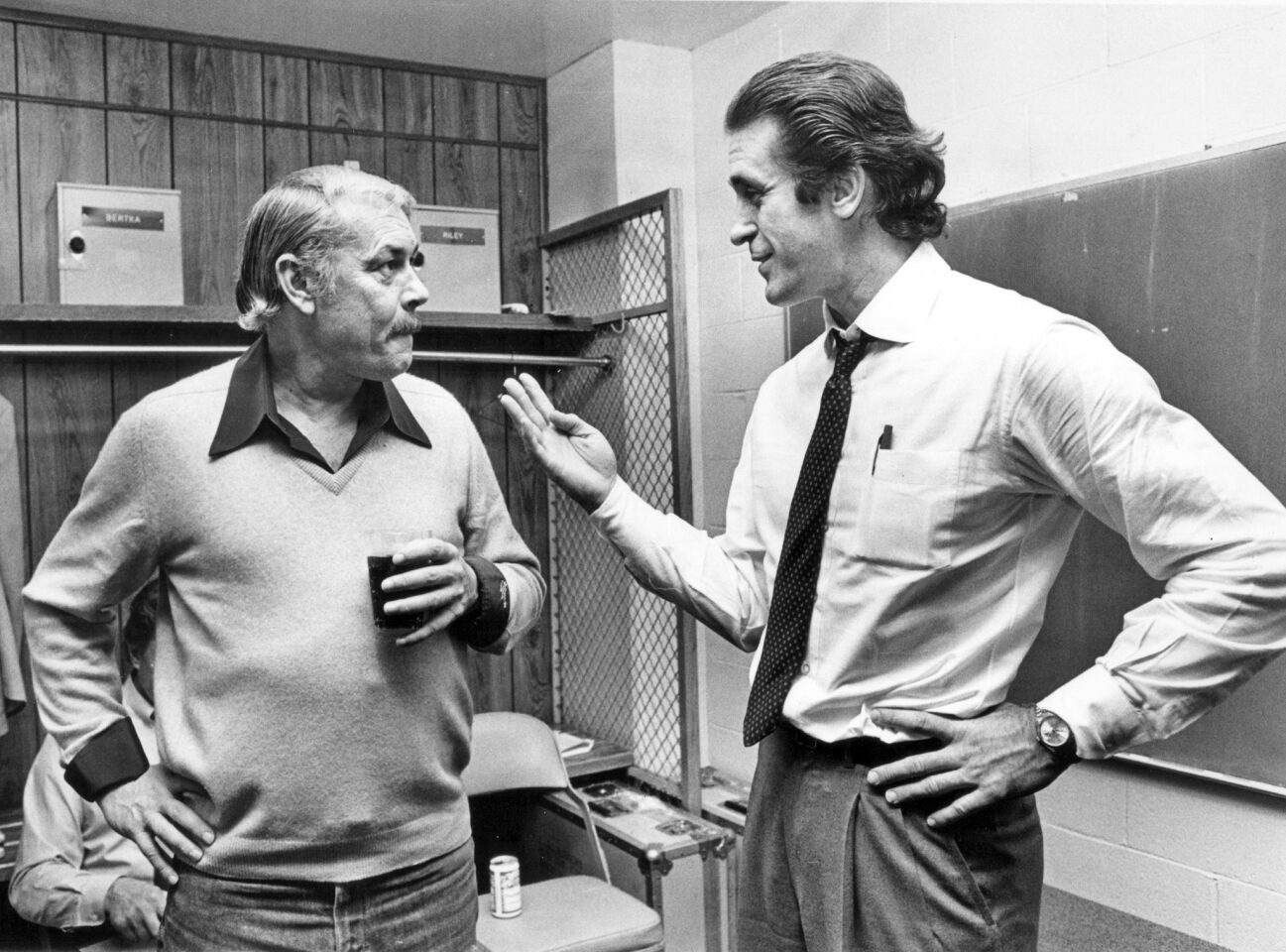 Jerry Buss
talks to Coach Pat Riley, who led the Lakers to four championships in the Showtime Era of the 1980s.
(Gary Friedman / Los Angeles Times)
Hall of Fame guard
Magic Johnson
embraces
Jerry Buss
after the
Lakers
won the 1979-80
NBA
championship, the first of 10 with Buss as the franchise's owner.
(Gene Pushkar / Associated Press)
Jerry Buss
greets Lakers center
Kareem Abdul-Jabbar
during a meeting in the offseason.
(Jose Galvez / Los Angeles Times)
Jerry Buss
bought the
Lakers
from Jack Kent Cooke in 1979, along with the Forum, the
NHL
's
Kings
(which he later sold), and a ranch in the Sierra Nevada for a total of $67.5 million.
(George Rose / Allsport)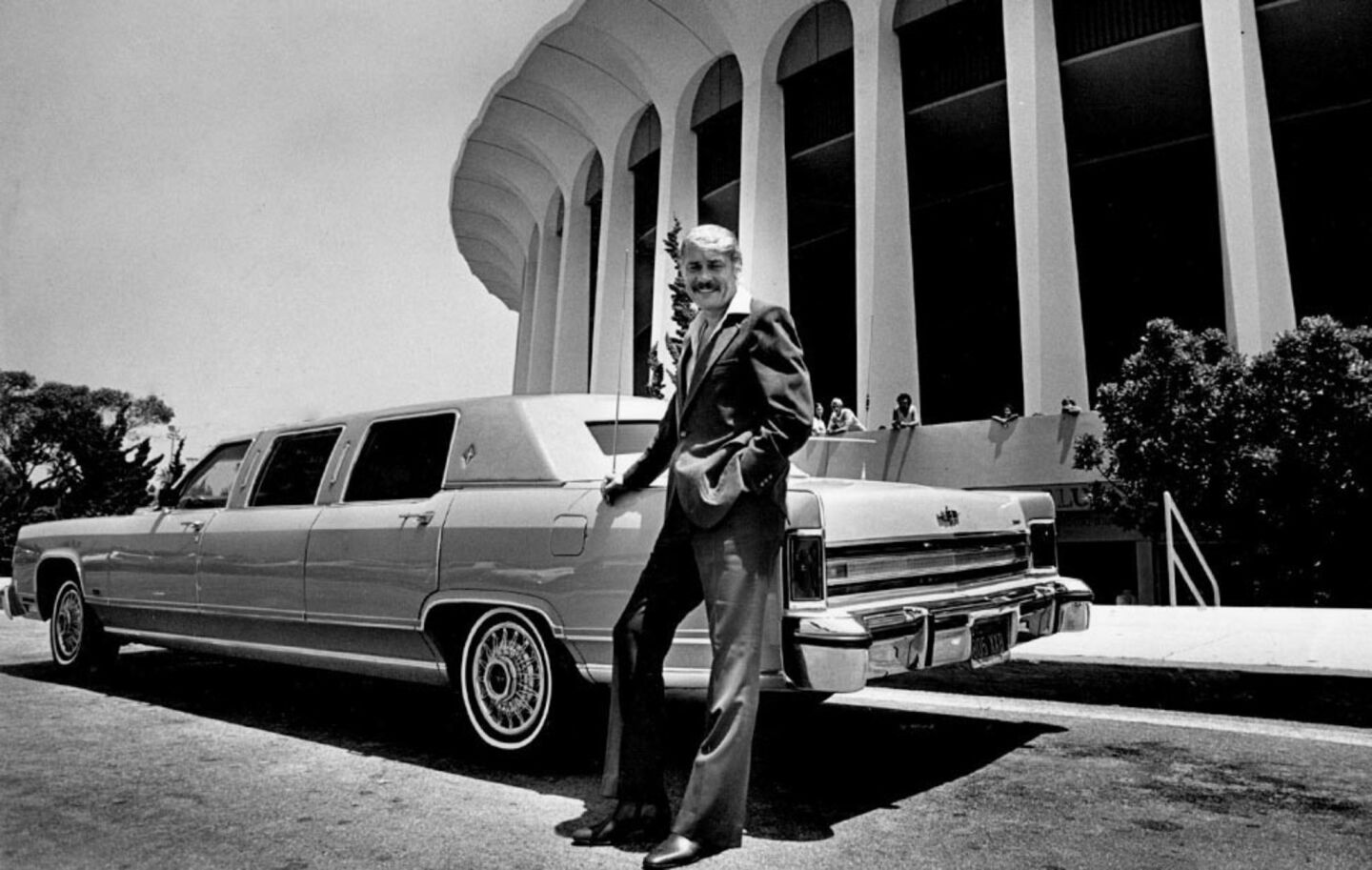 Jerry Buss received a doctorate in physical chemistry from USC but it was a $1,000 investment in a Los Angeles apartment building that ultimately sparked a career in real-estate investment.
(Dave Gatley / Los Angeles Times)
Jerry Buss, the longtime owner of the Lakers whose penchant for showmanship helped turn the game of basketball into "Showtime" and who led the team to 10 NBA championships, died Monday. He was 80.
A self-made millionaire who built his fortune in real estate, Buss bought the Lakers in 1979. He charted his successful course with marquee players Kareem Abdul-Jabbar, Magic Johnson, Kobe Bryant and Shaquille O'Neal, Hall of Fame coaches Pat Riley and Phil Jackson, celebrities sitting courtside and Laker Girls dancing during timeouts.
"I really tried to create a Laker image, a distinct identity," Buss said. "I mean, the Lakers are pretty damn Hollywood."
PHOTOS: Jerry Buss through the years
It was a remarkable winning streak for a man who dug his way out of a hardscrabble youth.
A Depression-era baby, Jerry Hatten Buss was born Jan. 27, 1933, in Salt Lake City. His parents divorced when he was an infant.
His mother struggled to make ends meet as a waitress in tiny Evanston, Wyo., and Buss remembered standing in food lines in the bitter cold.
Later, Buss earned a science scholarship to the University of Wyoming. At 19 he married a coed named JoAnn Mueller, and they would eventually have four children: John, Jim, Jeanie and Janie.
By the mid-1950s, the couple had moved to Southern California, where Buss earned a doctorate in chemistry at USC. He worked briefly in the aerospace industry, and in the late 1950s, he and a colleague, Frank Mariani, tried their hand at real estate.
They scraped together a few thousand dollars to buy a 14-unit apartment house in West Los Angeles and, to save money, did all the repairs themselves. Their real estate company kept growing as they invested in residential properties, hotels and office buildings.
In 1979, Buss and his partners bought the Lakers (along with the Forum in Inglewood), the NHL's Kings and a 13,000-acre ranch in Kern County for $67 million from Jack Kent Cooke.
At the time, the NBA had fallen by the wayside and several teams stood on the brink of bankruptcy.
But to Buss, the Lakers looked like a gem in the coal bin. They had a dominant center in Abdul-Jabbar, and the team picked the effervescent Johnson out of Michigan State in the 1979 NBA draft.
Success came quickly. With former Lakers star Jerry West maturing into one of the most gifted general managers in the league, the team won an NBA championship in Buss' first season. Johnson, Abdul-Jabbar and Michael Cooper guided the Lakers to five titles.
The Lakers' next title era came with O'Neal; the precocious Bryant, whom they traded for after he was drafted out of high school; and Jackson as coach. The Lakers won three consecutive championships from 2000 through 2002.
The team then flamed out in the 2004 NBA Finals against the Detroit Pistons and traded O'Neal to the Miami Heat. At the same time, Jackson walked away.
After a few more disappointing seasons, Bryant demanded a trade, but Buss stood firm.
The Lakers, with Jackson back as coach and with Pau Gasol added to the team, defeated Orlando for the 2008-09 title. The following season, they beat Boston for another championship. It was their 10th and final title under Buss.
"Jerry Buss helped set the league on the course it is on today," NBA Commissioner David Stern said. "Remember, he showed us it was about 'Showtime,' the notion that an arena can become the focal point for not just basketball, but entertainment. He made it the place to see and be seen."
Former Times staff writer Mark Heisler contributed to this report.
ALSO:
Michael Jordan still picks Kobe Bryant over LeBron James
Lakers drop Suns despite Kobe's four-point, eight-turnover night
Lakers' Dwight Howard has 'got to get going," Jeff Van Gundy says
---
All things Lakers, all the time.
Get all the Lakers news you need in Dan Woike's weekly newsletter.
You may occasionally receive promotional content from the Los Angeles Times.