Pau Gasol limited at start of Lakers training camp, but he's healthy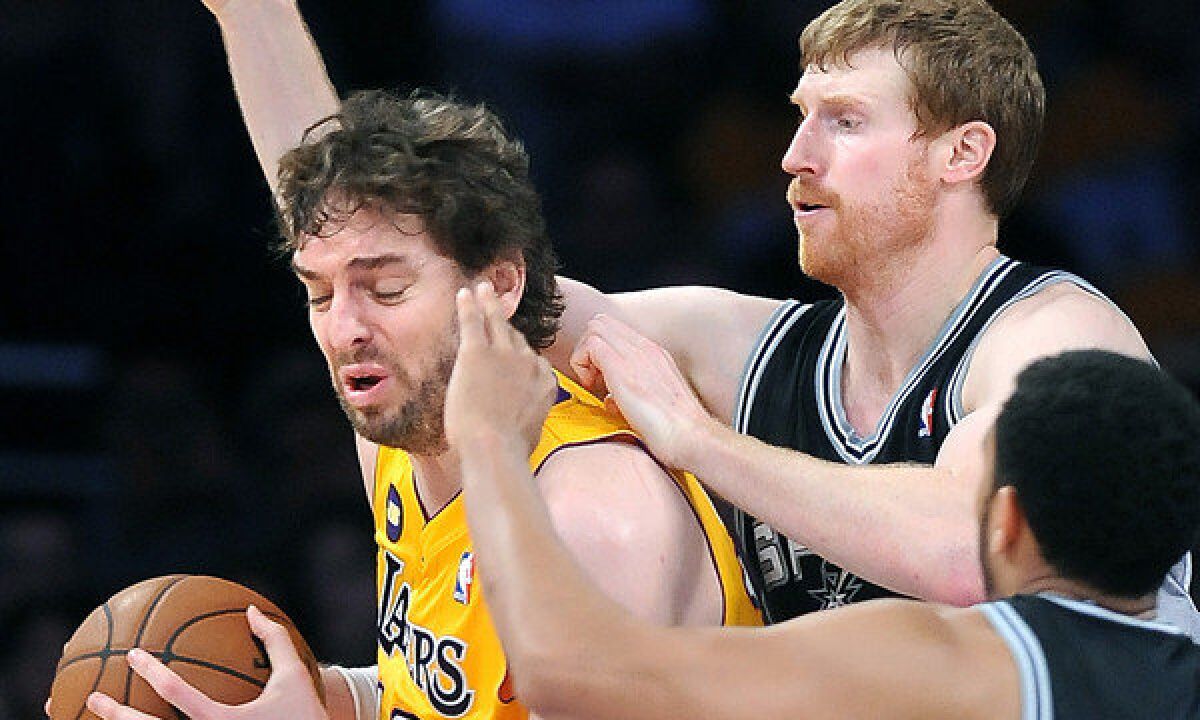 The Lakers opened training camp on Saturday by holding media day at their El Segundo practice facility.
Pau Gasol, who recently arrived in Los Angeles after spending most of the summer in Spain, is healthy after May procedures to help relieve tendinosis in both knees.
"It wasn't easy," Gasol said. "They had to put me on crutches for a few weeks, after the painful season that I had. It was what I needed to do in order to be healthy today."
Gasol missed 33 games last season with a variety of ailments (concussion, foot and knees). Instead of his typical summer of playing for the Spanish national team, the Laker forward/center simply rested.
"It was a painful recovery at first. After a week after my knee procedure, I had to get the stem cells out of my back and shoot them up to my tendons," he said. "Then I have to give time to the knees to recover and absorb what I injected. I had to wait until August to start working again and it's been good since then."
Has he fully recovered from the knee procedures?
"Training camp is going to be important ... I'm going to find out," Gasol said. "I can't wait to start practicing to see the results."
The Lakers are going to pace Gasol initially through camp.
"We're going to get into practices and get a feel to how the knees react, slowly because I haven't done really a lot of basketball stuff yet, any contact yet. We'll see how it feels," he said. "The goal is to be ready for opening night and whichever way it takes to get there, that's what we're going to do."
As long as he sees no ill effects from the increased activity, Gasol should be ready to play on Oct. 29 when the Lakers start the regular season at home against the Clippers.
"I like what I see," said Gasol of the Lakers' revamped roster. "I think there's a lot of talent, young talent, around the main players and the main players are hungry."
In addition to Gasol recovering from knee issues, Kobe Bryant is still rehabbing from a torn Achilles' tendon. Steve Nash is the healthiest of the three, but the Lakers will also monitor the veteran point guard's minutes to make sure he stays strong.
"A lot of people are overlooking us right, and that is fine," Gasol said. "We're unselfish. We're team basketball players. I know Kobe can't wait to return and be out there."
Where Gasol will play on the floor isn't quite clear. He may start at power forward alongside newcomer Chris Kaman -- or he may play center with Kaman coming off the bench.
Regardless, Gasol looks forward to being the team's primary inside option after the departure of Dwight Howard.
"My preference is to be more inside," Gasol said. "I also like to mix it up a little but the majority of the time I prefer to be inside where when I'm healthy, I'm a better player."
ALSO:
Are the Lakers better than the Clippers?
Lakers sign free agent center Dan Gadzuric
Kobe Bryant focuses on cutting down recovery time
Email Eric Pincus at eric.pincus@gmail.com and follow him on Twitter @EricPincus.
---
All things Lakers, all the time.
Get all the Lakers news you need in Dan Woike's weekly newsletter.
You may occasionally receive promotional content from the Los Angeles Times.