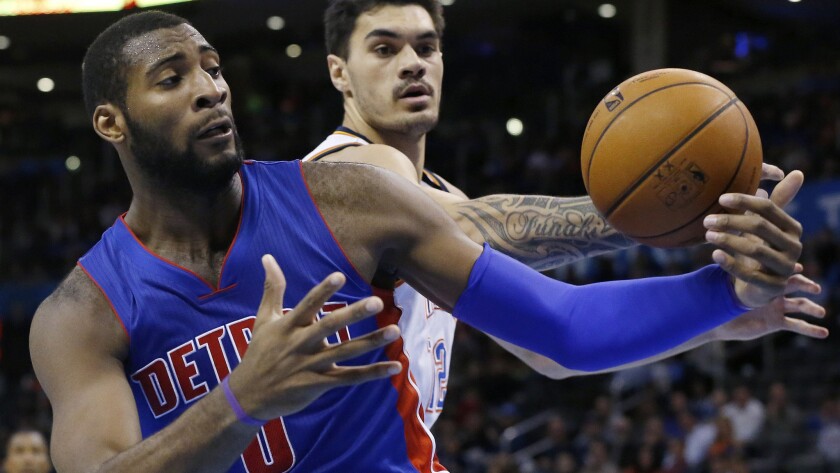 The Lakers (4-13) are undefeated against the Eastern Conference (3-0). On Tuesday, they'll have the chance to improve upon that with a visit to the Detroit Pistons (3-14), their first of three games in four nights on the road.
The Pistons have great size with Andre Drummond, Greg Monroe and Josh Smith, but they're a low-scoring team (91.9 points a night), struggling to win games this season.
So are the Lakers, although they manage to score 104.1 a night.
Detroit will play without Jodie Meeks (back). The Lakers will be without Xavier Henry (Achilles' tendon), Ryan Kelly (hamstring), Steve Nash (back) and Julius Randle (leg).
Key matchup
Coach Stan Van Gundy is still trying to figure out how to get the most from the combination of Drummond, Monroe and Smith.
Drummond's numbers have dipped from last year's 13.5 points and 13.2 rebounds a game to 10.6 and 11.8. He's still blocking 1.6 shots a night, but his field goal percentage has plummeted from 62.3% to 44.8%.
Monroe has dipped from 15.2 points to 13.8, but his shooting efficiency hasn't fallen off as dramatically (49.7% to 48.6%). The forward/center is a steady rebounder at 9.5 a night.
Smith is also down from 16.4 points to 13.0, and his field goal percentage is down from 41.9% to 37.7%.
Clearly the Pistons have some issues.
The Lakers need strong performances from their power players in Jordan Hill, Carlos Boozer, Robert Sacre and Ed Davis -- especially on the boards.
Additionally, if Kobe Bryant can apply pressure with a strong scoring performance, the Pistons may struggle to keep up offensively.
X factor
Point guard Brandon Jennings is leading the Pistons at 16.4 points and 5.8 assists a game. He's shooting relatively well at 42.5% from the field and 83.3% from three-point range.
Detroit can struggle to put points on the board. Forcing Jennings into a difficult night would be a big step toward claiming a victory.
The Lakers counter with Jeremy Lin and Ronnie Price, although Wesley Johnson, Wayne Ellington or even Bryant may match up situationally against Jennings.
Offensively, when Nick Young gives the second unit a scoring punch, the Lakers are a more formidable opponent.
Through seven appearances, Young is averaging 13.4 points a game while shooting just 39.5% from the field but 38.9% from behind the arc.
Outlook
The Lakers haven't shown any positive consistency this season. Winning in Detroit would be a baby step in that direction after their win Sunday over the Toronto Raptors (13-4).
Email Eric Pincus at eric.pincus@gmail.com and follow him on Twitter @EricPincus.
---