Lakers paid $129.5 million in salary, luxury taxes for early exit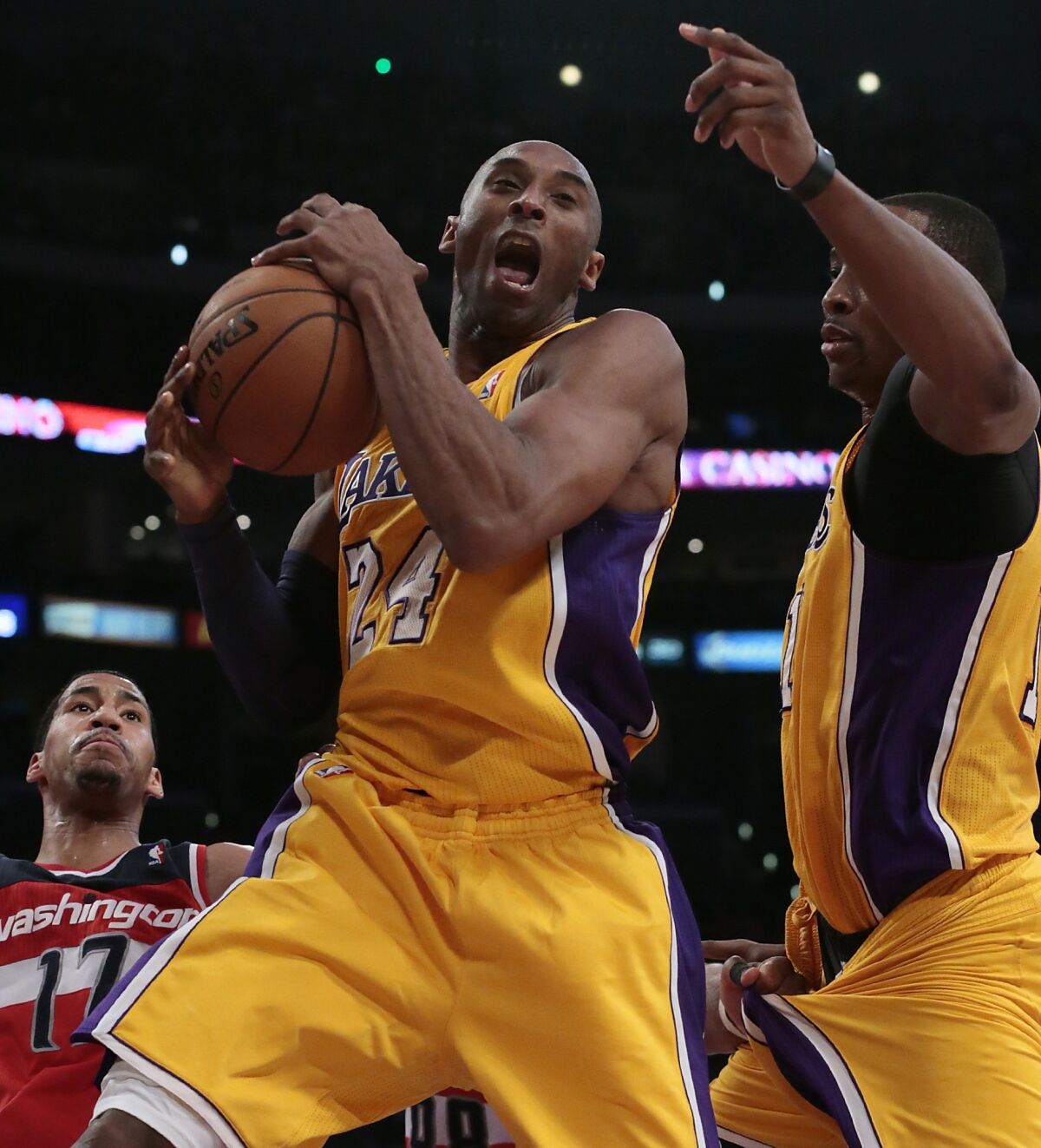 The Lakers spent $99.9 million in salary this season for a roster that went 45-37. Additionally, the team will pay $29.6 million in luxury taxes -- a total of $129.5 million to get into the playoffs and suffer a first-round sweep by the San Antonio Spurs.
HOOPSWORLD.com has a detailed breakdown of the Lakers' team salary.
Injuries were the major hindrance for the Lakers, who finished the regular season with a 28-12 record in their last 40 games. By the time the playoffs arrived, the Lakers had a skeleton crew on the floor, especially in the backcourt, playing without guards Kobe Bryant, Steve Nash, Steve Blake, Jodie Meeks and forward Metta World Peace.
The Miami Heat had the second-highest payroll at $83.4 million, paying $13.1 million in tax for a total of $96.6 million. Conversely, the Phoenix Suns spent the least amount of money this season at $53.2 million for the entire roster.
Dwight Howard ($19.5 million), Pau Gasol ($19.0 million) and Bryant ($27.8 million) combined to make $66.3 million -- more than the total payroll for 14 teams around the league.
The Lakers "only" have $68.1 million in fully guaranteed payroll next season but hope to retain Howard at a salary of $20.5 million. World Peace can opt out of his final year at $7.7 million.
The team holds an option on Meeks' $1.55-million contract, but he's expected to be brought back. Chris Duhon's $3.75 million is only guaranteed for $1.5 million. He's unlikely to return.
The Lakers have three unrestricted free agents in Earl Clark, Antawn Jamison and Howard. The team can also make Darius Morris, Robert Sacre, Andrew Goudelock and Devin Ebanks restricted free agents in July.
Ebanks isn't likely to get a qualifying offer from the team, which would make him unrestricted.
Bryant is set to earn $30.5 million next season as the highest paid player in the league.
Metta World Peace does the weather, talks Lakers season
'Eleven Rings:' Phil Jackson savors beating the Celtics in 2010
Staples Center, L.A. Live to offer complementary WiFi to guests
Email Eric Pincus at eric.pincus@gmail.com and follow him on Twitter @EricPincus.
---
All things Lakers, all the time.
Get all the Lakers news you need in Dan Woike's weekly newsletter.
You may occasionally receive promotional content from the Los Angeles Times.