Lakers: Week 12 predictions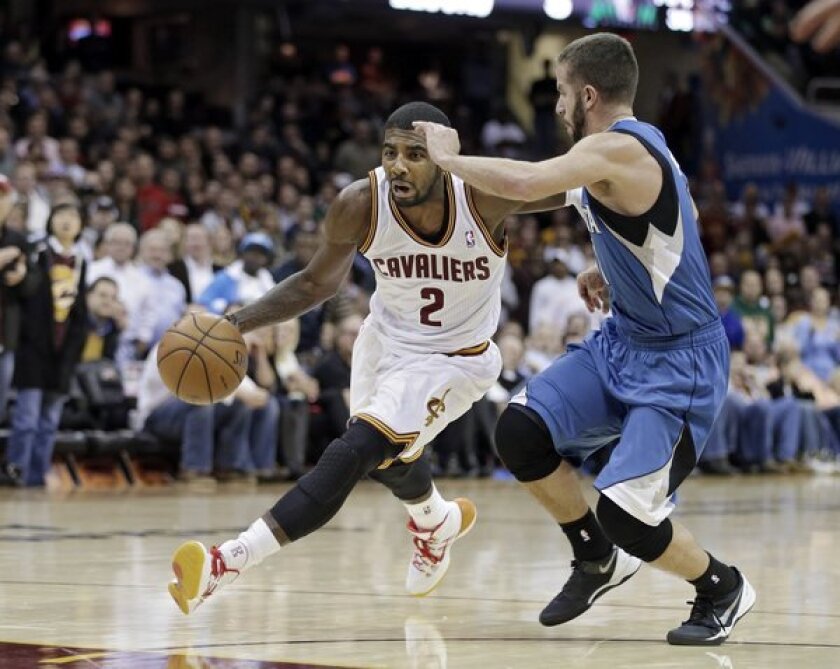 The Lakers play one final game at home before a seven-game road trip.
The team has lost 10 of 11 games without showing much sign that a winning streak of one is near.
Until the team gets at least some their injured players back (Kobe Bryant, Steve Nash, Steve Blake, Jordan Farmar and Xavier Henry), it's difficult to pick the Lakers in any game against any team.
Through 37 games, the Lakers have 14 wins, two behind cumulative expectations.
Tuesday vs. Cleveland Cavaliers
If there's a team the Lakers have a real shot to beat this week, it's the Cavaliers.
At 13-24, Cleveland has just three road wins in 19 tries this season. Of course, the Lakers also seemed to have the advantage at Staples Center against the Bucks, but Milwaukee pulled off a 94-79 win on Dec. 31 (and haven't won since).
The Cavaliers are coming off a 124-80 drubbing by the Sacramento Kings on Sunday night.
Point guard Kyrie Irving is an extremely difficult cover for a team like the Lakers, and even at full strength, they would struggle against him.
The Cavaliers recently acquired small forward Luol Deng from the Chicago Bulls. Anderson Varejao has taken over from Andrew Bynum as the team's starting center.
Perhaps Cleveland is the right opponent to help the Lakers break out of their slump -- but they'll need to survive Irving to do so.
Prediction: Cavaliers
Wednesday at Phoenix Suns
At full strength, the Suns might be the Lakers' most difficult matchup in the NBA, but Phoenix recently lost Eric Bledsoe to a knee injury.
The combination of Bledsoe and Goran Dragic -- along with the Morris twins (Markieff and Marcus) and young center Miles Plumlee -- has given the Lakers a lot of trouble.
Without Bledsoe, the Suns aren't as dynamic. Gerald Green is a formidable athlete and outside threat but he isn't the same threat to penetrate as Bledsoe.
If the Lakers had a full list of players, this would be a winnable game, but in their current straits, they don't look like a team about to upset the surprising 21-15 Suns -- even without Bledsoe.
Prediction: Suns
Friday at Boston Celtics
The Celtics (13-25) are another team in free fall, losing their last eight games.
At some point Rajon Rondo is expected back from a knee injury, but he may not be ready to suit up by Friday.
The Celtics have actually been worse than the Lakers, dropping 11 of 12.
Boston has depth with players such as Jared Sullinger, Jeff Green, Avery Brady, Jordan Crawford, Jerryd Bayless, Kris Humphries, rookie Kelly Olynyk, Gerald Wallace and others.
The Lakers have depth, but they're all in street clothes.
Prediction: Celtics
Friday at Toronto Raptors
After trading Rudy Gay, the Raptors have worked their way over .500 at 18-17.
The Raptors beat the Lakers on Dec. 8 at Staples Center, riding a career night from Amir Johnson, who scored 32 points on 14-of-17 shooting.
Kyle Lowry scored 23 points on 8-of-13 shooting, and DeMar DeRozan battled his way to the free-throw line for 11 attempts and 26 points.
The Lakers seem to struggle in their annual matinee Toronto visit, starting at 10 a.m. PST.
Then again, the Lakers are struggling at just about any start time.
Prediction: Raptors
ALSO:
Lakers blown out by Nuggets, 137-115
Conflicting 'reports' on status of Pau Gasol trade to Cavaliers
Kobe Bryant suggests fans vote younger players into All-Star Game
Email Eric Pincus at eric.pincus@gmail.com and follow him on Twitter @EricPincus.
---
All things Lakers, all the time.
Get all the Lakers news you need in Dan Woike's weekly newsletter.
You may occasionally receive promotional content from the Los Angeles Times.