Preview: Lakers at Dallas Mavericks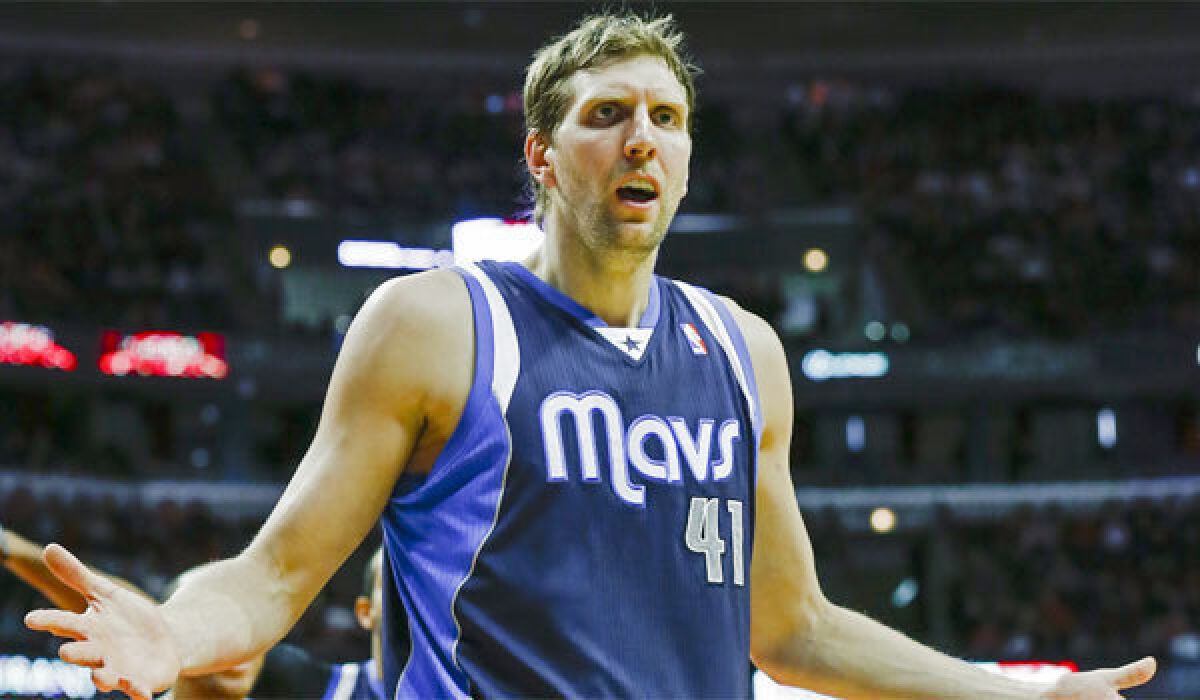 The Lakers (14-20) take to the road on Tuesday night, visiting the Mavericks (19-15) in Dallas.
Dallas has lost two consecutive games and five of their last 10, but the Lakers are in a true slump, dropping seven of their last eight despite playing five at home.
Can the injured Lakers climb out of their rut on the road against a quality team?
Regardless, they'll need to try without Kobe Bryant (knee), Steve Nash (back), Steve Blake (elbow), Jordan Farmar (hamstring) and Xavier Henry (knee).
Key matchup
After sitting out with bronchitis and a sinus infection, Pau Gasol has looked a lot healthier the last few games.
Over his last three, he's averaging 24.3 points, 11 rebounds, 3.3 blocked shots and 4.7 assists a game.
With so many injuries, the Lakers haven't been able to support Gasol's production, certainly not defensively.
Gasol and the Lakers will have to find a way to deal with Dirk Nowitzki, who is averaging 20.9 points a game while shooting 48.9% from the field, 41% from behind the arc and 89.8% from the line.
Nowitzki, with his jump shot, is very difficult to handle. The Lakers might use Gasol but others might get a chance on the Dallas star, including Shawne Williams, Wesley Johnson, Ryan Kelly, Robert Sacre and even the rarely used Chris Kaman.
X-factor
The Lakers have turned to second-year guard Kendall Marshall to orchestrate the team's offense.
Marshall, despite playing in the NBA Development League until a couple of weeks ago, is averaging 14.5 points, 16 assists and six rebounds through two starts for the Lakers.
In six appearances, Marshall is shooting 52.8% from the field, 47.1% from behind the arc and 100% from the line. The sample size is tiny, but he's been a bright spot over the last couple of games for the Lakers.
The Mavericks rely on a very different guard, the high-scoring Monta Ellis.
Ellis, in his first year with the Mavericks, is averaging 20 points and 5.8 assists per game.
Defensively the Lakers have been a mess in recent games. Ellis could (and should) be a big problem for the Lakers.
Outlook
The Lakers did beat the Utah Jazz (11-25) recently but have otherwise looked overmatched on most nights.
Injuries have been too much to overcome and the Mavericks aren't likely to show clemency for the Lakers' woes.
ALSO:
Lakers might have a gem with Kendall Marshall on a two-year contract
Conflicting 'reports' on status of Pau Gasol trade to Cavaliers
Pau Gasol is still a Laker as of morning shoot-around
Email Eric Pincus at eric.pincus@gmail.com and follow him on Twitter @EricPincus.
---
All things Lakers, all the time.
Get all the Lakers news you need in Dan Woike's weekly newsletter.
You may occasionally receive promotional content from the Los Angeles Times.