Preview: Lakers at Sacramento Kings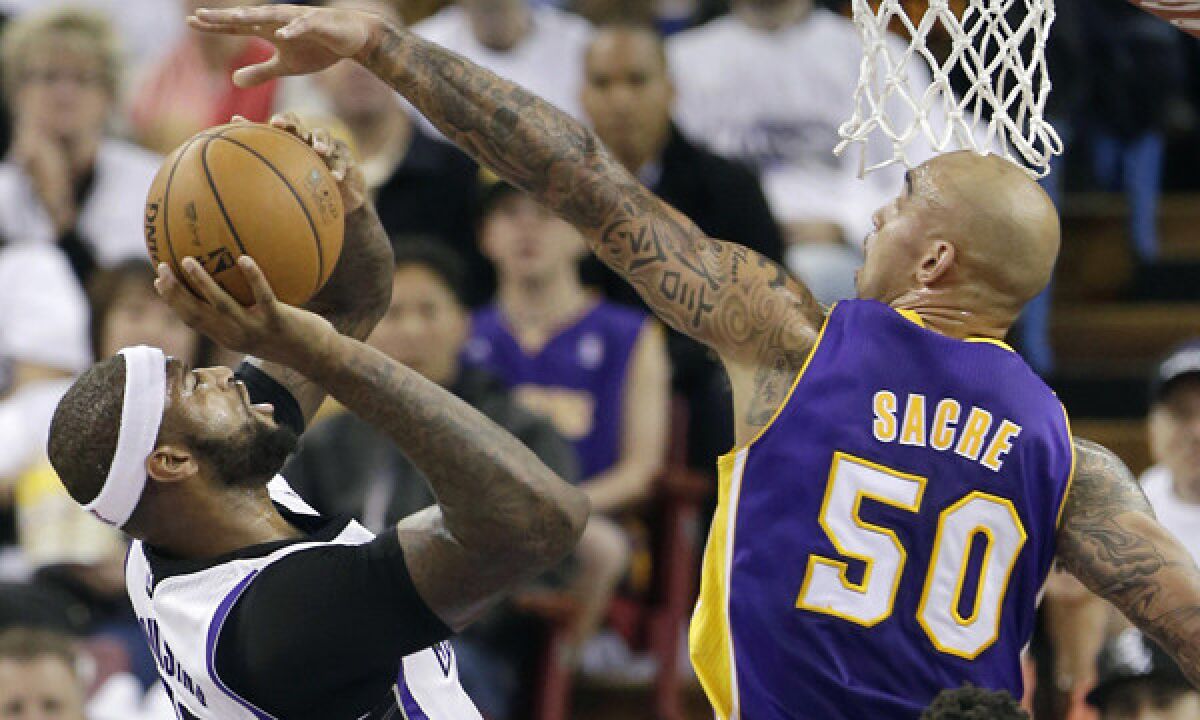 The Lakers (25-49) have the sixth-worst record in the NBA. On Wednesday, they'll visit the Sacramento Kings (26-48) for in a game that could affect draft lottery standings.
A Lakers' victory could give the Kings a chance to "climb" from seventh to sixth.
Sacramento always seems to play the Lakers well. While Isaiah Thomas (quad) is questionable, the Kings still have a number of potent offensive weapons, including Rudy Gay and DeMarcus Cousins.
The Lakers are expected to start both Pau Gasol and Chris Kaman, although Gasol is still struggling to recover from a bout of vertigo.
Steve Nash (ankle, nerve root irritation), Kobe Bryant (knee) and Jordan Farmar (groin) won't play for the Lakers.
Key matchup
Cousins is the Kings' leading scorer and rebounder at 22.3 points and 11.7 boards a game. He fills up a stat sheet with 3.0 assists, 1.5 steals and 3.8 blocks a night.
The Lakers can play both Gasol and Kaman against the 6-foot-11 Cousins. Jordan Hill, who didn't play on Tuesday night against the Portland Trail Blazers, may be needed defensively -- although Robert Sacre may get the call as the Lakers' third big.
Gasol acknowledged that he wasn't quite himself against the Blazers, scoring nine points in 28 1/2 minutes. He was still able to help the team offensively, dishing seven assists -- but the Lakers will need more from him against Sacramento.
On the second night of a back-to-back, while recovering from vertigo, there's a chance Gasol might sit Wednesday -- although that wasn't the plan late Tuesday night at Staples Center.
Through 60 appearances this season, Gasol has averaged 17.4 points with 9.7 rebounds a game.
X-factor
Nick Young scored 40 points against the Blazers. The issue the Lakers had was on the defensive side of the ball.
Young is right behind Gasol at 17.3 points a night on the year.
Gay is a major offensive threat for Sacramento, scoring 20.2 a game while shooting 48.4% from the field.
If the Lakers can keep Gay somewhat under wraps, they'll have a chance to win in Sacramento -- especially if Thomas sits out (along with his 20.7 points and 6.4 assists a night).
Outlook
The Lakers would be wise to lose in Sacramento, but they've won a number of games this season that didn't exactly help the team's draft position.
ALSO:
Lakers' Chris Kaman takes up for Coach Mike D'Antoni
Lakers to build new practice facility to help lure free agents
Nick Young goes for 40, Lakers still can't beat Portland Trail Blazers
Email Eric Pincus at eric.pincus@gmail.com and follow him on Twitter @EricPincus.
---
All things Lakers, all the time.
Get all the Lakers news you need in Dan Woike's weekly newsletter.
You may occasionally receive promotional content from the Los Angeles Times.