Preview: Lakers back home to host Detroit Pistons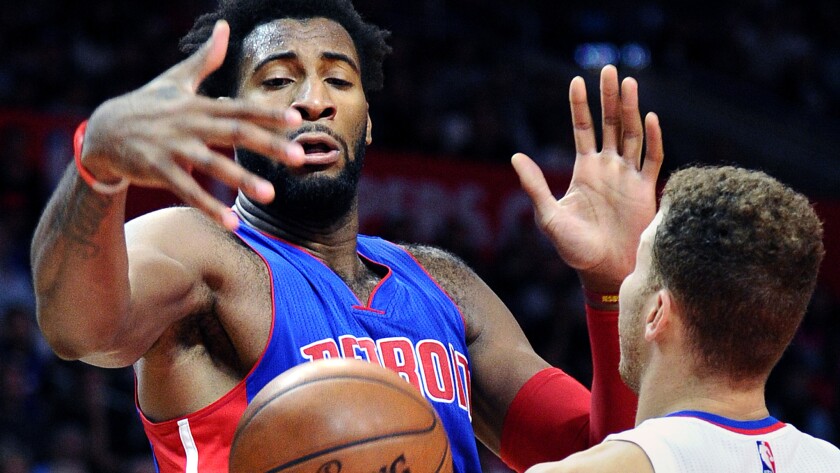 The Lakers (1-8) return home after a five-game road trip to host the Detroit Pistons (5-4) on Sunday night at Staples Center.
Detroit fell on Saturday to the Clippers, 101-96, despite the absence of Chris Paul and J.J. Redick, both out with injuries.
The Lakers have dropped four straight, but have improved defensively and have competed -- they just haven't been able to close out games.
The Pistons will play without Brandon Jennings (Achilles) and former Lakers guard Jodie Meeks (foot). The Lakers are at full strength.
Key matchup
The Pistons have been an early force in the Eastern Conference, led by center Andre Drummond, who is averaging 18.7 points and 19.2 rebounds a game, with 1.6 blocks and 1.8 steals.
Drummond's biggest weakness is free-throw shooting, where he's hitting just 40% from the line, making him a target for intentional fouls.
The Lakers will match up against Drummond with defensive center Roy Hibbert, who is averaging 8.6 points, 6.6 rebounds and 2.7 blocks a game.
Hibbert puts in 26.2 minutes a night. Does he have the stamina to battle Drummond for his averaged of 36.8 minutes a game? Unlikely, which means the Lakers will either need Tarik Black or Brandon Bass to be productive alternates.
Perhaps Robert Sacre, who has been inactive for much of the season, will get a chance to play against Drummond as the Lakers' only other seven-footer besides Hibbert.
X-factor
Reggie Jackson is an explosive guard, capable of scoring quickly. On the season, Jackson is averaging 21.7 points with 5.2 assists and 4.4 rebounds.
That's a difficult cover for Lakers' rookie D'Angelo Russell. The Lakers may put Jordan Clarkson or Lou Williams on Jackson, but the team thus far this season has not done particularly well defensively on the perimeter.
Offensively, the Lakers also need consistency across the board from guards Russell, Clarkson and Williams as well as Kobe Bryant, who is still prone to throwing up unwarranted, guarded three-point attempts.
Outlook
Until the Lakers can break through with a win this season, outside of their lone victory over the 1-9 Brooklyn Nets, it's difficult to pick them in any game. The Pistons may be on a back-to-back, but put the Lakers down for their fifth loss in a row.
Email Eric Pincus at eric.pincus@gmail.com or follow him on Twitter @EricPincus
---
All things Lakers, all the time.
Get all the Lakers news you need in Tania Ganguli's weekly newsletter.
You may occasionally receive promotional content from the Los Angeles Times.