LeBron James torches hometown team for 46 points in Lakers' win over Cavaliers
LeBron James meandered over to the Cleveland bench, where he spotted an injured Kevin Love, his former teammate and a friend with whom he won an NBA title. The two shared a multistep handshake, definitely a protocol breaker — but with their history, it could be forgiven.
With the Lakers and the Cavaliers fighting for an edge in the fourth quarter, James started splashing home jumpers from everywhere, and one of them, right in front of Love and the Cavaliers' bench, sent the Cleveland forward walking to the locker room.
He knows the play. He and the Cavaliers used to run it all the time. And now, it was time for the other four Lakers on the court to do their job and execute the finely detailed plan.
"We get out the way," forward Anthony Davis said.
A look at how Kobe Bryant's widow took to social media throughout the year to honor her husband and daughter while sharing her struggles after their deaths.
The Lakers had no business winning Monday night. But then again, they have no business having a player as good as James, who lifted the Lakers from an offensive disaster and into a 115-108 victory in Cleveland, the team's 10th straight on the road to start the season.
It was the perfect city for this kind of offensive showcase, James making 19 of 26 field-goal attempts while hitting seven of 11 from three-point territory — including a back-breaker from the logo at center court. He had 17 points in the first quarter only to somehow get hotter near the finish line, dropping 21 in the fourth quarter on a helpless Cavaliers defense that watched him hit three three-point shots during a six-possession stretch.
He finished with 46 points, eight rebounds and six assists. He's just the fifth player 36 or older to score 46 points or more in an NBA game. Kareem Abdul-Jabbar, Michael Jordan and Jamal Crawford all did so.
And the player with the most points in a game after turning 36? Kobe Bryant.
"Pretty awesome to see that he can still turn it up like that," Lakers coach Frank Vogel said. "…The shot-making was just ridiculous."
James scored 11 points and assisted on a dunk by Davis during the decisive three-minute stretch, an exhibition in evolution for the Cleveland fans who have witnessed his transformation into an all-around offensive weapon.
In 11 seasons with the Cavaliers, James made seven or more three-pointers in a game three times. A city used to being a witness saw him do it for the first time as a Laker on Monday.
"If you want to be great at what you do, it takes time," James said. "I understood that."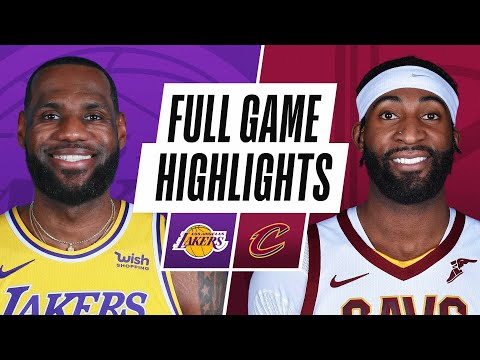 Highlights from the Lakers' win over the Cleveland Cavaliers on Monday.
Just like it was Davis' night in Chicago on Saturday, the Lakers would have been sunk without James showing out in Cleveland.
Still, they might not have stolen the win had it not been for key contributions from role players such as Kyle Kuzma and Alex Caruso who combined to score seven points — as many as James had in the time it takes to read this sentence.
It was Kuzma crashing the offensive glass to extend possessions — he gave the Lakers two chances on one offensive set that eventually led to a Caruso three-pointer. And it was Caruso coming off the bench to close the game by locking down Cleveland's next star, Collin Sexton, getting two steals and keeping him to three points in the fourth.
"Bron had 46, but this was a team win," Vogel said.
The Lakers won't have any organized team functions Tuesday for the one-year anniversary of Bryant's death, with Vogel leaving the players alone to process the memories of that tragedy.
Former Clippers assistant Rex Kalamian handled many video duties with the team in 1996 when Kobe Bryant worked out before the NBA draft. Here's exclusive footage.
That they will be headed to Philadelphia, the place where James passed Bryant on the all-time scoring list a year ago, will only make the memories more vivid.
Before they have to process that, the Lakers had to play a game Monday and they had to get a win when almost everyone was having an off night.
But luckily for the Lakers, James was extremely on.
"When he's playing like that, it's fun to watch," Davis said. "It's amazing to see the shots he makes, the shots he takes.
"He's a hell of a player."
All things Lakers, all the time.
Get all the Lakers news you need in Dan Woike's weekly newsletter.
You may occasionally receive promotional content from the Los Angeles Times.