Lakers legend Elgin Baylor: Reaction to his death
New York Knicks' Dave DeBusschere winces as he and the Los Angeles Lakers' Elgin Baylor collide in the first period of a game at New York's Madison Square Garden on April 24, 1970.
(Associated Press)
Laker coach Bill Van Breda Kolf, left, applauds play against the Warriors on Dec. 20, 1968. With him, from left: Elgin Baylor, Wilt Chamberlain, Jerry West, Bill Hewitt and Keith Erickson.
(Los Angeles Times)
Elgin Baylor, a star on the Seattle University basketball team, is shown on Feb. 14, 1958.
(Associated Press)
Baylor, center, walks on the Seattle University campus with classmates Jack Jones, left, and Craig Hanson on Feb. 1, 1957.
(Associated Press)
Elgin Baylor, second from left in class on Feb. 1, 1957.
(Associated Press)
Mr. and Mrs. John W. Baylor with their son Elgin as he gets ready to play for the Seattle University team in the National Invitation Tournament in Madison Square Garden in New York on March 18, 1957.
(Associated Press)
Elgin Baylor, 6-foot-five center from Seattle University, signed today, June 14, 1958, in Minneapolis, Minn., with the Minneapolis Lakers for rumored $17,000 to $20, 000.
(ASSOCIATED PRESS)
Los Angeles Lakers' Elgin Baylor maneuvers his way through New York Knicks' Bill Bradley, left, and Dick Barnett on his way to two points in NBA playoffs game at Forum in Los Angeles on May 1, 1970.
(AP)
Boston's Bailey Howell whirls with a reverse layup against the Lakers on May 5, 1969, but Elgin Baylor is there to block it.
(Harold P. Matosian / Associated Press)
Los Angeles center Wilt Chamberlain, left, passes off to teammate Elgin Baylor (22) who drives in for a layup in first half of National Basketball Association game, January 24, 1969 with the Atlanta Hawks.
(AP)
New Orleans Jazz coach Elgin Baylor says he's getting more comfortable as Jazz coach, which was a hot seat in the NBA in New Orleans February 5, 1978.
(Associated Press)
New Orleans Jazz Coach Elgin Baylor (in coat) shakes with, from left, Kent Benson of the Milwaukee Bucks, Tommy Green of the Jazz and Jimmy McElroy of the Jazz, who did not dress out for the Jazz-Bucks game in the Louisiana Superdome in New Orleans April 7, 1979.
(Mark Petty / Associated Press)
Clippers new coach Mike Dunleavy and Elgin Baylor at a summer league game against the Lakers and Clippers at the Long Beach Pyramid on July 12,2003.
(Lori Shepler / Los Angeles Times)
Elgin Baylor hopes to take his successes to the general managership of the LA Clippers.
(Anacleto Rapping / Los Angeles Times)
NBA Hall of Fame players Elgin Baylor, left, and Bill Walton arrive for a memorial service for the Lakers' late owner, Jerry Buss, at Nokia Theater in Los Angeles on Thursday, Feb. 21, 2013.
(Los Angeles Times)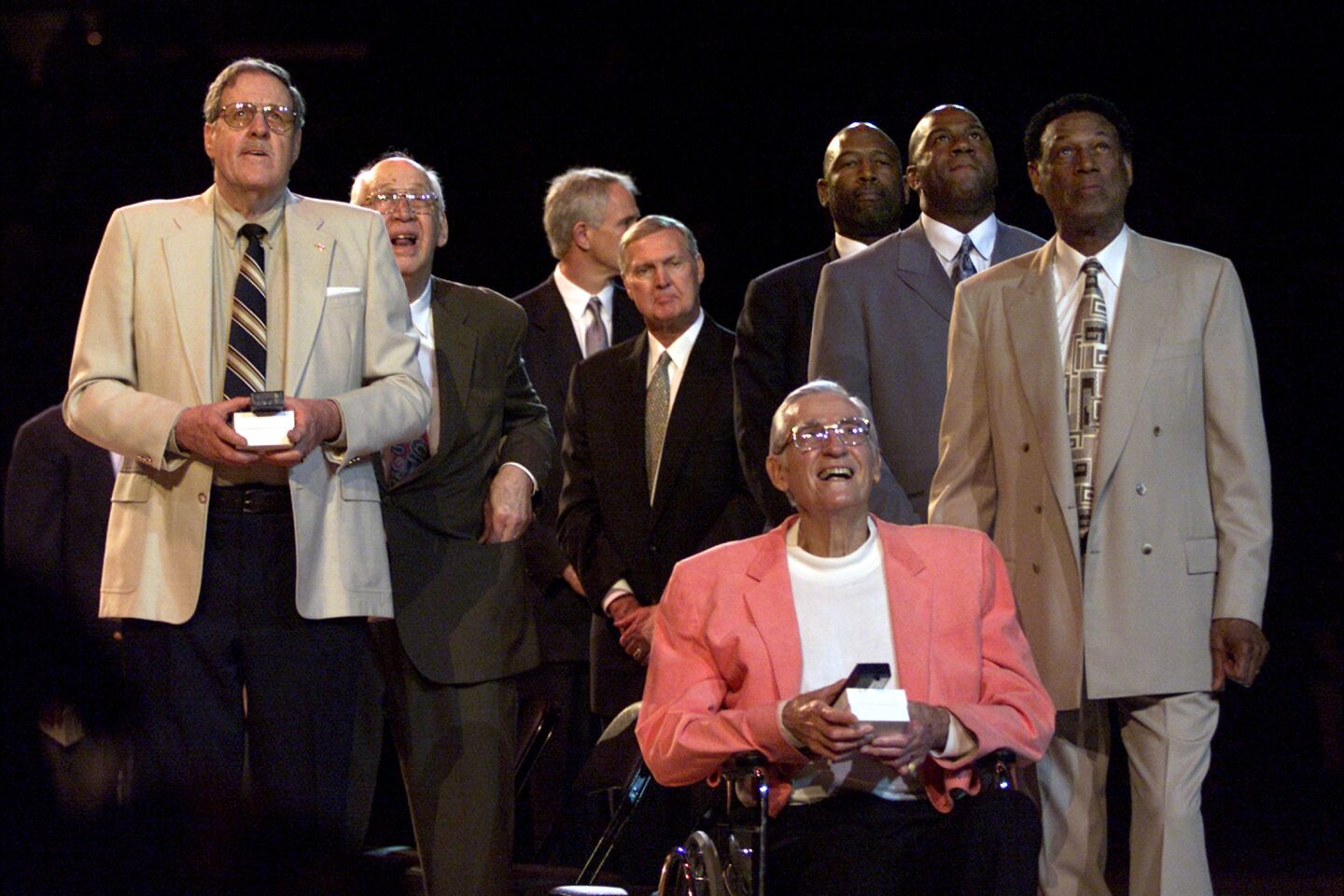 Members of the Minneapolis Lakers Hall of Fame George Mikan, Vern Mikkelsen, Slater Martin, Clyde Lovellette, Coach John Kundla and members of the Los Angeles Lakers Mitch Kupchak, Jerry West, James Worthy, Earvin "Magic" Johnson and Elgin Baylor watch the raising of the Minneapolis banner Thursday at the Staples Center in April of 2002.
(Los Angeles Times)
Elgin Baylor stands next to a statue, just unveiled, honoring the Minneapolis and Los Angeles Lakers great, outside Staples Center in Los Angeles, in this Friday, April 6, 2018.
(Reed Saxon / Associated Press)
Three of the seven jerseys displayed above the seats of the Great Western Forum honor former Lakers Jerry West, Wilt Chamberlain and Elgin Baylor.
(Los Angeles Times)
Former Los Angeles Lakers, from left, Jerry West, James Worthy, Elgin Baylor, Shaquille O'Neal, Jamaal Wilkes and former coach Phil Jackson pose as they retired his O'Neal's jersey during the half of the Lakers' NBA basketball game against the Dallas Mavericks, Tuesday, April 2, 2013, in Los Angeles.
(ASSOCIATED PRESS)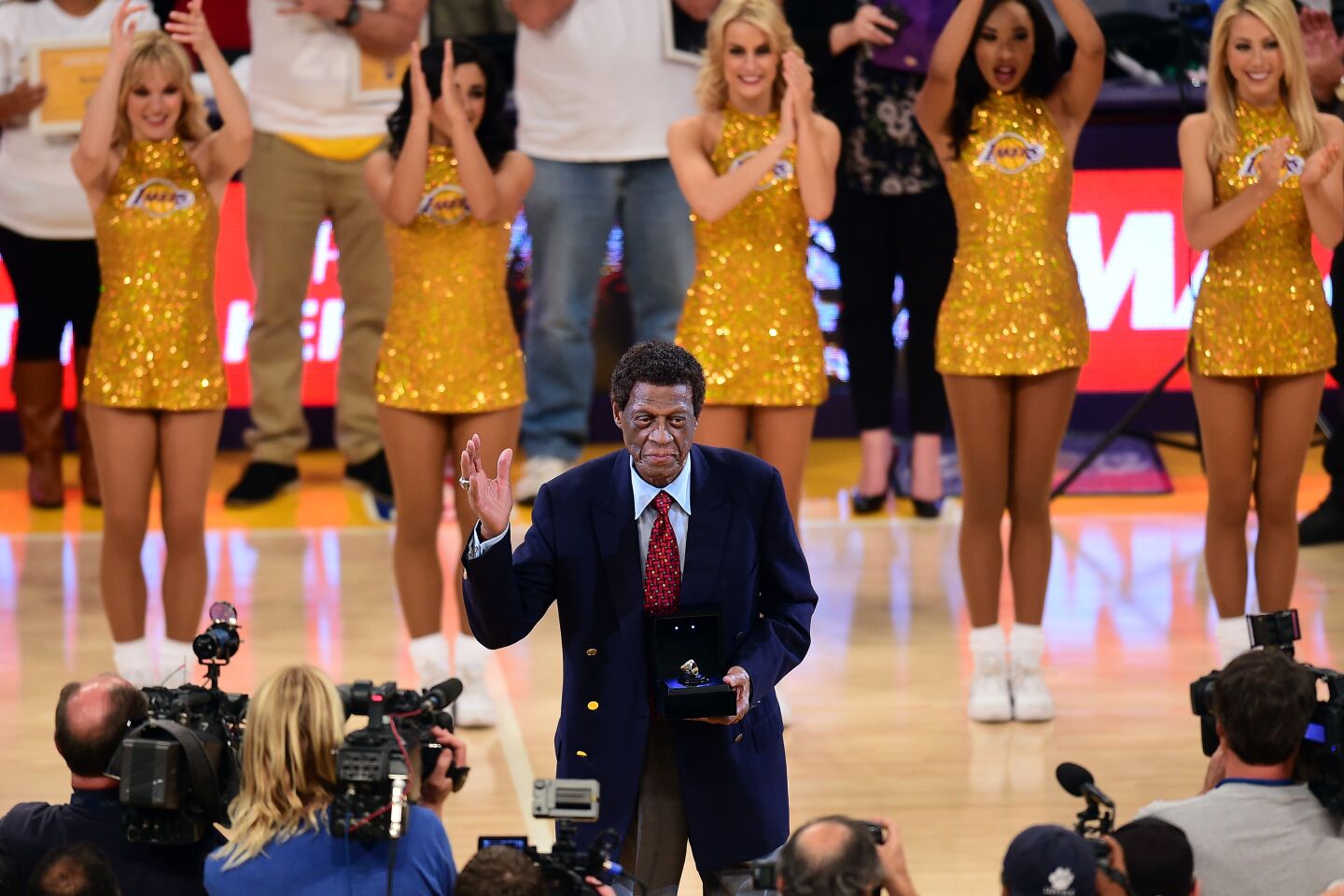 NBA legend and former Laker Elgin Baylor acknowledges the crowd upon reception of an award at halftime during the Los Angeles Lakers v Golden State Warriors NBA game at Staples Center in Los Angeles, California on November 16, 2014, where the Warriors defeated the Lakers 136-115.
(FREDERIC J. BROWN / AFP via Getty Images)
Los Angeles Lakers Hall of Fame forward Elgin Baylor died Monday, and the expressions of sympathy and condolences followed from across the basketball world.
So did tales of his greatness.
Fellow Lakers Hall of Famer Magic Johnson stated on Twitter that before Michael Jordan and other high-flying NBA stars, there was Baylor.
"I think that Los Angeles has been so spoiled with greatness, but it started with him. It started with him and Jerry [West]," Johnson said of Baylor in a phone interview. "First of all as a player, he was the one hanging in the air, doing all the trick shots. Just gliding. He was really the first guy for me to see do that, and then Dr. J came and then Michael [Jordan]. … I think that he doesn't get the respect that he deserves.
"He was so classy, so nice. He gave me some good advice and did it in a quiet way. He really just held his head up high."
Former Clippers broadcaster Ralph Lawler, a Hall of Famer himself, remembered Baylor as being "ahead of his time."
The duo of Elgin Baylor and Jerry West made the Los Angeles Lakers a power in the NBA. West recalls his relationship with Baylor, who died Monday.
"He did things with the ball and with his body that nobody had done before, and it was way ahead of his time" Lawler said in a phone interview. "He is one of the all-time players whose games would translate to today's game in a heartbeat. He'd be as great today, maybe even greater, than he was then."
Miami Heat President Pat Riley shared the same observations in a statement: "Besides being one of the greatest players in the history of the game, Elgin Baylor was one of the classiest, most dignified men of integrity I have ever met. He will be missed."
Lakers forward Markieff Morris and former Clipper Jamal Crawford quickly reacted with the same sentiment: RIP to the legend Elgin Baylor.
Former Lakers stars and champions Pau Gasol and Michael Cooper joined in the condolences.
The Lakers released a lengthy statement on the loss of the franchise icon, the team's first superstar after it moved from Minneapolis to Los Angeles.
Marques Johnson, the Hall of Famer and L.A. legend out of Crenshaw High, said Baylor "was just a man with a lot of pride and strong belief in himself about who he was and his place."
"He didn't take a second position to anybody that every played — Jerry [West], no matter who it was. You get him one-on-one, talk to him, and he would tell you point blank — 'There was nobody better than me when I was playing out there,'" Johnson added. "But publicly, he wasn't the guy to get out there and toot his own horn."
A look at the life and playing days of Lakers Hall of Famer Elgin Baylor, who would become an executive with the Clippers.
Former Clippers star and Philadelphia 76ers exdecutive Elton Brand said that "Elgin was undoubtedly one of the best to ever play in our league, but for me, he was much more than that. When he brought me to the Clippers, it gave me great pride to see an ex-player lead a franchise with grace, dignity and honesty the way he did. He was great man that was always willing to share his knowledge regarding life on and off the court. He overcame countless challenges and broke even more barriers throughout his career as a player and executive."
Here are more reactions to the passing of one of the all-time greats.
Staff writers Andrew Greif, Austin Knoblauch, Dan Loumena, Broderick Turner and Dan Woike contributed to this report.
All things Lakers, all the time.
Get all the Lakers news you need in Dan Woike's weekly newsletter.
You may occasionally receive promotional content from the Los Angeles Times.