Lakers' third-quarter woes lead to lopsided Christmas Day loss in Dallas
DALLAS —
Luka Doncic wore cowboy boots and a black hat. Russell Westbrook had on a gray pleated skirt and white wingtipped sneakers. And LeBron James donned a camel peacoat and small circular sunglasses.
Christmas Day in the NBA, as much as any during the 82-game season, is a chance to show out with everyone watching.
And, if you're just tuning in, now you know exactly what the Lakers are this season.
With big men Anthony Davis and Thomas Bryant injured, the Lakers' defense is a problem again along with turnovers before a five-game trip starting in Dallas.
The Dallas Mavericks scored a laughable 51 points in the third quarter, carving the Lakers' defense with crisp passes and wide-open three-pointers in a 124-115 win that was more lopsided than the final score.
The Lakers (13-20) have lost four straight and are in danger of their third five-game losing streak of the season. The team, when faced with these tough moments early in the season, has mostly respondedto scratch its way back to respectability.
Yet asked whether he believed the Lakers could do it again, James flipped the question on its head.
"I look at it the other way too," said James, who appeared in his 17th game on Christmas Day, eclipsing the previous record of 16 he shared with Kobe Bryant. "Like, how many times are you going to try to dig yourselves out until it's too much dirt on you?"
At seven games under .500 and without an injured Anthony Davis for the near future, the Lakers again seem to be at a defining stretch with their next four games coming on the road to wrap up a very unkind December schedule that will have taken them on two extended trips.
With things getting bad, the Lakers are getting less shy about venting, pointing out a perceived lack of adjustments, problems with their size and depth, and inability to manage a tough stretch.
Since Davis has been out because of a stress injury in his right foot that he appeared to suffer during a win Dec. 16, the Lakers have been especially challenged defensively, their plans to double-team Doncic going up in flames during the third quarter.
As the clock ticked down near the end of the third, Doncic, using the kind of 20-20 court vision few possess, jumped and zipped a two-handed pass to Christian Wood, who, like Dallas players had all quarter, walked into a wide-open three-pointer. But unlike other Mavericks all quarter, Wood's high-arcing shot rattled off the rim.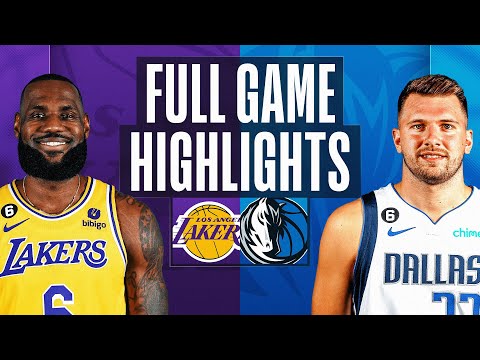 It was a big miss — not because it ultimately mattered in the result but because it kept the previous 12 minutes from being embarrassingly historic.
Had Wood's three-point attempt fallen, the Lakers would have set a franchise record for most points given up in a quarter. When the shot rimmed out, the performance was just the second worst ever one point behind the 52 points the Minneapolis Lakers allowed the Boston Celtics to score in the fourth quarter on Feb. 27, 1959.
"You're never going to win a game if you give up 51 in a quarter," James said. "So, that's it. It's simple."
Lakers players, including James, pointed again to the team's lack of size, saying it limited the Lakers' options to slow the 6-foot-7 Doncic. Coach Darvin Ham said the Lakers chose to double-team him because they feared he would punish one-on-one defenders with his ability to get to the basket and draw fouls.
For a half, the double-teaming worked, the Lakers forcing the ball out of his hands and to his teammates, who proceeded to brick open three-point try after open three-point try.
The Mavericks went five for 22 on three-point attempts in the first half, and the Lakers led by 11 points at intermission.
"We talked about it before the game, just being able to initiate, sustain and finish with energy, effort and competitiveness," Ham said. "And we left it in the locker room at halftime."
A busted coverage led to Spencer Dinwiddie getting an open three-pointer to begin the second half, setting the tone for a 12-minute drubbing that nearly made franchise history.
The Mavericks scored on 20 consecutive possessions in the third quarter — Tim Hardaway Jr. and Doncic combining for 29 of Dallas' 51 points.
During those 20 possessions, the Mavericks outscored the Lakers 48-15.
James scored 38 points to lead the Lakers, but Dallas (18-16) had three starters with at least 26, led by Doncic with 32. The Lakers' other four starters combined to score just 32 points.
It's the seventh straight game in which James has scored at least 30.
"He competed his ass off," Ham said of James. "It's tough times right now, tough circumstances. But at the end of the day, you know, we just have to keep mashing forward. He's the prime example of that. Just his ability to come out game after game after game and put up the type of performances he's putting up."
But the Lakers aren't winning and patience seems to be wearing thin.
"There's been times that I've been happy. There's been times where I've been like, 'OK, we can do better here,' or whatever the case may be," James said of his mood this season. "But I always try to stay even-keeled. There's ways that we can be better. There's some things that we're good at. There's some things that we're not very good at.
"But we have another opportunity in two days. … We have another opportunity to win a ballgame, but we got to go out and play the right way. And if we play the right way and sustain our effort for 48 minutes, it gives us the best chance to win."
But right now, it can't guarantee it. It's still just a chance.
All things Lakers, all the time.
Get all the Lakers news you need in Dan Woike's weekly newsletter.
You may occasionally receive promotional content from the Los Angeles Times.