Once the All-Star Game is gone, the Padres go back to chanting, 'Beat L.A.' How do they plan to do that?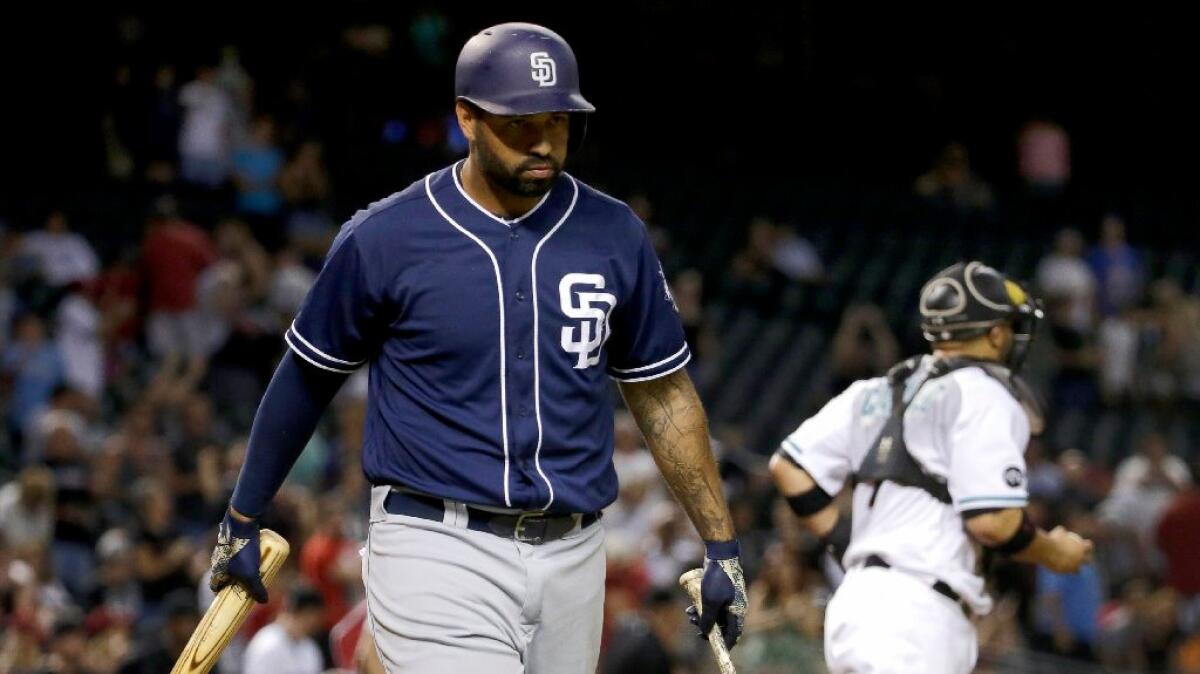 Reporting from San Diego —
They were glory days, everywhere besides the standings, and not so long ago. In one of his final acts as commissioner, Bud Selig rewarded the San Diego Padres with the 2016 All-Star Game.
The Padres had shrugged off their small-market shackles. Matt Kemp, Wil Myers and Justin Upton had landed in town the previous month. James Shields would arrive the next month, followed soon thereafter by Craig Kimbrel. In between, on a January morning last year, the Padres got the All-Star Game.
"San Diego is one of America's most beautiful cities," Selig said in a statement, "and showcasing Petco Park in its thriving downtown will be a remarkable opportunity for the Padres."
The All-Star Game is Tuesday. The city remains beautiful, as does the ballpark. The team, not so much.
Upton, Shields and Kimbrel are gone. The Padres are fighting to stay out of last place in the National League West, and attendance is down, even with the lure of the All-Star Game. The team has shuffled through three ownership groups and four general managers since its last postseason appearance in 2006, and the current managing partner is brutally honest about what he says he tells fans wondering when the Padres might return to the playoffs.
"We look 'em in the eye," Peter Seidler said, "and say, '2019 is probably the earliest you can see this strategy working.' "
See the most-read stories in Sports this hour »
The strategy is sound, and we'll get back to it. But Seidler is the nephew of legendary Dodgers owner Peter O'Malley, and therein lies a curious tangent to the Padres' uncomfortable season. Under the O'Malley family, the Dodgers put a good product on the field every year at a fair price. On the rare occasion that fans heard from the owner, the words always were dignified.
Seidler is his own man. He says he does not consult with O'Malley about how to run the Padres.
"He still has a little bit of conflict," Seidler said. "We'll talk baseball in general. More than anything else, it's the personal side. He's a great uncle. He's a great friend. He's a special person.
"In fairness to him, the strategy and the really significant stuff that goes on with the Padres goes on within this room."
The room in which we are sitting is the Petco Park office of Ron Fowler, the Padres' executive chairman. Fowler led the local investor group that partnered with Seidler, his brother and his nephews on the winning bid for the Padres four years ago.
Fowler attracted national attention with an emotional radio interview last month. After the Padres had lost seven of eight games — the last, 16-4 — he blasted the team as "miserable failures" and singled out Shields, who had just given up 10 runs in 2 2/3 innings, for a performance that was "an embarrassment to the team, an embarrassment to him."
Fowler appeared to be particularly incensed by Shields' postgame comments, even though the pitcher had acknowledged that he "did not do my job."
"It happens to everybody. … I'm not one to dwell on my games, whether I do good or bad," Shields told reporters then. "I just move on to the next game and try to help my team win ballgames."
Said Fowler: "Do I stand by everything I said? Yeah. The reason I was upset with our pitcher at the time was he had sloughed off what he had done.
"He makes over 10 times more per start than the average family income of San Diego. He didn't say … 'I was terrible' or whatever. Just admit it and move on."
There are times, Seidler said, when fans need to hear that an owner is just as frustrated as they are. That might be, but a primal scream does not right a franchise, and it is more important for fans to hear how an owner proposes to turn a losing team into a winning one.
Angels owner Arte Moreno has declined interviews this season. Seidler and Fowler, however, are not shy about sharing the Padres' plan.
"We took a little bit of a 'Let's jump off the deep end' last year," Seidler said, "but it was not at the expense of what our strategy was heading into this year."
The Padres knew all along, he said, that this would be the year to strike in the international market. So many big-money teams already had in previous years — the Dodgers, Angels, Boston Red Sox, Chicago Cubs and New York Yankees among them — that they were severely restricted in international spending this year. When Seidler and Fowler hired General Manager A.J. Preller two years ago, they took particular note of his expertise in finding talent in Latin America and around the world.
The Padres outspent every other major league team on international amateurs this year. They have signed four of the top seven prospects and 18 in all, according to Baseball America. The cost, including baseball's tax: about $60 million.
"In the context of baseball, it's two years of Zack Greinke," Seidler said. "It's two years of Clayton Kershaw. For us, we get 20 high-ceiling teenagers. Most of them ultimately are not going to make it to Petco Park. But if four or five of them are impact players at Petco?"
That would be fortunate. The Dodgers have signed what seems like half of Cuba, and so far, only Yasiel Puig has panned out.
"That's our strategic decision," Seidler said. "In our judgment, in this calendar year, it's the smartest place to spend money."
The Padres also had six of the first 85 draft picks this year, with a cost of about $13 million to sign their draft class. That's close to $75 million in signing bonuses for amateurs this year — not much less than what the Padres are spending on salaries for major leaguers. As Seidler noted, the payoff might not come until 2019, or 2020.
"One of the things we just can't do is tank," Seidler said. "Fundamentally, I think it's bad for the game. This is competition at the highest level. It turns my stomach to think we would do that."
They'll do what they can to remain competitive, but not at the expense of player development. They love All-Star pitcher Drew Pomeranz, 27, but they would not rule out trading him.
However, Fowler said, the Padres would like to discuss a contract extension with Myers, 25, their other representative in the All-Star Game.
"He's the type of guy we want to build this team around," Fowler said.
"He's not going to be traded," Seidler said.
The Padres have three triple-A players set for Sunday's Futures Game — outfielders Manuel Margot and Hunter Renfroe and infielder Carlos Asuaje. Catcher Austin Hedges is ready for the majors too. The long, slow march toward 2019 starts with those players.
"This franchise has never had a player from the Dominican Republic do anything close to significant," Seidler said. "This franchise's history in the amateur draft — as far as having impactful players play for the Padres in the major leagues — is probably as bad as it gets.
"We have confidence that what we are building is going to completely reverse that."
The Padres are going to have to reverse that, if they are to have any hope of keeping up with the Dodgers.
"The way we're building this business is really straightforward," Seidler said. "It's all about building a core of high-ceiling, home-grown talent. That does go back to the way the best sports franchises in any of the major sports have always been run."
He cited the San Francisco Giants, and the St. Louis Cardinals, and even the Golden State Warriors. He did not cite the team with 16 rookie-of-the-year awards, twice as many as any other club in the majors. That team is the one his uncle used to run.
"When our fans chant, 'Beat L.A.,' " Seidler said, "I'm as loud as anybody in the ballpark doing it."
Follow Bill Shaikin on Twitter @BillShaikin
Get our high school sports newsletter
Prep Rally is devoted to the SoCal high school sports experience, bringing you scores, stories and a behind-the-scenes look at what makes prep sports so popular.
You may occasionally receive promotional content from the Los Angeles Times.