Oklahoma quarterback Kyler Murray wins the Heisman Trophy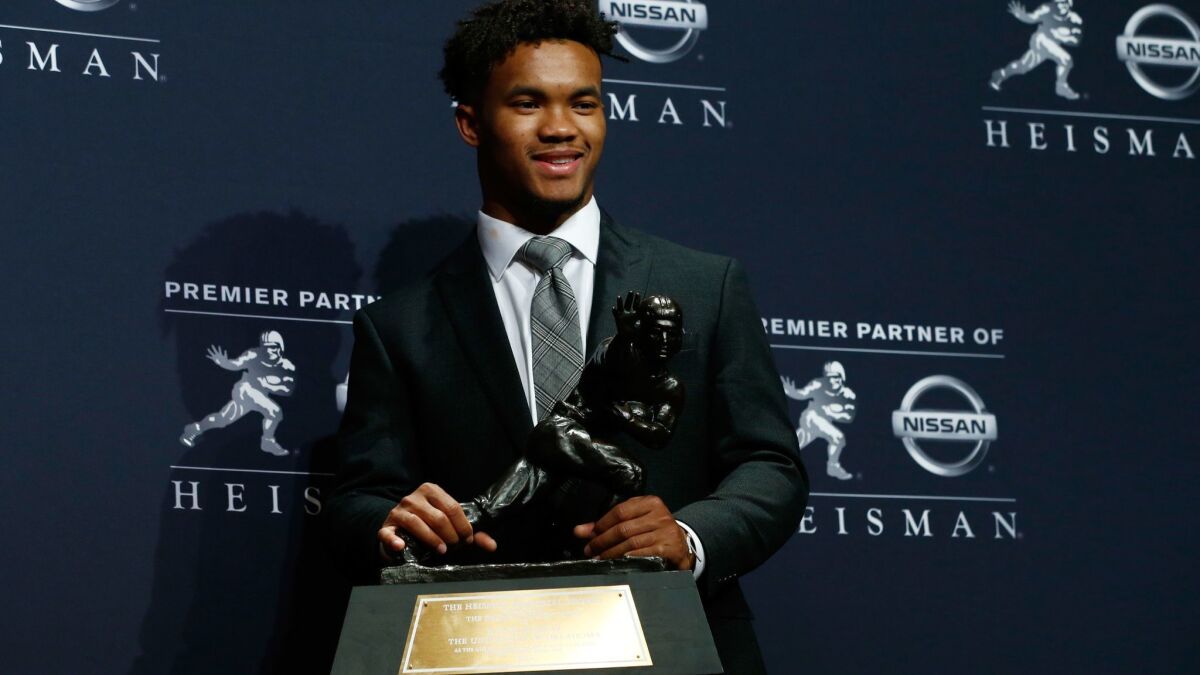 Kyler Murray replaced a Heisman Trophy winner by becoming a Heisman Trophy winner.
The Oklahoma quarterback won college football's most prestigious individual award Saturday night, edging Alabama's Tua Tagovailoa and setting up a College Football Playoff matchup of Heisman winner versus runner-up.
The fourth-ranked Sooners play the top-ranked Crimson Tide in the Orange Bowl semifinal Dec. 29 in the seventh bowl matchup of Heisman winner and runner-up, and first since second-place finisher Vince Young and Texas beat Reggie Bush and USC in the 2006 Rose Bowl.
This season, Murray stepped into the starting job at Oklahoma held by last year's Heisman winner and first overall NFL draft pick, Baker Mayfield. Oklahoma is the first school with have Heisman-winning quarterbacks in consecutive seasons and the fifth overall with winners in back-to-back years.
"This is crazy," Murray said in his acceptance speech. "This is an honor, something that I'll never forget. Something that I'll always cherish for the rest of my life."
Unlike most seasons, the winner was far from a foregone conclusion, but Murray (517 first-place votes and 2,167 points) ended up with a fairly comfortable margin of 296 points over Tagovailoa. Ohio State quarterback Dwayne Haskins, the other finalists, was a distant third with 783 points. Three more quarterbacks followed: Will Grier of West Virginia, Gardner Minshew II of Washington State and McKenzie Milton of Central Florida.
Murray was named on 92 percent of the Heisman ballots, third most all time. Tagovailoa's 1,871 points received was the most for a runner-up in the 84-year history of the Heisman.
Tagovailoa was the Heisman front-runner for most of the season, but Murray surged late as the Sooners turned to him and its offense to bailout a leaky defense down the stretch. Meanwhile, Tagovailoa picked a bad time to have his worst game of the season, throwing two interceptions in the Southeastern Conference championship against Georgia and leaving early with a sprained ankle.
Murray's first season as a starting quarterback in college is set up to also be his last. The junior has already signed a $4.66-million contract with the Oakland Athletics after he was selected in the first round of the Major League Baseball draft in June. Listed at 5-foot-10 and 195 pounds, Murray is small for an NFL quarterback but talented enough to be an intriguing prospect if he ever decided to give it a try.
Oklahoma's late-season Heisman campaign for Murray harkened back Bo Jackson, the 1985 Heisman winner who went on to star in both the NFL and MLB, and his Bo Knows Nike ads.
"I'd like to do both if possible," Murray said Friday of playing pro baseball and football. "But I don't know how possible that is."
For the next month though Murray is focused on capping his college career with a national championship. He took a circuitous route to get to a place most always expect him to be.
Murray's high school career alone has already made him a Texas legend. Playing for powerhouse Allen High School, just outside of Dallas, Murray won three straight state championships at Texas' highest level and his team went 42-0 with him starting.
A five-star recruit, he signed with Texas A&M in 2015, looking to follow in the footsteps of Johnny Manziel, the 2012 Heisman winner. Murray spent one tumultuous season with the Aggies, playing eight games before deciding to transfer.
At Oklahoma, the tentative plan was sit out the 2016 season to fulfil NCAA transfer rules and then step in for Mayfield in 2016. But Mayfield was granted an extra year of eligibility and returned for 2017 season, relegating Murray to backing up the best quarterback in the country.
His brief stints provided glimpses of a potential star. This season, as the focal point of Lincoln Riley's creative offense, Murray developed into the dominant player he had seemed destined to become while at Allen..
Murray fought back tears while thanking Riley.
"You pushed me harder than any coach ever has and I just want to say thank you for believing in me and allowing me to be the quarterback of this team. The leader of this team," Murray said.
Murray, a pinpoint passer and explosive runner, surpassed the production of Mayfield. Murray has averaged 380 yards of offense per game and accounted for 51 touchdowns in leading the Sooners the Big 12 title and the playoff. Mayfield finished last season averaging 353 yards of offense and accounting for 49 touchdowns as Oklahoma won the conference and lost a playoff semifinal to Georgia in a wild Rose Bowl.
Oklahoma's seventh Heisman matches USC, Ohio State and Notre Dame for the most by any school. Murray is the fourth Oklahoma quarterback since 2003 to win the Heisman, joining Jason White, Sam Bradford and Mayfield, and the 16th quarterback overall to win the award in the last 19 years.
Past Heisman Trophy winners (x-vacated):
2017—Baker Mayfield, Oklahoma, QB; 2016—Lamar Jackson, Louisville, QB; 2015—Derrick Henry, Alabama, RB; 2014—Marcus Mariota, Oregon, QB; 2013—Jameis Winston, Florida State, QB; 2012—Johnny Manziel, Texas A&M, QB; 2011—Robert Griffin III, Baylor, QB; 2010—Cam Newton, Auburn, QB; 2009—Mark Ingram, Alabama, RB; 2008—Sam Bradford, Oklahoma, QB; 2007—Tim Tebow, Florida, QB; 2006—Troy Smith, Ohio State, QB; 2005—x-Reggie Bush, USC, RB; 2004—Matt Leinart, USC, QB; 2003—Jason White, Oklahoma, QB; 2002—Carson Palmer, Southern Cal, QB; 2001—Eric Crouch, Nebraska, QB; 2000—Chris Weinke, Florida St., QB
1999—Ron Dayne, Wisconsin, RB; 1998—Ricky Williams, Texas, RB; 1997—Charles Woodson, Michigan, CB; 1996—Danny Wuerffel, Florida, QB; 1995—Eddie George, Ohio State, TB; 1994—Rashaan Salaam, Colorado, RB; 1993—Charlie Ward, Florida State, QB; 1992—Gino Torretta, Miami, QB; 1991—Desmond Howard, Michigan, WR; 1990—Ty Detmer, Brigham Young, QB; 1989—Andre Ware, Houston, QB; 1988—Barry Sanders, Oklahoma State, RB; 1987—Tim Brown, Notre Dame, WR; 1986—Vinny Testaverde, Miami, QB; 1985—Bo Jackson, Auburn, TB; 1984—Doug Flutie, Boston College, QB; 1983—Mike Rozier, Nebraska, TB; 1982—Herschel Walker, Georgia, HB; 1981—Marcus Allen, USC, TB; 1980—George Rogers, South Carolina, HB; 1979—Charles White, USC, TB; 1978—Billy Sims, Oklahoma, HB; 1977—Earl Campbell, Texas, FB; 1976—Tony Dorsett, Pittsburgh, HB; 1975—Archie Griffin, Ohio State, HB; 1974—Archie Griffin, Ohio State, HB; 1973—John Cappelletti, Penn State, HB; 1972—Johnny Rodgers, Nebraska, FL; 1971—Pat Sullivan, Auburn, QB; 1970—Jim Plunkett, Stanford, QB
1969—Steve Owens, Oklahoma, HB; 1968—O.J. Simpson, USC, TB; 1967—Gary Beban, UCLA, QB; 1966—Steve Spurrier, Florida, QB; 1965—Mike Garrett, USC, TB; 1964—John Huarte, Notre Dame, QB; 1963—Roger Staubach, Navy, QB; 1962—Terry Baker, Oregon State, QB; 1961—Ernie Davis, Syracuse, HB; 1960—Joe Bellino, Navy, HB; 1959—Billy Cannon, LSU, HB; 1958—Pete Dawkins, Army, HB; 1957—John David Crow, Texas A&M, HB; 1956—Paul Hornung, Notre Dame, QB; 1955—Howard Cassady, Ohio State, HB; 1954—Alan Ameche, Wisconsin, FB; 1953—John Lattner, Notre Dame, HB; 1952—Billy Vessels, Oklahoma, HB; 1951—Dick Kazmaier, Princeton, HB; 1950—Vic Janowicz, Ohio State, HB
1949—Leon Hart, Notre Dame, E; 1948—Doak Walker, SMU, HB; 1947—John Lujack, Notre Dame, QB; 1946—Glenn Davis, Army, HB; 1945—Doc Blanchard, Army, HB; 1944—Les Horvath, Ohio State, QB; 1943—Angelo Bertelli, Notre Dame, QB; 1942—Frank Sinkwich, Georgia, HB; 1941—Bruce Smith, Minnesota, HB; 1940—Tom Harmon, Michigan, HB; 1939—Nile Kinnick, Iowa, HB; 1938—Davey O'Brien, Texas Christian, QB; 1937—Clint Frank, Yale, HB; 1936—Larry Kelley, Yale, E; 1935—Jay Berwanger, Chicago, HB
Get our high school sports newsletter
Prep Rally is devoted to the SoCal high school sports experience, bringing you scores, stories and a behind-the-scenes look at what makes prep sports so popular.
You may occasionally receive promotional content from the Los Angeles Times.