Column: Serena Williams speaks to victims of violence and the people who help them at Yetunde Price Resource Center
Serena Williams looked at the women gathered in the cozy room and recognized their souls, if not their faces.
On a rare visit to Compton, where she and her sister Venus grew up and learned to swing a tennis racket in earnest, Williams spoke to a rapt audience of about 20 African American women at the Yetunde Price Resource Center on Friday. The center, housed in a small storefront on West Compton Boulevard, is named for the Williams sisters' eldest sister, who was killed in a drive-by shooting in 2003. Serena and Venus were the forces behind the center's inception and its evolution into a meeting place and clearinghouse that provides information to aid victims of domestic violence, gun violence, homelessness, and other problems in the community.
Some members of the audience were victims of violence; others advocate for those whose lives have been torn apart by shootings or verbal or financial abuse. She had visited several times since the center opened about two years ago but this was her first chance to meet women who use or contribute to the center's services. She left Compton long ago to win her 23 Grand Slam singles titles and stake a persuasive claim to being the sport's greatest player, but while she ate lunch with the women on a small outdoor patio, while she talked and they nodded in sad familiarity at her mention of the terrible reach violence extends beyond its physical victims, she was home again.
"I see women that could be my friends if I had stayed in the area, if I didn't have a tennis career. They could be best friends," she said. "So it's even moreso, more reason to be involved."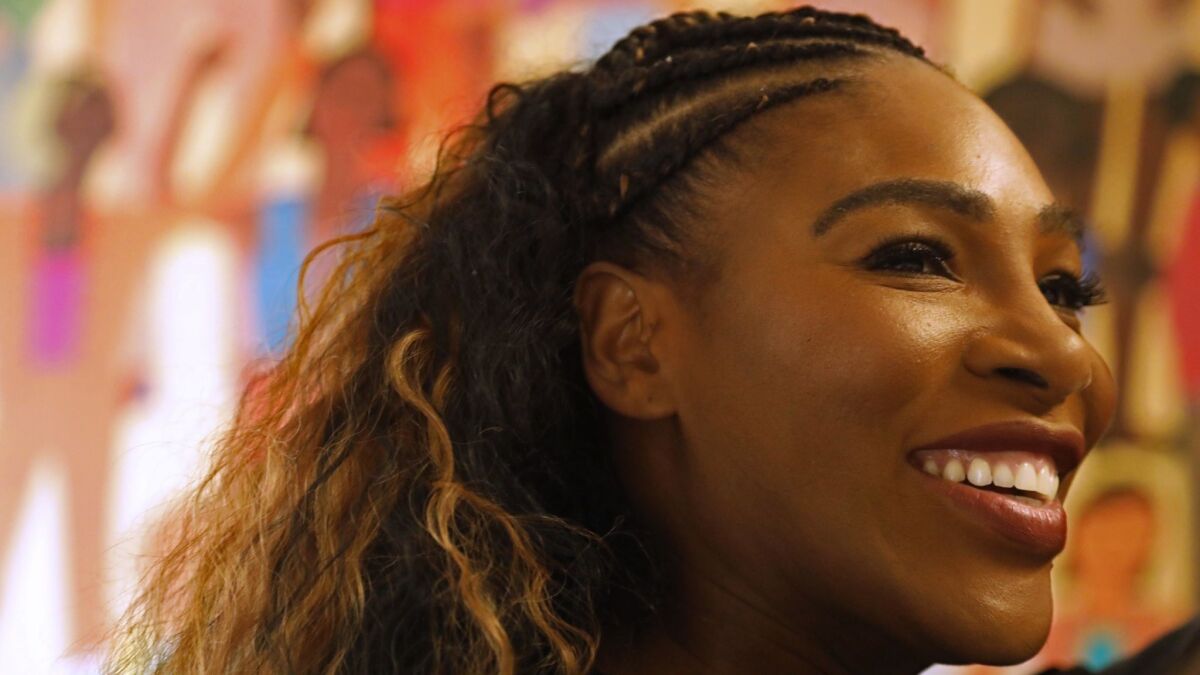 Yetunde Price was a mother of three, a nurse, the co-owner of a beauty salon and a sometime personal assistant to her famous younger sisters when she was shot to death in Compton. Williams spoke at the 2006 sentencing hearing of the killer, Robert Edward Maxfield. He was released from prison earlier this year, which Williams learned of shortly before a match at a tournament in San Jose. Unnerved by the news and the painful memories it stirred, Williams absorbed a 6-1, 6-0 loss to Johanna Konta, the worst defeat of her spectacular career.
The resource center is designed to keep alive the fond memories Serena and Venus have preserved. Serena hopes her 15-month-old daughter Alexis Olympia Ohanian, Jr., can get a sense of who Price was through the center's good deeds. "My sister was the nicest person. She was someone that we would always go to," Williams said. "And so when we built this center we wanted to build a place that resembled her. You can always go here and you feel home and you feel cozy and you feel comfortable, and that's how my sister was. She provided so much stable options for all of us. She was the rock of our sisterhood."
The center directly served about 300 men and women in the last year, according to Stephanie Sandler, chief operating officer of the Driving Force Group, the parent organization of the center and the Williams Sisters Fund. But its main goal is to identify community needs and resources, ensure people can find help, and make it easier for service providers to work together efficiently. Thanh Mai Bercher is in charge of a community mapping project that will list the array of help available and how clients are aided. "That need kind of arises in a place like Compton where you have overlapping issues with transit or community violence and things people have a concern about," she said.
Williams envisions the center someday adding meeting rooms and maybe a family-style kitchen where people can swap recipes. For now, it's just right. "We definitely want to keep a home aspect of it because we want it to feel like it's not a home away from home, but a place you can go and feel home, a refuge," she said. "This is just the start. We wanted to start out with something that people can really relate to. I think it's really important to start out like this is in the community. It's right in the heart of Compton."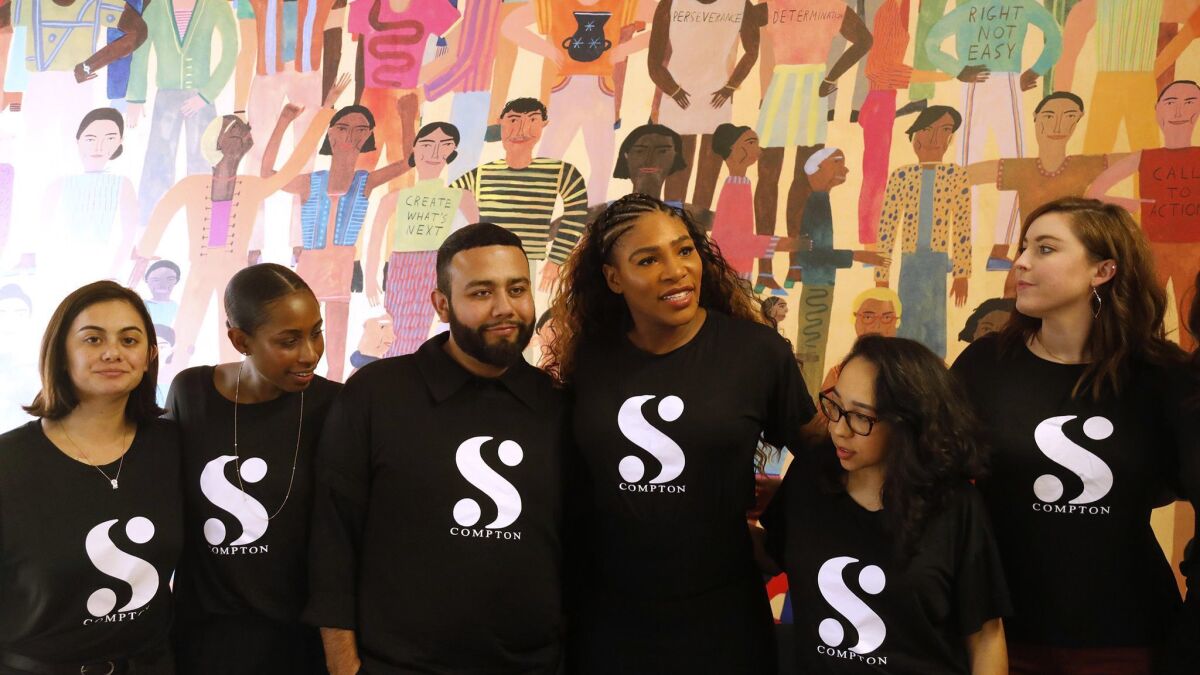 Williams turned 37 in September, soon after her decisive and acrimonious loss to Naomi Osaka in the U.S. Open final. Upset after she was assessed a code violation for receiving coaching — she said she didn't see hand signals Patrick Mouratoglou acknowledged he'd made — she broke her racket and repeatedly berated chair umpire Carlos Ramos and was penalized a point and then a game. The crowd supported her by booing during the trophy ceremony, leaving Osaka in tears and spoiling what should have been a triumphant moment. Williams' actions and post-match comments polarized fans: some commended her for fighting the chair umpire's supposed sexism, and others chided her overreaction. Williams' press representatives said she would not answer questions on Friday about the Open.
Asked about her training and mind-set in advance of the Australian Open, which will give her another chance to tie Margaret Court's record of 24 Grand Slam titles, Williams was vague. "It's coming along. I'm just really focused on other things right now," said Williams, whose clothing line will be featured at a popup store at Melody Ehsani on Fairfax on Saturday and Sunday. "It's fun. I'm just enjoying every single moment."
The women who met her Friday are fans of Williams the person, not just the tennis star. "This is a beautiful center," said Kandee Lewis, a trauma awareness and violence prevention specialist who contracts with the resource center. "To have this kind of rich resource in the community, we're standing out here and there are women who are crying and they're already healing, just being connected together. This is a blessing."
Follow Helene Elliott on Twitter @helenenothelen
Get our high school sports newsletter
Prep Rally is devoted to the SoCal high school sports experience, bringing you scores, stories and a behind-the-scenes look at what makes prep sports so popular.
You may occasionally receive promotional content from the Los Angeles Times.