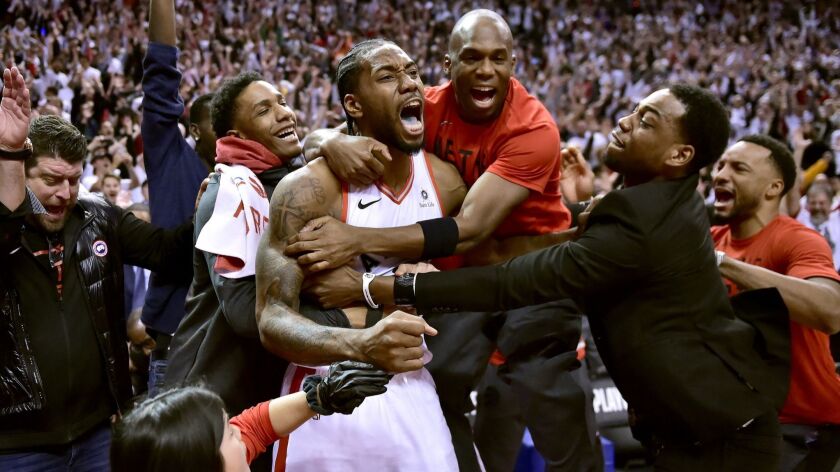 Kawhi Leonard had the shot heard 'round the world Sunday night — quite literally.
The Toronto Raptors star hit an incredible shot at the end of Game 7 of his team's Western Conference semifinal series against the Philadelphia 76ers. Time had already expired as the ball bounced on the rim four times before finally falling through the net to give the Raptors a 92-90 win and advance them to the conference finals against the Milwaukee Bucks.
It was a shot that needs to be seen to be believed — although hearing all the various broadcasts of it from around the world is pretty amusing as well.
For your convenience, here's a whole bunch of them ranked in order of entertainment value. Keep in mind that this is just one man's opinion — and it is a man who only speaks one of the languages included, so the actual words that the announcers say really don't factor into it. Unbridled enthusiasm is universally understood, though, and is rewarded here.
1. Korean
These guys lose their minds and it's fantastic.
2. Portuguese
The giddy sidekick really makes this one.
3. French Canadian
"Oui papa! Oui papa! Oui papa!"
4. Turkish
Nothing says "unbridled enthusiasm" like an out-of-breath announcer whose voice cracks while making the call.
5. Set to music from "Avengers" and "Titanic"
OK, these really don't belong on this list, but they're just too good to be ignored.
6. English
Admittedly, this one is so low because I actually could understand the words. The enthusiasm was there, but the words seem somewhat uninspired.
7. Mandarin
After an initial burst of enthusiasm, these guys seemed to calm down pretty fast.
8. Spanish
Sounds more like they're calling an exciting finish to a regular-season game, not a buzzer-beater that determined who gets to go to the conference finals.
---