NBA roundup: Thunder strike early to roll past Bucks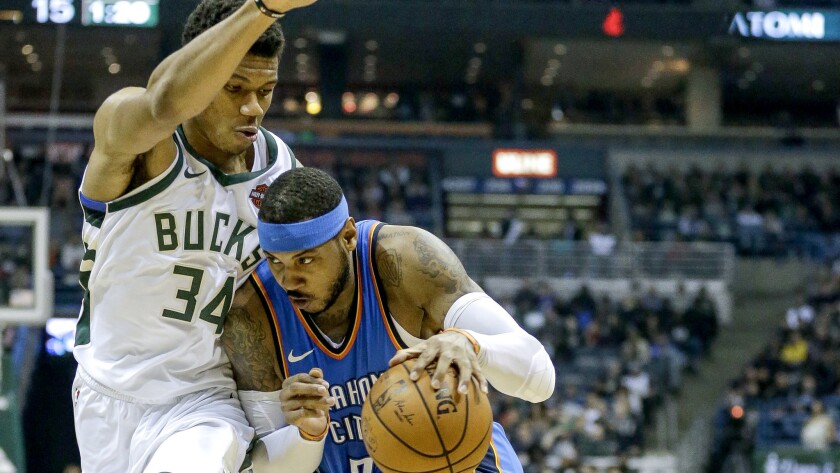 Paul George scored 20 points, and the visiting Oklahoma City Thunder dominated the paint during a 16-0 run to take control early in a 110-91 win over the Milwaukee Bucks on Tuesday night.
Russell Westbrook had 12 points, 10 rebounds and nine assists, while Carmelo Anthony scored eight of his 17 points in the pivotal first quarter.
Milwaukee's Giannis Antetokounmpo had 28 points on nine-of-14 shooting, but he was the only Buck in double figures.
"Russ, Russ pushes the tempo," George said. "Nobody can push him from the paint, and we're getting wide open looks."
Oklahoma City went from down four to a 20-8 lead on George's jumper with 4:16 left in the first. It was essentially over from there, especially with the way Westbrook kept finding driving lanes.
"We really moved the ball well and we generated high-quality shots," coach Billy Donovan said. "We got a little bit lax and had a couple of possessions we needed to clean up but I thought for the most part the guys did a good job of attacking their defense."
Adams finished with 14 points and 11 rebounds. Jerami Grant added 17 points off the bench for the Thunder.
Phoenix 122, at Brooklyn 114 (OT): Devin Booker scored 32 points, Mike James added 24 and the Suns rallied in the fourth quarter after squandering an 18-point lead as Brooklyn had a 17-0 run. D'Angelo Russell scored 33 points and Hollis-Jefferson had 21 for the Nets, who have lost three in a row after beating Cleveland last Wednesday at home.
at Indiana 101, Sacramento 83: Bojan Bogdanovic scored 17 points to lead a balanced Indiana offense as the Pacers took a 55-30 lead at the half and cruised. Indiana forward Domantas Sabonis had 10 points and 12 rebounds in the first half and finished with a career-high 16 rebounds in addition to 12 points. Rookie guard De'Aaron Fox led the Kings off the bench with 18 points.
The Los Angeles Dodgers in the 2017 World Series
On Now
Video: Kenley Jansen, Cody Bellinger, Rich Hill talk about losing Game 7
1:59
On Now
Video: Analysis: Dodgers lose Game 7 and the World Series
11:43
On Now
Video: Yu Darvish talks about using his slider for Game 7
1:34
On Now
Video: Kenley Jansen and others talk about winning Game 6
1:58
On Now
Video: Analyzing the Dodgers Game 6 win
7:26
On Now
Video: Clayton Kershaw on starting Game 5 of the World Series
1:57
On Now
Video: Dave Roberts Talks Rich Hill and Kenley Jansen pitching in Game 6
1:57
On Now
Video: Dave Roberts talks preparing for Game 7
1:26
On Now
Video: Here it is, Game 7, and Bill Plaschke knows who wins
2:22
On Now
Video: Rich Hill talks about Game 6 of the World Series
1:48
---
Get the latest on L.A.'s teams in the daily Sports Report newsletter.
You may occasionally receive promotional content from the Los Angeles Times.