In the NBA, fake-meat diets are changing the game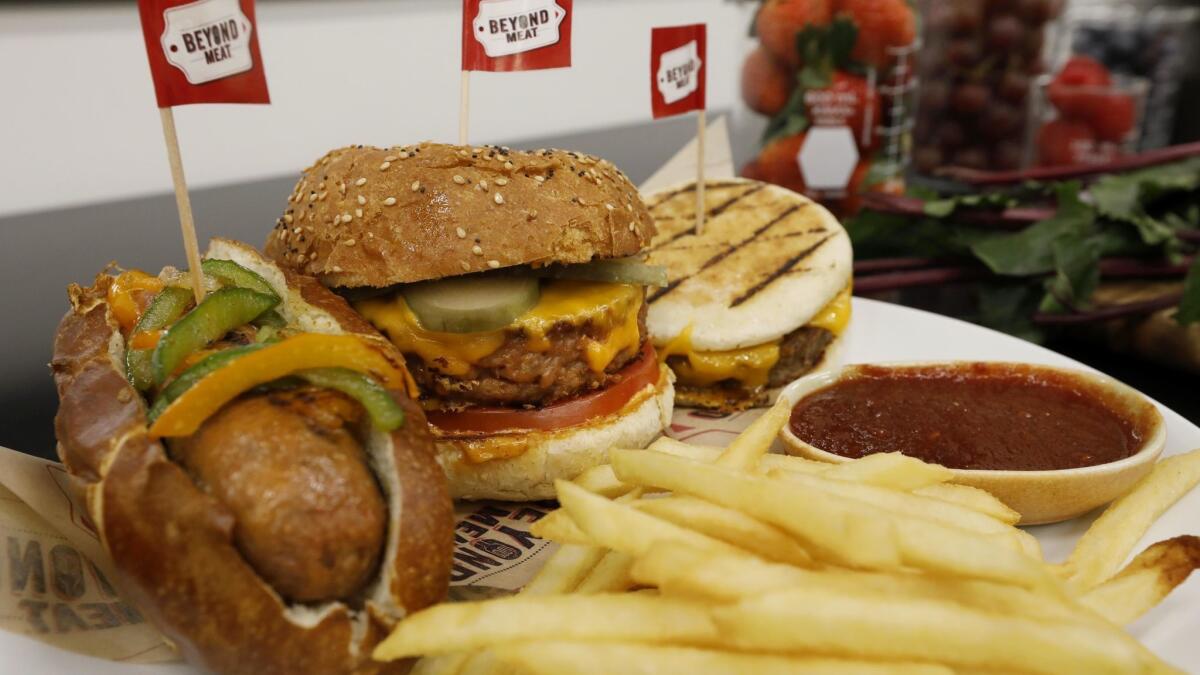 This is not the All-Star break Magic Johnson and LeBron James envisioned when basketball's best player announced he was joining the Lakers in July.
Still, there are some bright spots to this disappointing season, and high among them has to be the play of JaVale McGee. The last four seasons, the onetime Shaquille O'Neal punching bag has gone from being a joke to a bit player on two championship teams, to now a fairly important piece to the Lakers' fleeting postseason hopes.
Though it's not unusual for an athlete to have a late-career surge, McGee's began when he gave up meat.
"I was in Dallas and I had gained weight and knew becoming a vegetarian was the quickest way to lose it," he said. "I just wasn't sure if I could do it."
It was 2015, and he was a bench player for the Mavericks struggling to find minutes. A trip to Whole Foods led him to discover a producer of plant-based meat substitutes called Beyond Meat — and with it, renewed energy.
The official fast food French fry power rankings »
"I was just looking for vegan stuff, saw the name and was like, 'Let me try this,' and it was really good," McGee said. "Like I couldn't tell the difference between that and meat. I thought, 'If I can make it taste good and I'm not really a cook, imagine what a chef could do.'"
McGee is not the only NBA player to experiment with a plant-based diet after discovering the El Segundo-based company. In fact, Beyond Meat has made a specific pitch to woo athletes to become evangelists for its products.
That funky baseball cap Boston Celtics guard Kyrie Irving often wears — with the caped steer — is the Beyond Meat logo. Indiana Pacers guard Victor Oladipo eats the food, as do Philadelphia 76ers marksman J.J. Redick, Sacramento Kings forward Harrison Barnes and New York Knicks center DeAndre Jordan. Jordan convinced former Clippers teammate Chris Paul to eat it, and when Jordan signed with the Mavericks, he got Dennis Smith Jr. to try it too. Now when they are on the road with the Knicks, Smith calls Jordan with vegetarian restaurant options near the team hotel.
"I'm not the kind of person that forces things on people but if you ask me about it, I'm singing," Jordan said.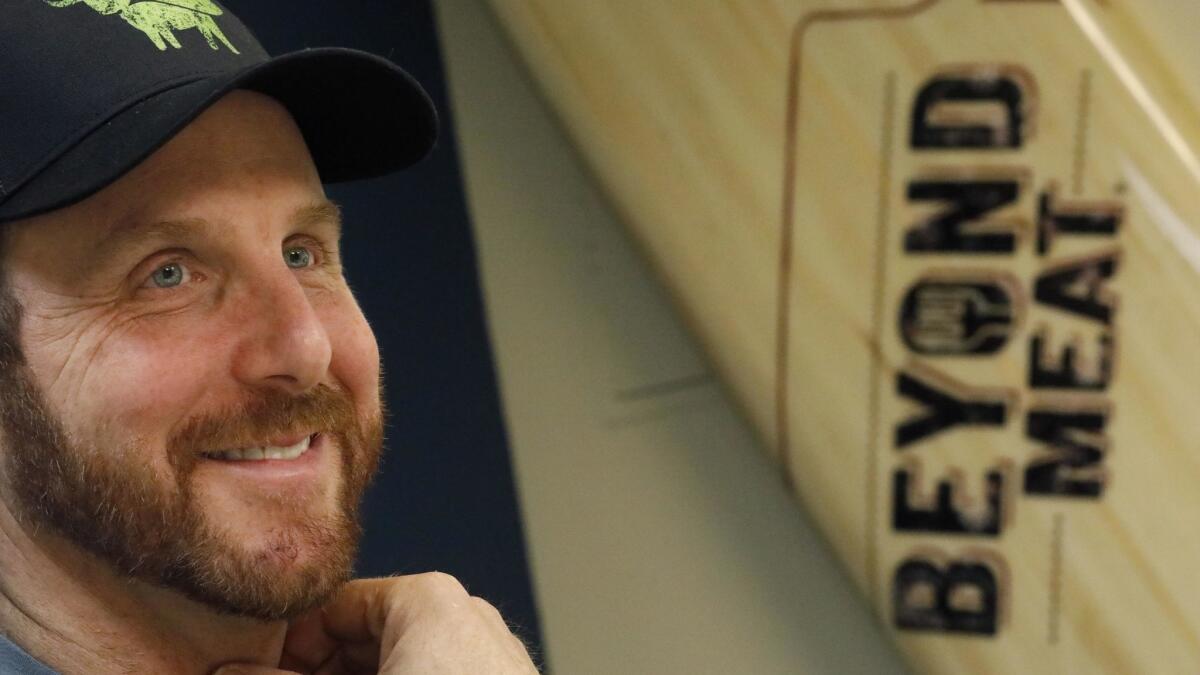 The plant-based craze has crossed into the NFL as well, with Houston Texans wide receiver DeAndre Hopkins and Philadelphia Eagles safety Malcolm Jenkins also serving as ambassadors for Beyond Meat.
Beyond Meat is on a growing list of companies developing meat substitutes, which Allied Market Research says will be a $7.5-billion market worldwide by 2025. Its biggest competitor is Impossible Foods, based in Redwood City, and other large companies are entering what is seen as a growth market. Microsoft co-founder Bill Gates, for example, has invested in both companies, and food giant Tyson Foods is an investor in Beyond Meat.
Last month, Beyond Meat announced a partnership with Carl's Jr. This week it is expected to announce partnerships with some NBA players who regularly consume the company's burgers after games, including a commercial featuring Irving.
Players on meatless diets talk about having more energy and quicker recovery after games. McGee said his skin is clearer. Jordan talked about the positive influence on the environment — that producing meat substitutes uses less water and creates fewer greenhouse gases than the production of beef. And a recent study the University of Michigan conducted concluded that Beyond Meat's production does require less water, energy and land than traditional meat producers.
Given the opportunity to visit Beyond Meat's headquarters and sample some prototypes, I got a closer look at what they were doing with sunflower seeds and peas. The company's research and development department is peppered with beef slivers under microscopes. Scientists are analyzing images of the molecular structure of animal flesh on a screen next to their products, to get the composition as close as possible with a few tweaks — more protein and no cholesterol.
If there was a checklist for a tasty product, Beyond Meat does a pretty good job. But people like what they like. And people like meat — moo meat.
Full disclosure: I saw that "What the Health" documentary and was moved to go vegan. After a couple of weeks, I was moved to eat a steak and take my chances.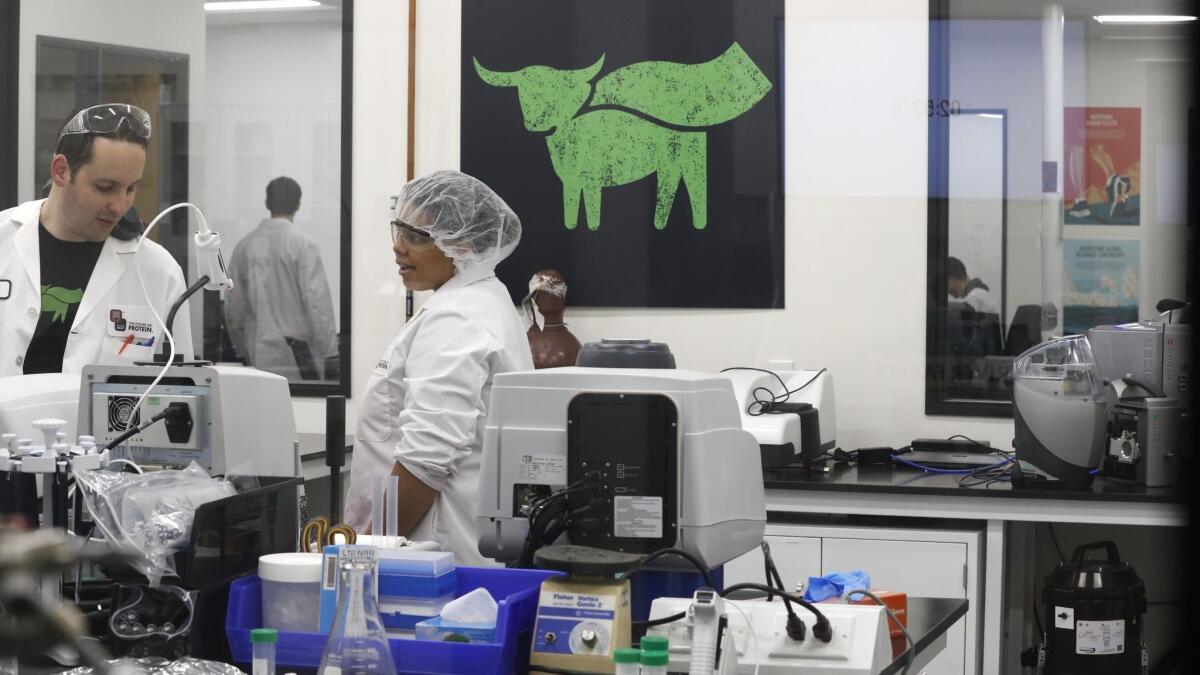 If you're wondering whether the athletes who rave about plant-based diets are only tricking themselves into thinking they have more energy, some nutritionists are backing them up. Nutrients, a peer-reviewed science journal, recently released a study stating plant-based diets have consistently been shown to reduce body fat while increasing vascular flow and tissue oxygenation.
"Diets emphasizing plant foods have also been shown to reduce indicators of inflammation," the study found.
None of which is new information to nutritionist and New York Times bestselling author Cynthia Sass. She said in addition to the physical benefits, a plant-based diet also may lead to clearer thinking and better disposition. She said the biggest drawback for professional athletes is the commitment.
"It requires more nutrition knowledge in order to make choices that properly meet nutrient needs," said Sass, a sports nutrition consultant for the New York Yankees and the Brooklyn Nets. "It can also be challenging for athletes in team sports who may have less control over their meals when traveling and limited access to plant proteins and other key foods."
Translation: It's easier to eat healthy at home; it's the road trips that can kill you.
Not everyone is sold on swearing off meat completely.
"There is no perfect human diet," said Chris Algieri, a former junior welterweight champion boxer who now works as a nutritionist for Daniel Jacobs, the International Boxing Federation middleweight champion, and holds a master's degree in clinical nutrition.
"Individual difference between people is so great that there isn't a single 'right way' when it comes to nutrition. What works for some athletes may be a total disaster for others. I personally don't follow a plant-based diet because it does not suit me. I have tried it and did not have good results, but that is just my personal experience and not to say it can't work for other athletes."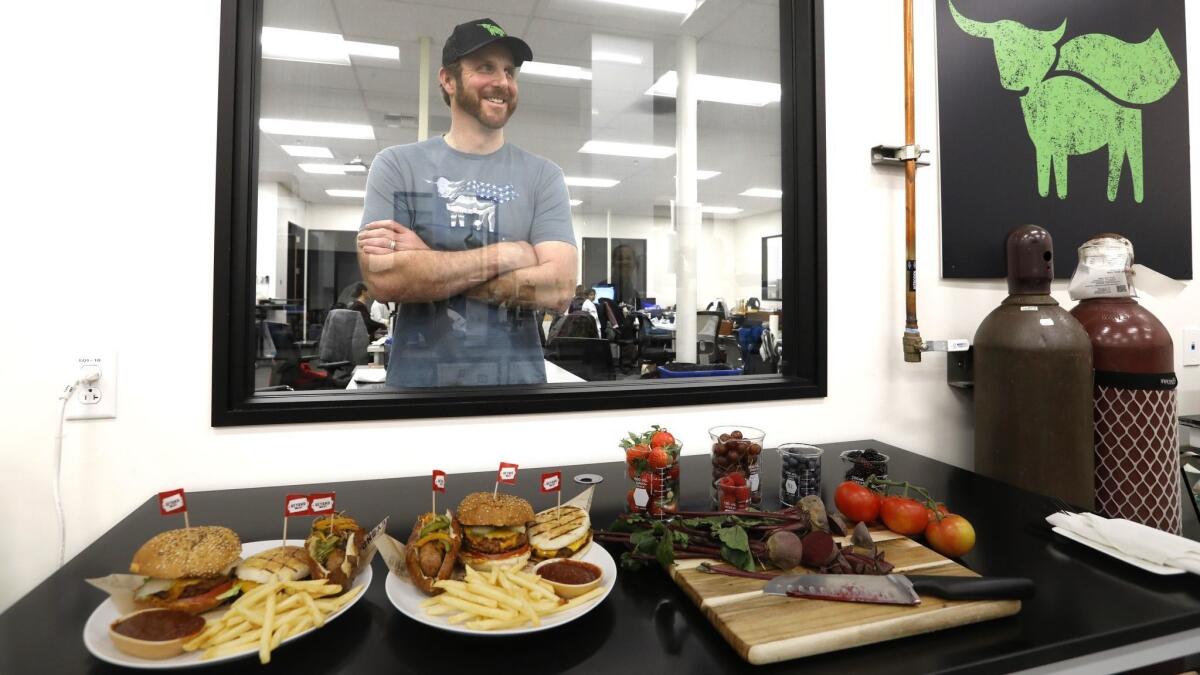 Getting more of the masses to buy into a plant-based diet won't be easy, which is why Chief Executive Ethan Brown is hitching the company's wagon to athletes. They get us to buy shoes we don't need and movies not worth watching. He believes if enough of them buy into his brand of healthful eating, it can spark a movement.
"They have the power to change the world," Brown said. "I don't know if they really feel that way yet, but it's true. They have the opportunity to influence an entire generation of kids to eat healthier and help save the environment."
Irving said he mentioned his diet change during an interview at the beginning of last season, and Beyond Meat offered to send him samples.
"I was noticing that I wasn't able to recover as fast after games and workouts," he said. "I did a lot of research and learned that my diet could be a factor.
"It was good timing as I was struggling to find quality plant-based foods that still had a lot of flavor."
But can he and other NBA evangelists really get people to grill tasty sunflower seeds instead of ground beef?
"Not only do I think it will be a permanent change among athletes," Irving said, "but I think we will see people who aren't professional athletes making the change as well."
Get our high school sports newsletter
Prep Rally is devoted to the SoCal high school sports experience, bringing you scores, stories and a behind-the-scenes look at what makes prep sports so popular.
You may occasionally receive promotional content from the Los Angeles Times.