Sparks star cultivated her MVP skills on the blacktop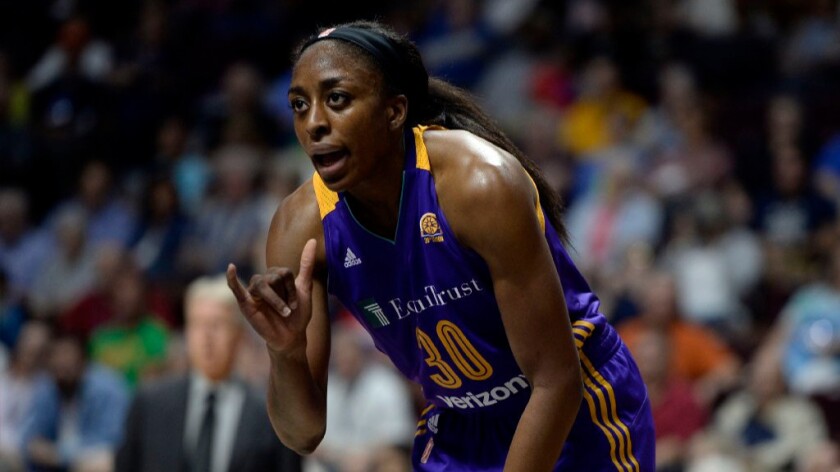 Long before she was an All-American at Stanford, became the Sparks' No. 1 pick in the WNBA draft and on Tuesday earned the league's most valuable player award, Nneka Ogwumike was the center of attention on a small court in Tomball, Texas.
It was a driveway blacktop next to the Ogwumikes' home, where Nneka, the oldest of four girls, set the rules. She was 11 but already too tall for gymnastics, so she took on her three sisters by herself.
There were various rules in this family basketball contest, but the last rule still makes Nneka laugh: Only two sisters were allowed to guard her at once, and the other could wait at the rim.
"That's kind of like what I'm dealing with now," Ogwumike, 26, said last week through incessant laughter. "Double teams and help defenders."
Whatever defenses WNBA teams threw at Ogwumike this season, the 6-foot-2 forward responded by throwing the ball into the basket with unflappable ease.
Ogwumike averaged 19.7 points, 9.1 rebounds and 3.1 assists a game while shooting a league-best 66.5% from the field. She can also guard all five positions.
Her breakout MVP season, Ogwumike's fifth in the league, raised one obvious question: How was she left off the U.S. Olympic team?
"You're taking somebody who's going to be a first-team all-league player, plus they're on the all-defensive team," said Sparks Coach Brian Agler after the team's regular-season finale. "Who's done that in the past? Tamika Catchings? Lauren Jackson? That's it. Think about that."
Ogwumike has always been an efficient scorer, but this season the three-time All Star reached a new level.
On June 11, Ogwumike went 12 for 12 from the field and seven for seven from the free-throw line on her way to 32 points. On June 30, she went 13 for 14 from the field and 12 for 14 from the line for a career-high 38. She's kept opponents off balance with what she calls an "old school" game — posting up, cutting back-door, hitting face-up jumpers.
For all her success, Ogwumike is happy to think about other things away from the court. "I don't follow sports," she said, shyly dropping her eyes, after a recent Sparks practice. "I know when Stanford wins, but that's pretty much it."
Ogwumike quickly clarified that she studies the Sparks' upcoming opponents and is a film room regular. But she rarely joins her teammates to watch the NBA, NFL or whatever else is on. She doesn't track scores on her iPhone. She would rather turn on "Grey's Anatomy" or "Scandal" or window shop in Venice Beach.
Yet she did follow the U.S. women's Olympic team as it bulldozed its way to a gold medal in Rio. Ogwumike was one of 16 players at the tryouts in February and in April learned that she didn't make the final 12-woman roster.
"I talked to her right when that happened.… It was disappointing, you know?" said Tara VanDerveer, who coached Ogwumike at Stanford. "She turned that disappointment into something positive, and a lot of people can't do that."
"I mean it wasn't cool to not make the Olympic team," Ogwumike said last week. "And it honestly didn't faze me too much. I think it's more something other people talk about."
The Sparks open their semifinal series against the Chicago Sky on Wednesday at Long Beach State. Ogwumike's performance is critical if the Sparks are to win their first WNBA championship since 2002.
Agler says that Ogwumike is perfectly positioned in the Sparks offense, which allows her to post up smaller defenders and take bigger ones away from the paint. Ogwumike says her scoring efficiency is as high as it's ever been and that she is seeing plays before they happen.
That will come in handy in the playoffs, where Ogwumike will be the focus of opposing defenses. When she catches the ball on the block, she will often draw a double team. When she muscles her way through it, she will find another defender waiting at the rim.
She won't be flustered, though, because Ogwumike has known exactly what to do, ever since those one-on-three games in her driveway.
Follow Jesse Dougherty on Twitter @dougherty_jesse
---
Get our high school sports newsletter
Prep Rally is devoted to the SoCal high school sports experience, bringing you scores, stories and a behind-the-scenes look at what makes prep sports so popular.
You may occasionally receive promotional content from the Los Angeles Times.