Former USC and NFL coach Rocky Seto gives up a nearly seven-figure salary to become a pastor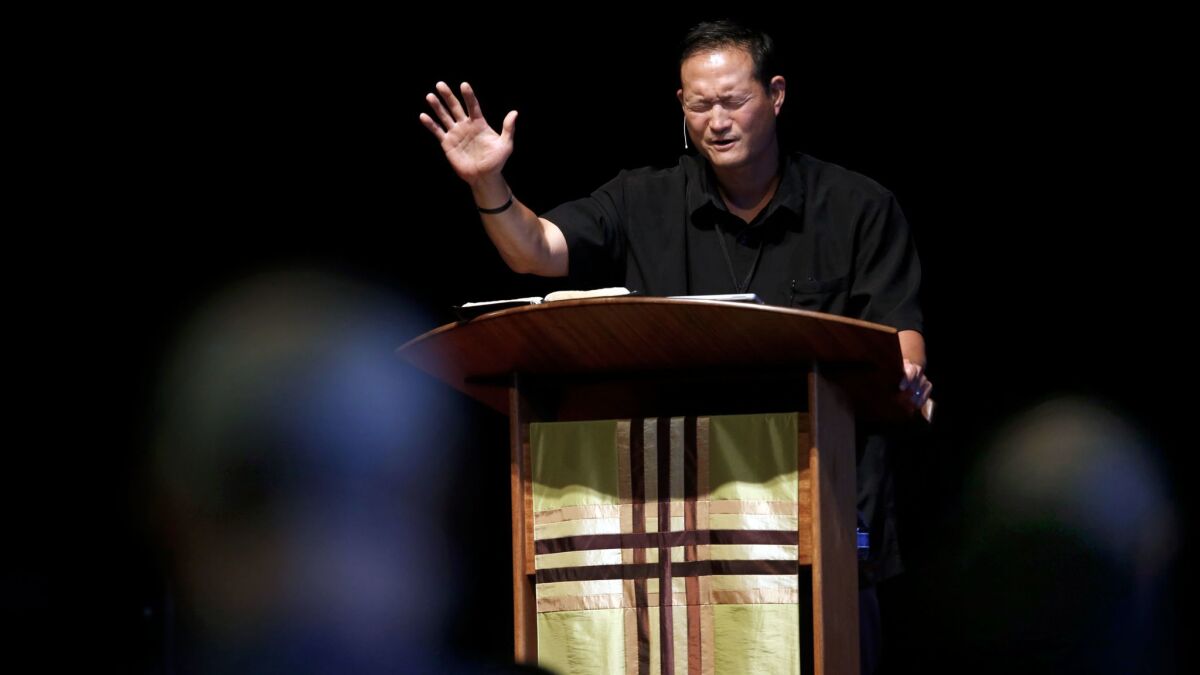 A metallic growl — frantic and low-pitched — came from somewhere above him.
Rocky Seto was taking his morning run, jogging around a quiet lagoon, when he looked up to see a small plane tumble out of the sky and smash into the water not 50 yards away.
"Three people killed instantly," he recalls. "That got into my mind."
It wasn't the only time Seto figured God was sending him a message.
There were other, subtler instances that help explain his walking away from a career as a big-time NFL assistant coach, leaving behind a salary of almost seven figures and the adrenaline rush of 70,000 screaming fans.
"Rocky and I talked about this for years and years," says Pete Carroll, the head coach Seto followed from USC to the Seattle Seahawks. "He had an enormous decision to make."
The 41-year-old Seto now spends his Sundays far from the spotlight, standing in the pulpit of a San Gabriel Valley church, preaching to a hushed congregation of several hundred.
Though the work pays a fraction of the money and offers none of the glamour, he insists "I can't think of a place I would rather be."
The former linebacker has a way of talking fast when he grows excited, the words bumping into each other. His face is broad and friendly, framed by short, black hair. It is a face suitable for grinning, which he does often.
"I know people think this is crazy," he says.
::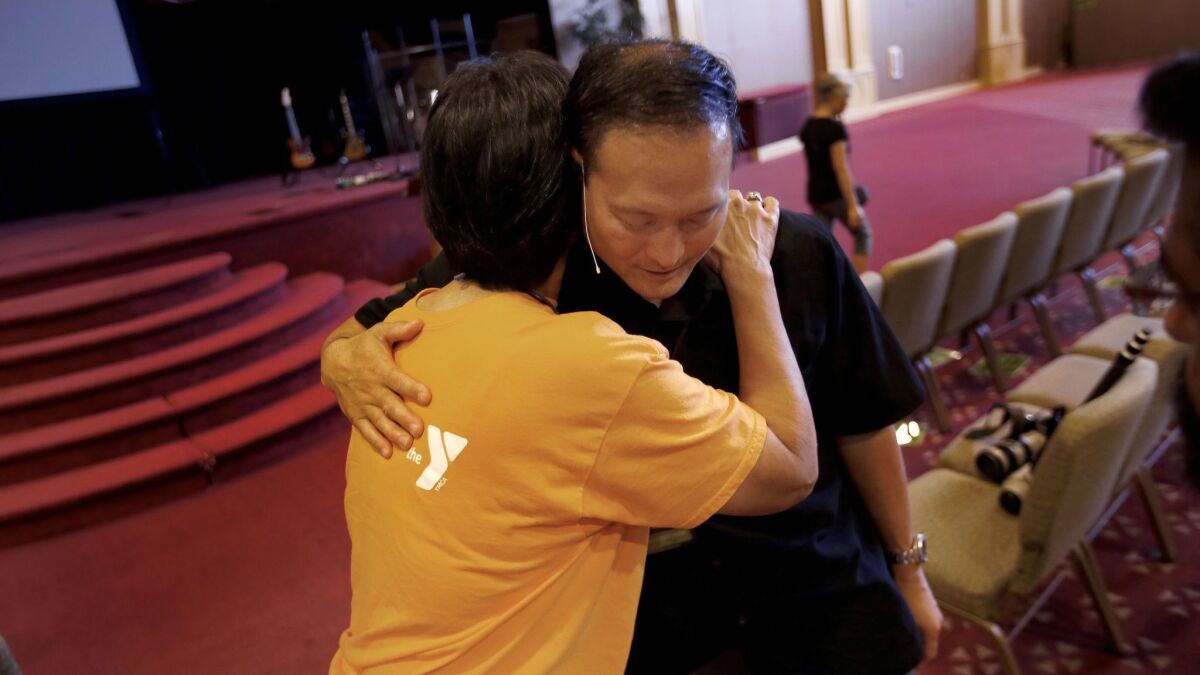 To suggest that Seto is an unexpected choice to head Evergreen Baptist Church of San Gabriel Valley would be an understatement.
Many of the congregants know him because he attended regularly in the past, back when he was coaching at USC, but he has no experience as a full-time pastor and has only recently sought to finish his theology studies.
On the Sunday when he is formally introduced, the church falls quiet. As expectant faces look up to the stage, Seto cannot help breaking into laughter.
"Amazing," he says. "Amazing."
In one way, it makes sense that he has ended up here — just like him, Evergreen SGV has a history of reinventing itself.
The church got its start in the Boyle Heights of the mid-1920s, when that community had a thriving Japanese-American population. As the years passed and the neighborhood became predominantly Latino, attendance dwindled.
Searching for a new home, the church settled in Rosemead for a while before splitting into two smaller churches: Evergreen Baptist Church of Los Angeles remained in Rosemead, while Evergreen SGV began in the cafeteria of a Whittier community college on Sundays.
Eventually the coffers grew large enough to pay for a converted school near the 605 Freeway in La Puente. Now Evergreen SGV services are held inside an expansive sanctuary with windows that let sunlight come streaming in
Dressed casually in short sleeves and slacks, Seto tells congregants that destiny has brought him to this place. As much as he loved coaching — "It was a dream come true" — the ministry was always his true calling.
If the people before him still feel apprehensive, if they think of him in terms of sports not scripture, he understands.
"I don't deserve this [job]," he tells them. "I received this only by the grace of God."
::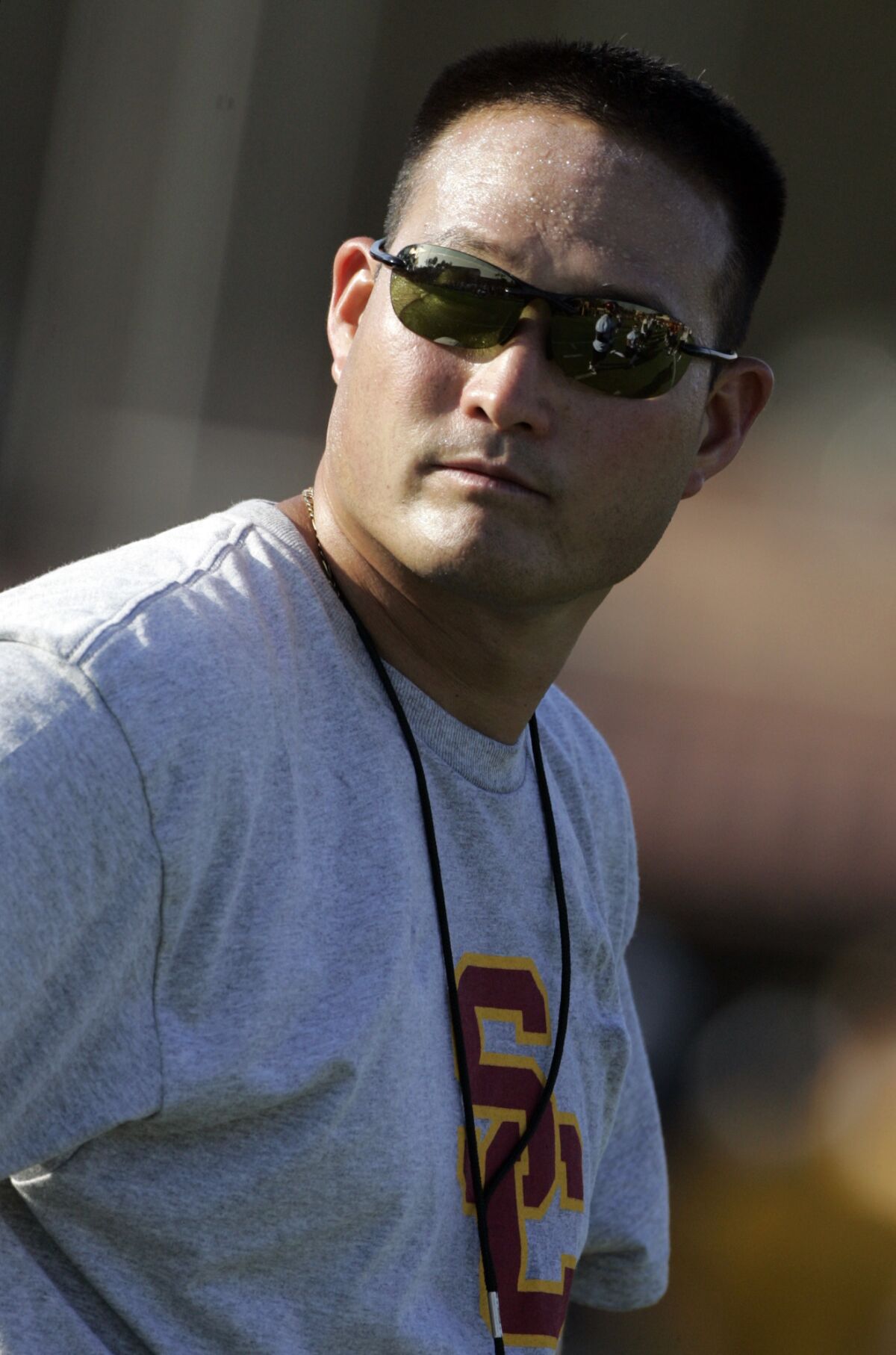 There wasn't much chance of an undersized kid from Arcadia High becoming a star athlete.
Seto spent two seasons at Mount San Antonio College before transferring to USC in 1997 and fighting for a place on the scout team — the faceless bunch that toils in practice, getting the starters ready for Saturday.
"Rock was about as tough as they come," says Rocky Brown, a fellow walk-on. "He played with reckless abandon."
The Trojans always had been Seto's favorite team because they were his dad's favorite team. But charging out of the Coliseum tunnel for his first game — the 1997 season opener against Florida State — he felt odd.
I need something more, he thought.
As time passed, Brown sensed this unease. A devout Christian, he approached Seto one afternoon after practice and handed him a Bible.
"You wouldn't expect that to happen in a locker room," Brown says. "That's the crazy thing about God."
Though Seto did not come from a church-going family, he quickly took to Christianity, bringing along his girlfriend, Sharla, a USC soccer player who would become his wife.
Such was his devotion that he thought about someday becoming a minister. In the meantime, after graduating in 1999, he wangled a spot on USC's coaching staff as a volunteer assistant.
"I thought coaches and pastors were very similar," he recalls. "They both mentor."
Carroll arrived two seasons later, replacing the fired Paul Hackett, and decided to keep Seto on board. In a profession filled with tough, intense men, the young assistant had a way of blending discipline with that ready smile, a trait that drew players to him.
"When you think of Rocky," Carroll says, "you think of loyalty and heart."
Working his way up the ladder, Seto oversaw linebackers and safeties, then assumed responsibility for the entire defense. The same thing happened when he followed Carroll to Seattle in 2010.
Over five seasons, Seto rose from position coach to assistant head coach and helped guide the Seahawks to a Super Bowl victory in 2014.
During this time — on a road trip to face the Oakland Raiders — he witnessed the twin-engine plane lose power and crash near the team's hotel. It was becoming clear to him that life was bigger than football, that college national championship and Super Bowl rings weren't enough.
The ministry weighed heavy on his mind and, as he would later explain to the Evergreen SGV members, "Every year, I'm asking 'Lord, is it time?'"
::
When it comes to finding a new leader, churches often follow an established procedure — forming a search committee, identifying candidates and conducting interviews.
As the outgoing senior pastor at Evergreen SGV, Cory Ishida has doubts about this method.
"It's similar to a coaching search," he says. "You think you have the right person, they look good on paper, but it just doesn't work out."
Ishida put off retirement to see his congregation through the move to La Puente. When it finally came time to look for a successor, he persuaded the board to let him take charge and, like Moses in the Book of Numbers, he sought divine assistance.
"I didn't want the responsibility of choosing — it's too big," he says. "I just asked the Lord, please bring someone to me."
For months upon months, Ishida prayed. And waited.
In the summer of 2014, he and a number of church families happened to be vacationing in Mammoth at the same time. Ishida invited a dozen or so of the husbands to a barbecue at the place he had rented.
It was supposed to be fun, a boys' night out. Seto was the last one to walk through the door.
"The Lord said to me, 'This is the guy,'" Ishida recalls.
The idea wasn't entirely outlandish because Seto had spoken openly of his desire to minister. In 2010, between jobs at USC and Seattle, he and Ishida had discussed the possibility of an internship. Still, his lack of experience was an issue.
"Pragmatism and good common sense didn't play a role in this," Ishida says.
The senior pastor shared his revelation with a few people, but not Seto. Two more years passed before Ishida learned that Seto's contract with the Seahawks would come up for renewal after the 2016 NFL season.
::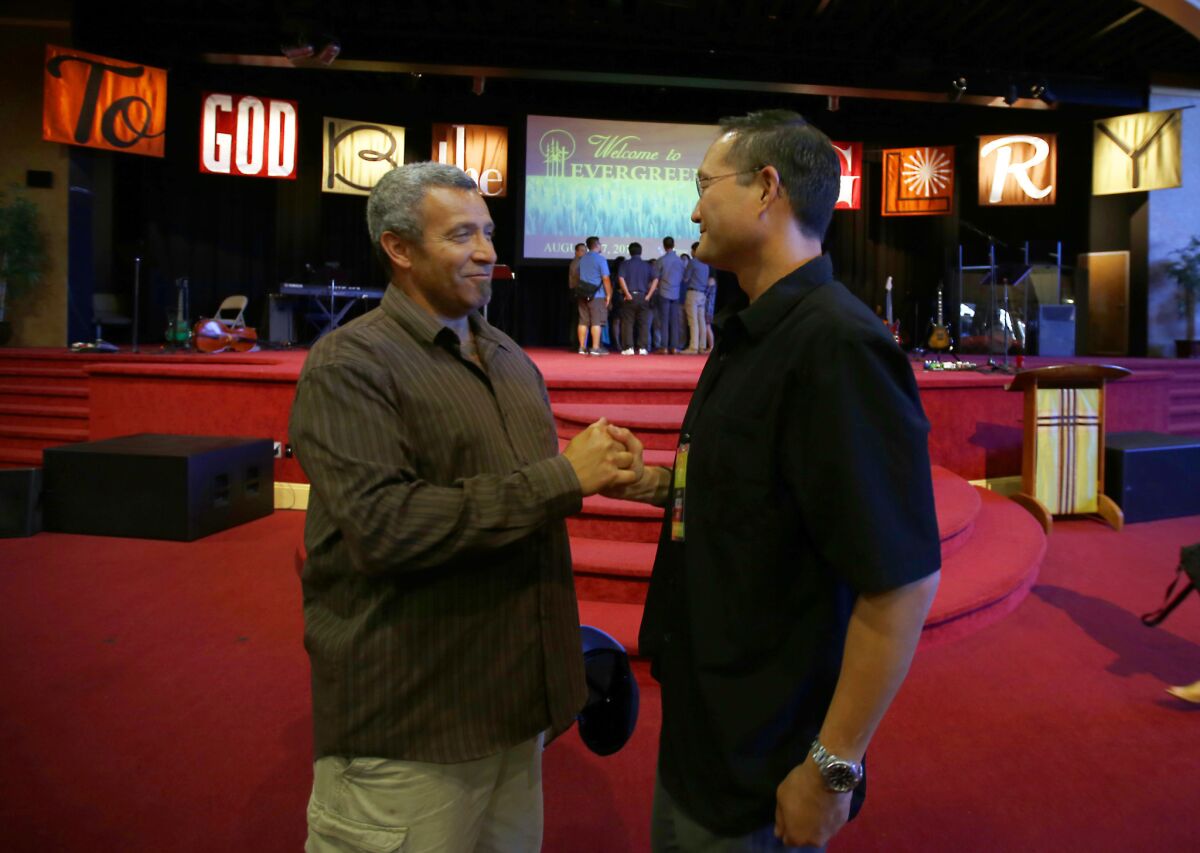 Sharla Seto had her reasons for wanting to stay in Seattle. Her family lived there and she liked that her husband worked in the NFL, that she could take friends to games.
There were practical considerations, too. With four young children at home and bills to pay, their lives would be impacted in very real ways if Rocky took a big pay cut.
"I had a really, really hard time with it," she says. "I just wanted to be sure."
The turning point came in early January when a young girl they knew died of cancer. Prompted to step back, to view life from a broader perspective, Sharla texted Rocky, who was once again in the San Francisco Bay Area for a road game.
If this is what the Lord has called you to do, she wrote, you should do it.
Two weeks later, after Seattle lost to Atlanta in the playoffs, he stood before the team to announce his departure.
"It was emotional," Carroll recalls. "Rocky was a loved guy around here."
Through the spring and summer, Seto studied theology online and visited Southern California for meetings at Evergreen SGV. Ishida agreed to stay a few more years, giving Seto time to gradually assume more and more responsibilities.
"As a football coach, players came to me with life issues, from marriage to pregnancy stuff, all kinds of things," Seto says. "Pastoring is a little more challenging."
Now he must minister to women, children and the elderly. In July, he presided over his first wedding, which jangled his nerves as badly as any championship game.
Ishida has watched as congregants gather around their new leader after services, wanting to shake his hand or give him a hug and chat for a few minutes.
"When you leave something as lucrative and status-driven as the NFL, that tells people you are called," Ishida says. "Being a football coach doesn't hurt — we have so many 'SC people here."
::
It is almost 10 a.m. and, up north, the Seahawks are starting practice. In his old life, Seto would be slathering sunscreen on his face and arms, preparing to take the field.
Instead, he gathers his Bible and some notes and heads into his first staff meeting.
Ishida remains in charge, sitting at the head of the table, sorting through prayer requests and discussing budgetary matters. He calls upon Seto for a devotional reading from Ephesians: "For this reason, I kneel before the father, from whom every family in heaven and on earth derives its name …"
Seto connects these words to something that happened over the summer when a few Seahawks players showed up for services at Evergreen SGV and the congregation was warned about asking for autographs or snapping pictures.
It was just like the passage from Ephesians, Seto tells the staff. He's talking about self-worth and the trappings of this world.
No one should be seduced by wealth or fame, he explains. Certainly not by the glitz of professional football.
This message is obviously close to the new pastor's heart.
"At the end of the day," he says, "Jesus is the only one who defines you."
Follow @LAtimesWharton on Twitter
ALSO
USC-Texas revisited | Why soldier Travis Tofi kept his football career a secret
Rams turn the Coliseum into a fun house
How the Chargers and Broncos match up for the season opener Monday
---
Get our high school sports newsletter
Prep Rally is devoted to the SoCal high school sports experience, bringing you scores, stories and a behind-the-scenes look at what makes prep sports so popular.
You may occasionally receive promotional content from the Los Angeles Times.