Olympic bid contest between L.A. and Paris turns into squabble over social media fans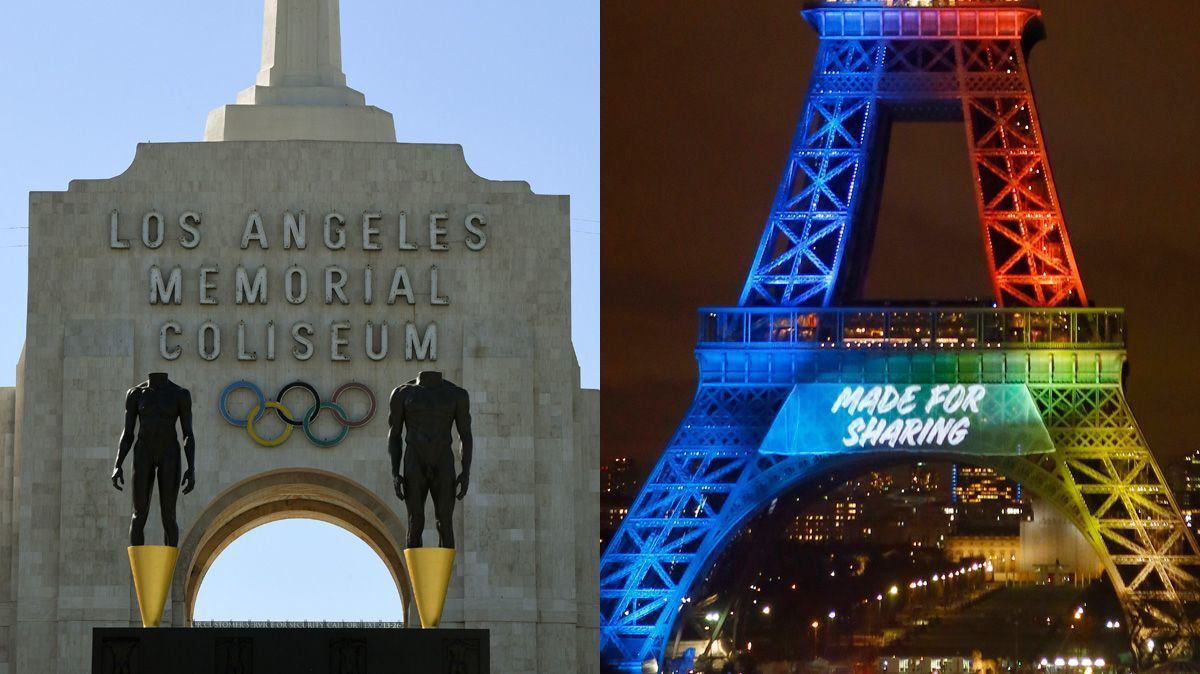 If anyone doubts the race between Los Angeles and Paris for the 2024 Summer Olympics is heating up, just look at this week's dispute over Facebook fans.
It began when the LA 2024 contingent announced Monday it had reached 1 million likes on the social media platform. Bid officials celebrated their "engagement with young people worldwide."
The next day, published reports out of Europe cast doubt on the achievement, noting the numbers had risen dramatically in countries such as Bangladesh, Pakistan, Nepal, Indonesia, Egypt, India and Afghanistan.
Several analysts were quoted as saying the sudden rise looked suspicious and there were allegations the L.A. bid committee had artificially boosted its total.
On Wednesday morning, an LA 2024 spokesman fired back, saying the recent uptick in likes had resulted from a standard advertising campaign conducted through Facebook itself.
"LA 2024 is a global campaign, as the Olympic movement is global," Jeff Millman said from Denmark, where bid leaders from both countries are attending a sports convention this week. "There are Olympic stakeholders in every country."
The rise in L.A.'s social media followers over the past two months coincides with the start of the bid cycle's "international" phase, when candidates are allowed to begin promoting themselves globally.
Millman said LA 2024's Facebook advertising was especially effective in developing countries that aren't targeted by major brands. Social media experts agreed this strategy can produce quick results.
"The research I have done shows that Facebook ads work," said Gary Wilcox, an advertising professor at the University of Texas. "And most of the organic social media is not working."
Still, there are always concerns about businesses boosting their Facebook status through bots or "like" farms.
"Honestly, it's hard to tell," said Daniel Mochon, an assistant professor of marketing at Tulane University in New Orleans. "You can purchase fake 'likes.'"
In the quirky realm of Olympic bidding, far-flung countries are actually valuable to L.A. and Paris — International Olympic Committee members from their own nations cannot participate in September's vote to select a host, but members from places such as Ethiopia and Pakistan can.
Look down the International Olympic Committee roster and you'll see Aruba, Burundi, Liechtenstein, Qatar and St. Lucia on the list.
Generating a global buzz could help win critical votes, and both candidate cities have made social media an important element of their campaigns.
In France, bid officials recently claimed their #Paris2024 hashtag had reached 328 million impressions.
"The growth on our social media numbers shows the immense global interest in Paris' 2024 bid, and the ability it has to share its story with the world," chief executive Etienne Thobois said. "Social media brings people together around the world."
Follow @LAtimesWharton on Twitter
---
UPDATES:
6:35 p.m.: This article has been updated with new details and quotes.
This article was originally published at 10:45 a.m.
Get the latest on L.A.'s teams in the daily Sports Report newsletter.
You may occasionally receive promotional content from the Los Angeles Times.