Federal tax documents detail spending by LA 2024's campaign to bring Olympics to Los Angeles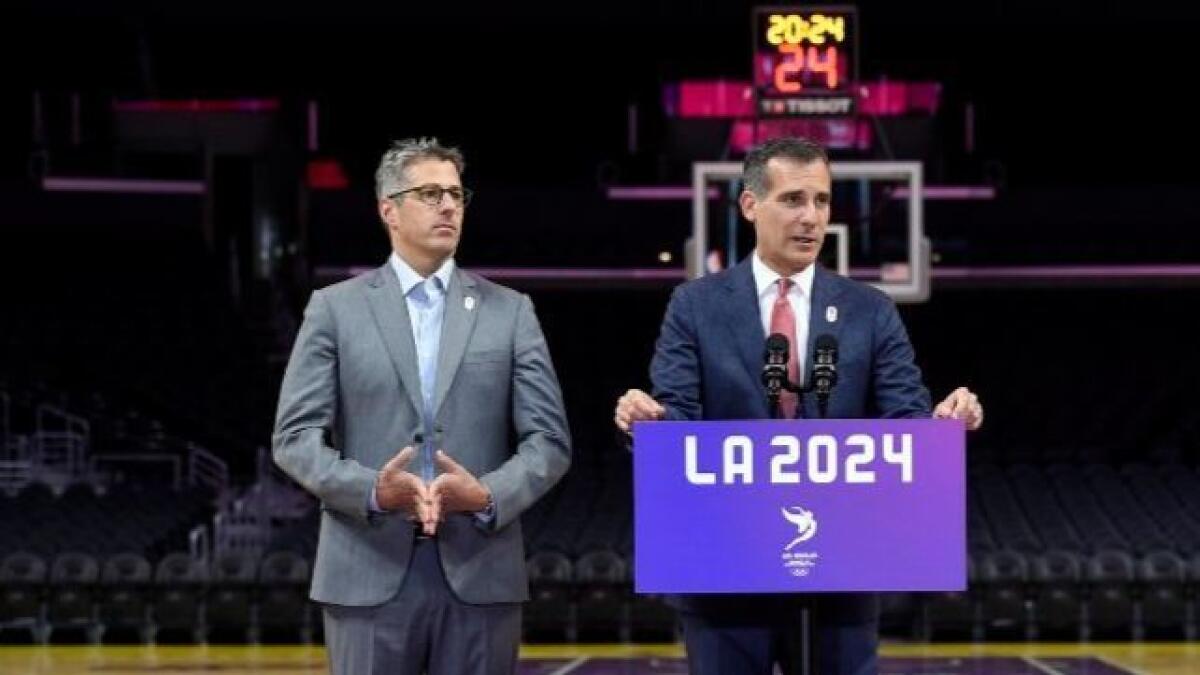 Federal tax documents released Friday give a behind-the-scenes glimpse at the private committee that is bidding to bring the Summer Olympics back to Los Angeles.
LA 2024 raised more than $32 million in donations — and spent about half of that — during the fiscal year stretching from August 2015 to the end of July 2016, according to the most-recent tax information available.
The committee identified itself as a nonprofit corporation that "aims to improve and enhance the quality of life of residents of L.A. and surrounding areas through promotion and sponsorship of L.A. as site of the 2024 Olympic Games."
Bid chairman Casey Wasserman and chief executive Gene Sykes did not receive any compensation for their work, according to the documents.
LA 2024 did, however, pay one of Wasserman's companies — 247 Group — more than $1 million for marketing and production services related to a social media campaign. Officials said Wasserman recused himself from the board's decision to hire the company.
The committee also paid $160,000 in consulting fees to former Olympic swimmer Janet Evans and $60,000 to a company owned by Angela Ruggiero, a former Olympic hockey player and current International Olympic Committee member.
Evans and Ruggiero serve on the LA 2024 board of directors and have been highly active in the bid.
Among other major expenditures, the committee paid nearly $700,000 to Teneo Strategy, a company that specializes in advising potential host cities. One of Teneo's consultants, Terrence Burns, is well-known in the Olympic world and has been a frequent presence around the LA 2024 staff.
Not surprisingly for an enterprise that campaigns globally, bid leaders amassed almost $1.6 million in travel expenses and $40,000 in telephone bills over the course of the fiscal year.
There were considerable legal expenses — about $1.4 million — related to the need for negotiating agreements with the International Olympic Committee and with numerous Southern California stadiums and arenas that would serve as competition sites if the bid is successful.
Los Angeles is competing with Paris for the 2024 Summer Games, but IOC leaders have recommended that both cities be named as winners, with one getting 2024 and the other getting 2028.
That arrangement must still be approved by a vote of IOC members scheduled for mid-July. The final vote to name the host city or cities will be held in September.
To this date, LA 2024 has acknowledged raising more than $50 million in donations to cover expenses that could ultimately approach $60 million.
The tax documents, which the committee posted on its website Friday, identified some major donors, headed by the Wasserman Foundation, which gave $3 million, and the U.S. Olympic Committee, which contributed $2 million.
A long list of $1-million benefactors included David Geffen, Jeanie Buss, the Dodgers, the Clippers, Universal Studios and Longo Toyota.
LA 2024 refused to discuss specific gifts received since last summer, though a number of potential donors were added to the list of board members this spring.
Follow @LAtimesWharton on Twitter
Get the latest on L.A.'s teams in the daily Sports Report newsletter.
You may occasionally receive promotional content from the Los Angeles Times.