Olympic dreams can end quickly, and the regret that follows can be difficult to take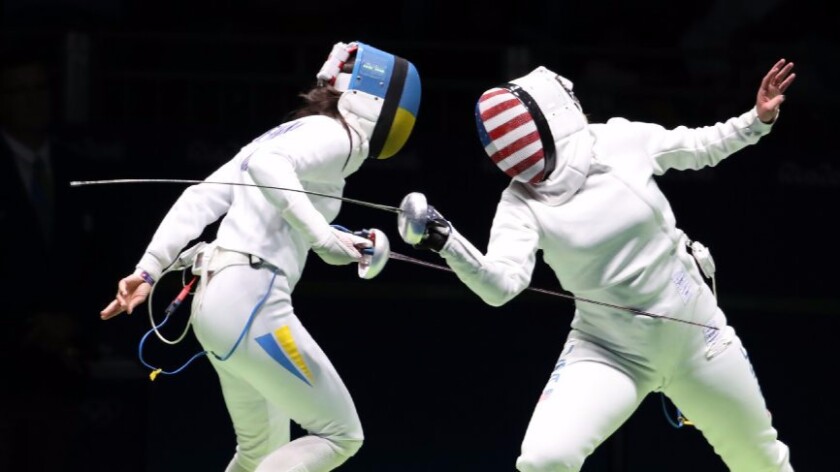 Reporting from Rio de Janeiro —
The morning after a cauldron is set aflame in a floating cluster of glittering spheres, a sweaty woman stands in a quiet basement.
She wants to cry. She wants to run to her parents. She can't believe what just happened to her Olympics.
"Everybody hyping this up for an entire year, and you're done in nine minutes,'' says Courtney Hurley. "This sucks. This really sucks.''
Barely moments later, Hurley's older sister stands in the same basement, her eyes also heavy, her individual Olympics also cooked.
"It all happened in, like, 10 seconds,'' says Kelley Hurley. "I lost control of the situation so quickly, the moment was so fleeting."
Before there were any gold medalists at these Rio Olympics, there were these two women, these first losers, athletes you never saw and may never see again, brave souls whose individual medal hopes lasted barely as long as the smoke from the opening ceremony fireworks above Maracana Stadium.
The first losers are the ones who wake up on the Olympics first full morning and have their individual dreams dashed before lunch, the ones who inevitably compare the loss to getting hit by a bus upon stepping out their front door, the ones whose glory is often gone before anyone knows it.
It's lousy business, maybe never lousier than when, on Saturday morning on the fencing strips at Carioca Arena, an entire American family is wiped out.
First out, at about 11 a.m., Courtney Hurley, 25, a San Antonio-based fencer who loses her epee match by a point in extra time to defending gold medalist Yana Shemyakina from Ukraine.
Courtney has a three-point lead in the final period and can't hold it. She loses in front of a cheering section of about a dozen people, but to her it feels like thousands, and she walks off in a daze.
"I feel really bad letting them down … everyone watching and I'm losing,'' she says. "I just want to go cry.''
And to think, she did not march in Friday's opening ceremony because she wanted to be rested for this early start.
"I should have marched, I should have just marched and had fun, it didn't matter,'' Courtney says. " I knew today I would possibly lose anyway, so I just should have marched.''
Second out, at about 11:30 a.m., Kelley Hurley, 28, older sister of Courtney and a three-time Olympian who loses to Brazil's Nathalie Moellhausen by three points in a match racked with noise.
The sounds are coming from a rollicking Brazilian cheering section that roars and stomps as if each point were a World Cup goal, filling Hurley's flag-adorned mask with chaos.
"It happened so quickly, the crowd was so loud, I couldn't hear anything that's going on, it was just a dream,'' Kelley says.
Long after the sisters lost, their parents, Bob and Tracy, were still planted in their front-row seats as if it really was a dream. Their Team Hurley T-shirts were untucked. Their faces drawn. After four years of planning, their daughters' individual matches were finished within 30 minutes of each other?
"Stopped right at the beginning,'' says dad.
"Hard,'' says mom.
Their daughters will have a chance to win a medal later in the team epee event, which scored them both a bronze in 2012 in London, but this was different, this was an individual opportunity that was cherished, and is now being mourned.
"They work so hard, they train so hard, and then it ends so quick,'' says Tracy.
The girls have been fencing together since they were children, they both attended Notre Dame, and are so close, some wondered whether Courtney's loss led to Kelley's loss. A volunteer actually had to console Kelley before her match as she sat with her head in her hands upon hearing Courtney's result.
"I'm sure it put me in a mood,'' says Kelley. "But no, I did this to myself.''
Their honesty is brutal and refreshing, the first losers offering the sort of transparency rarely seen in a gold medalist.
Says Courtney: "I was so nervous, I don't know about being confident, I was just nervous. It got into my head, too much into my head."
Says Kelley: "I'll take one day off, and probably do little bit of crying, little bit of reevaluating my life, that kind of stuff, but I know I'll be a little bit sad."
At this lowest point, after finishing their interviews, most losing athletes would rush out of the arena, but not the Hurley sisters, who stuck around to rejoin their parents and boyfriends in the stands.
The first losers, of course, are not losers at all, they are family. And so they end their morning with dad quietly patting Courtney's back while mom rubs Kelley's arm and whispers into her ear.
"What you are going to do?'' says Tracy. "This sport has kept our girls together. It has kept our family connected. This is our entire life. And our life will go on.''
The Hurley women will not go directly from the Carioca Arena to Disneyland or a Wheaties box, but, in the end, they are going to wind up at some place far more magical.
"I guess we'll go back to the apartment and cook some steaks,'' says Tracy with a grin, her daughters somehow smiling back.
Sounds like a winner.
Follow Bill Plaschke on Twitter @BillPlaschke
MORE FROM OLYMPICS
Why the Rio Olympics opening ceremony matters
Rio Games: Even the best swimmers need lifeguard protection, plus it's the law
Opening ceremony proves Rio can throw a party; NBC, not so much
Watch Gisele lose it during the Rio Olympics opening ceremony (and other musical highlights)
---
Get the latest on L.A.'s teams in the daily Sports Report newsletter.
You may occasionally receive promotional content from the Los Angeles Times.