Can you take an unplayable lie if your ball lands next to a furry rodent the size of a pig?
Reporting from Rio de Janeiro —
An odd creature wanders onto the Olympic golf course, settling down for an afternoon nap beside the third green. It has russet fur, a blunt nose and small, wiggly ears.
Imagine a prairie dog inflated to the size of a large pig.
The capybara is your first clue that golf has landed in unfamiliar territory at the 2016 Summer Games.
These are not the verdant confines of Augusta National or the wind-swept lochs of the famed Old Course in Scotland.
Black vultures circle overhead and poisonous coral snakes lurk in the woods beside the 13th fairway. A long-legged bird called the quero-quero squawks at American star Rickie Fowler as he strode toward the fifth green during Thursday's first round.
"There are some caimans cruising around," Fowler said, referring to smallish crocodiles that have been spotted here. "I'm definitely going to stay away from them."
Because golf is not popular in Rio de Janeiro, there were no elite-level courses before now. The city had to start from scratch, hiring the same American designer who recently refurbished Los Angeles Country Club.
We wanted to build a course that looks like the region. So we were keen to understand the restinga vegetation … and we also met the wildlife.
— Gil Hanse, golf course designer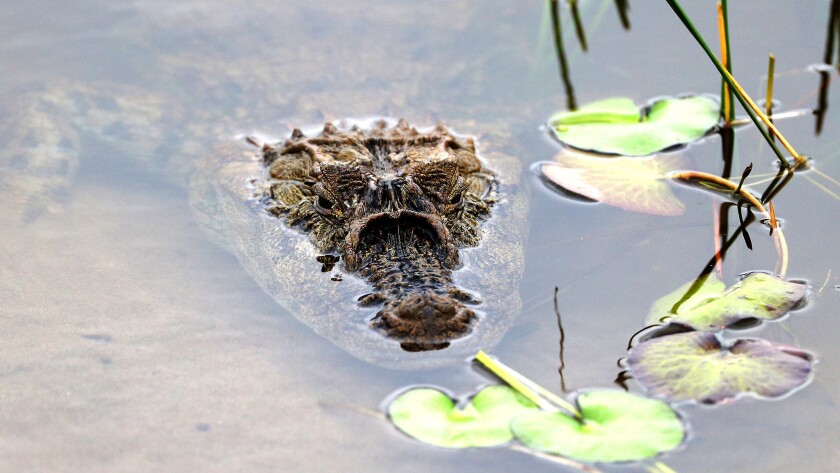 Gil Hanse knew it would be a challenge working amid exotic flora and fauna in a place that had no history with the game.
"We had to create a new model," Hanse said. "We had to paint a picture of what golf looks like in Brazil."
This week marks the first time golf has been played at the Olympics in more than a century — and its return has not been smooth.
While the American team figures to contend for the podium with marquee names such as Fowler, Bubba Watson, Matt Kuchar and Patrick Reed, many top players — including Jordan Spieth of the U.S. and Ireland's Rory McIlroy — have chosen not to attend because of the Zika virus or a lack of interest.
"I think it's been really unfortunate that there has been this little cloud," said David Hearn, a PGA Tour veteran and Canadian team member.
Perhaps because of the diminished star power in Rio, the spotlight has shone brightly on the venue.
This course has been controversial since the beginning, when the Rio 2016 organizing committee decided to build it within a nature preserve that had fallen into disrepair.
Hanse got the job, in part, because of his reputation for making use of existing terrain and respecting indigenous vegetation. In L.A., he ripped out transplanted species, preserving the native sycamore and oak. The Pennsylvania-based designer took a similar approach beside Marapendi lagoon.
"We wanted to build a course that looks like the region," he said. "So we were keen to understand the restinga vegetation … and we also met the wildlife."
His tractors steered wide of the spots where burrowing owls had dug their homes into the ground, he said. Workers became accustomed to the "capybara highway" — jumbled footprints they saw each morning where the nocturnal animals had emerged from the trees to visit the course's small lakes.
The oversized rodents can grow to 150 pounds and are peaceful, social animals that prefer to live in wooded areas near water. Prized for their meat and hides, they have been protected from hunters by Brazilian law in recent years.
As Hanse's layout took shape around them, a local nursery was hired to provide 90,000 indigenous plants. The owls on the property — and more elsewhere — soon relocated their burrows to the fresh sand of new bunkers.
"They just decided, 'That's a good-looking place to dig a hole,'" Hanse said. "When they moved in, we didn't evict them."
Not everyone was as pleased with changes to the preserve.
Environmentalists filed suit to halt construction in 2015, challenging the project's impact report. Rio de Janiero's state justice department responded with a report claiming Hanse had increased indigenous vegetation to 263 species, which had attracted even more wildlife to the area.
But critics continue to insist watering a golf course is irresponsible during a drought and that the land — some of which had been previously stripped for mining — should have been left in a natural state.
"It's a very endangered type of ecosystem here in Rio," said Juliana Tinoco, a resident of the city. "There should be a program for protections, not an excuse to build for golf."
The Olympic players here this week have limited their comments to the course's "links-style" layout, characterized by a wide-open feel with most of the fairways bordered by sand and low brush instead of trees.
Hanse borrowed the look from Scotland and from Australian courses that had similar topography.
"It is a little bit shorter than normal, the focus is on iron play and imagination around the greens," said K.J. Choi, the famous Korean golfer who is coaching his country's team. "The greens are very small."
As for wildlife, officials have called upon a rule that allows players to retrieve without penalty any shot that bounces into a burrow. Peter Dawson, president of the international golf federation, said: "We're trying to train the owls to find the ball."
A similar rule exists for dangerous situations, such as shots coming to rest near alligators and beehives, but apparently not for capybaras. A U.S. Golf Assn. staff member said golfers must encourage the docile creatures to move or incur a penalty.
Pro golfers are accustomed to exotic animals as they compete in tournaments around the world. Graham Delaet, another Canadian, said: "I've played in Africa where there are monkeys and Banff where there are elk."
Speaking to reporters after a practice round, he seemed only mildly impressed by a tiny burrowing owl that skipped across a nearby bunker. Another animal was more interesting to him.
"I can't remember what those big rodents are called," he said. "But I want to see one."
Twitter: @LATimesWharton
ALSO
Olympians pooh-pooh fears of dirty water in Rio
An attempt to explain the mystery of the diving pool's green water
Gabby Douglas resurrects the debate over how to act during national anthem
---
Get the latest on L.A.'s teams in the daily Sports Report newsletter.
You may occasionally receive promotional content from the Los Angeles Times.