Column: Gymnast Gabby Douglas resurrects the debate over how to act during the national anthem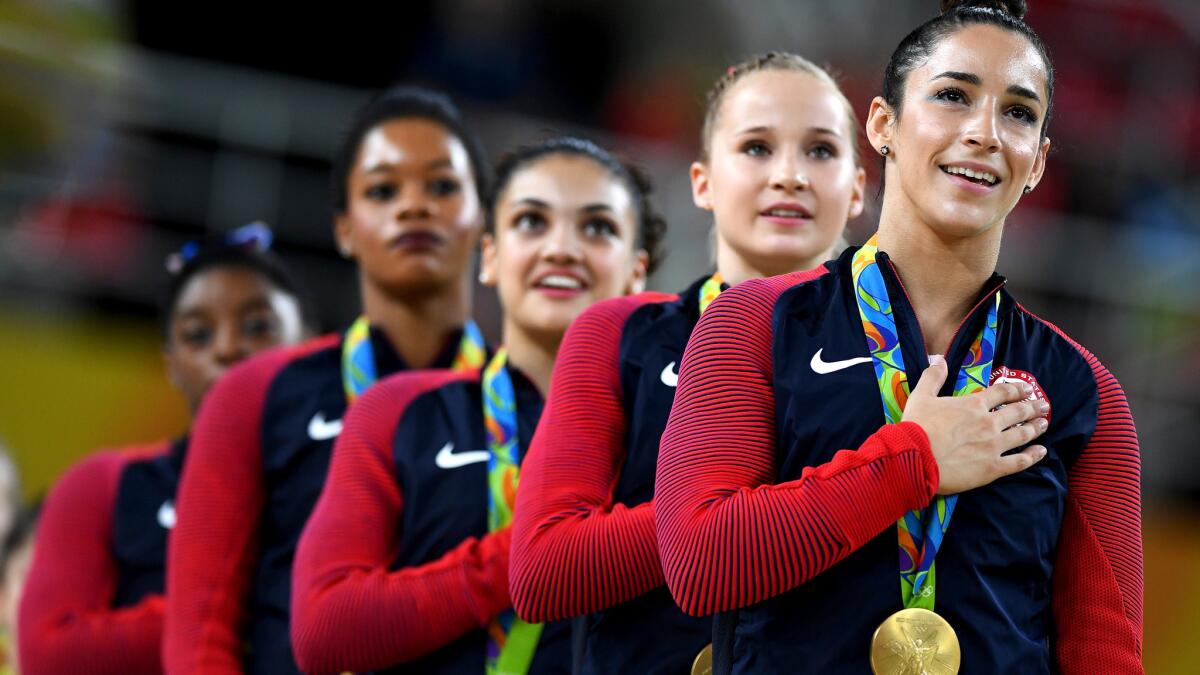 Reporting from Rio de Janeiro —
Oh, say can you see … the Olympic gold medalist slouching during the playing of the U.S. national anthem?
By the dawn's early light Wednesday, lovable gymnast Gabby Douglas found herself in the middle of a perilous fight, and it's one she can't win.
During the medal ceremony for her gold-winning USA gymnastics team on Tuesday at the Rio Olympic Arena, Douglas failed to show what many considered appropriate reverence. As her four teammates stood at full attention with their hands over their hearts, Douglas was slumped with her hands held casually in front of her as if she had just finished last.
Even during moments when she showed a smile, her body language was disconnected. The difference in aura with the other American gymnasts was palpable.
Afterward she said she was simply "overwhelmed." It wasn't long before an angry Twitterverse kicked into gear: Some accused her of being unpatriotic. One said she had no excuse not to honor the flag of the country that gave her the opportunity to compete.
Others applauded her for what they perceived as a protest. One person commended her for what he believed was a statement on the two-year anniversary of the death of Michael Brown in Ferguson, Mo.
The debate mounted until Douglas responded Wednesday on Twitter. She did not claim any protest. She did not explain her slumping. She simply apologized.
She wrote: "In response to a few tweets I saw tonight, I always stand at attention out of respect for our country whenever the national anthem is played. I never meant any disrespect and apologize if I offended anyone. I'm so overwhelmed at what our team accomplished today and overjoyed that we were able to bring home another gold for our country!"
If Douglas was truly overcome with emotion as she claimed, that would have been visible, yet her expression was blank and distant.
It was a different sort of emotion that redeemed another athlete from a flag flap Tuesday night. Several hours after Douglas punted, swimmer Michael Phelps nearly cried, then laughed his way through the end of the anthem after his 200-meter butterfly victory.
Phelps later explained he was laughing at his friends who, in honor of a tradition followed by Baltimore Orioles baseball fans, shouted the word, "O!" during the latter part of the anthem. His explanation was accepted and even embraced because he was obviously emotional and had his hand over his heart the entire time.
The issue over Douglas simmered throughout Wednesday's rainy Rio day, raising questions about appropriate athlete behavior on the medal stand and during the national anthem.
"When it comes to Olympics athlete celebrities, a word to the wise — be careful what you do on the medal stand, you can alienate a lot of your customer base," said Mark Dyreson, Penn State professor and Olympic scholar.
An official from the United States Olympic Committee said that national-anthem protocol is not included as part of their Olympic athlete orientation, which, given our freedom of expression, makes sense.
"I'm glad we don't mandate how our athletes should look in any sort of way," Dyreson said. "In the United States, free speech trumps all."
Somebody should have reminded Douglas that with that free speech comes the risk of having that free speech criticized if it doesn't have a clear and thoughtful purpose.
If Douglas was actually protesting something, like the legendary John Carlos and Tommie Smith with the raised gloved fist in 1968, that would have been a worthy explanation. But she did not acknowledge that.
Before anybody thinks she is being singled out unfairly, this is not the first time an American Olympian has been ripped amid a star-spangled mess.
There was the men's track relay team that clowned on the podium during the 2000 Olympics in Sydney. Before that, there was the infamous moment in 1972 when track star Dave Wottle forgot to remove his signature ball cap during the entire national anthem.
In both instances, athletes were criticized for committing probably the only true podium crime, that of not taking it seriously.
Use the podium to thank, to honor, to protest. Use your shining moment for its power, it message, its memories. Use it to affect thought, debate, and even change.
Just don't act like you're standing with your buddies in front of the beer stand listening to the song at a baseball game.
By all means, do not use the podium to pout, and it seemed like Gabby Douglas was simply pouting.
Four years ago, she was America's darling, the first woman of color to win an individual all-around Olympic gymnastics gold. She was the leader of the winning U.S. team, then became a cover girl and reality star.
This year, she was a role player, certainly not the star. In the team competition, she competed in only one of the four apparatuses. In the individual overall competition, because of the Olympics rule allowing a maximum of two from each country in the finals, she cannot defend her gold medal even though in qualifying she was third overall behind teammates Simone Biles and Aly Raisman.
She might be no different than a disconnected baseball player who hangs in the corner of a clubhouse during a champagne celebration, or a discontented basketball player who doesn't rush the court to celebrate a winning shot.
Except those players aren't representing an entire country as its flag is being raised to the world. The next time Gabby Douglas stands on a podium for the national anthem, she can forget the words, disagree with them, protest them. But here's hoping she never again ignores the weight of their meaning.
bill.plaschke@latimes.com
Twitter: @BillPlaschke
ALSO
Olympians pooh-pooh fears of dirty water in Rio
Carmelo Anthony helps U.S. men pass first test against Australia
An attempt to explain the mystery of the diving pool's green water
Get the latest on L.A.'s teams in the daily Sports Report newsletter.
You may occasionally receive promotional content from the Los Angeles Times.