U.S. expectations high for large medal haul in Rio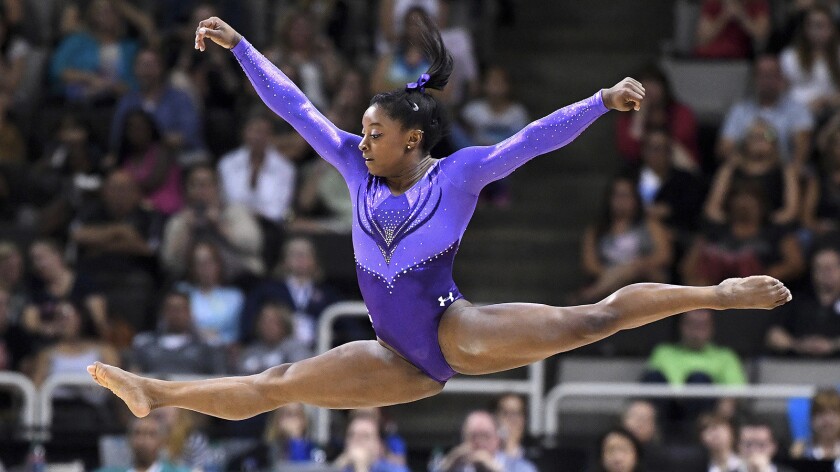 Reporting from Rio de Janeiro —
Gymnast Simone Biles is the smallest member of the U.S. Olympic team at a compact but powerful 4 feet, 8 inches tall. By the time the Rio Games end, she might tower above her peers as the biggest star of the Olympics — and might lead Team USA to a medals bonanza.
Biles, who has won the last three world all-around championships, is expected to contend for five gold medals when the gymnastics competition begins Saturday. The U.S. men's and women's gymnastics teams combined to win six medals at the 2012 London Games as part of Team USA's 103 medals.
Photogenic and dynamic, Biles could triumph in the all-around and team events as well as in individual competitions on vault, floor exercise and balance beam. Some of her toughest rivals might be her teammates, specifically Aly Raisman and electrifying floor-exercise specialist Laurie Hernandez, 16.
On Now
Final steel beam placed in new Rams stadium construction
On Now
Carlos Balderas of the USA Olympic Boxing team
On Now
On Now
Video: Rams open training camp in Irvine
On Now
Rams receiver Tavon Auston, "We in Cali"
On Now
Behind the scenes: Creating Olympians' portraits
On Now
Rams training camp from a St. Louis perspective
On Now
Rams Trumaine Johnson back home in California
On Now
Kanoa Igarashi: Huntington Beach is the first Asian-American surfer to qualify for the World Surf League's Samsung Galaxy Championship Tour.
On Now
Gary Klein and Lindsey Thiry recap Rams training camp Day 2
Biles said she and her teammates are prepared for anything, but it's clear she's still an impressionable kid. "It's the Olympics. If you think about it, your brain is going to fall out. Like you're going to freak out," she said.
U.S. athletes are positioned to improve on the 2012 medal total in such diverse sports as fencing, track and field, archery and water polo. Swimming likely will produce a large percentage of medals, as it always does, with Michael Phelps returning for what he has said will be his final Olympics. The most decorated athlete in Olympic history— 18 gold medals and 22 overall—will draw worldwide attention every time he steps onto the pool deck, perhaps never more than when he faces longtime teammate and rival Ryan Lochte in the 200-meter individual medley. The final of that event—assuming both make it—will be on Aug. 11.
Other Americans are expected to have breakout performances that will thrust them into the spotlight of livestream and TV broadcasts of the Olympics hoping to give the U.S. supremacy atop the medal count. In London, American athletes won the most gold medals (46). China finished second to the U.S. in the overall count, 103-88.
Four years ago, 17-year-old swimmer Missy Franklin became the star of the London Games when she won four gold medals and captivated fans with her sunny personality. She barely made the Rio team at last month's trials and didn't earn a spot in one of her gold-medal events, the 100-meter backstroke. "Coming back from 2012 and coming in this year, I think I felt the pressure a lot more than I had before and I've normally been able to handle that really well and that was something that I really struggled with at trials," she said in Rio this week.
The star of the Rio pool is likely to be 19-year-old Katie Ledecky of Washington, who won the 200-meter, 400-meter and 800-meter freestyle events at the U.S. swim trials and is favored to win all three here while challenging her own world records in the 400 and the 800. She's also poised to swim on two relays, giving her an excellent chance at five gold medals.
Ledecky, who plans to attend Stanford this fall, won the 200, 400 and 800 at last year's World Championships as well as the 1,500, a distance not contested by women at the Olympics.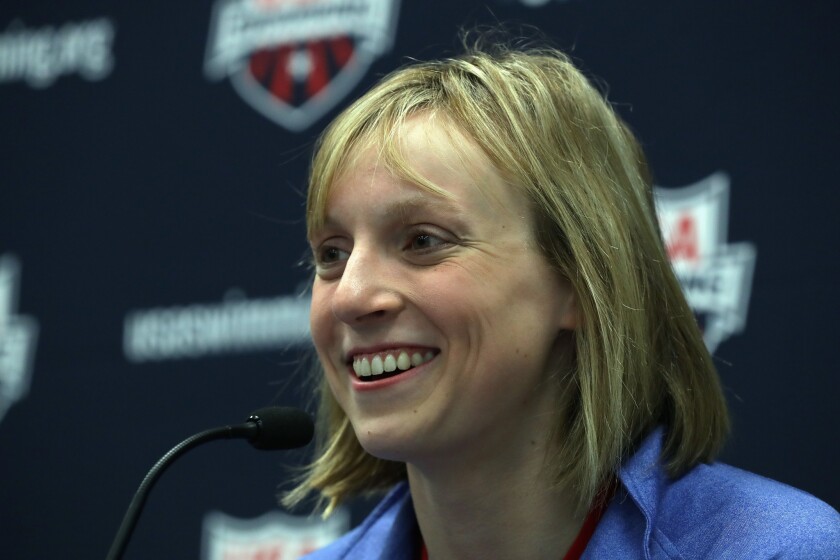 "I've been feeling really good in the water over the last couple of weeks," she said. "I still believe anything is possible."
Track and field (called Athletics in Olympic-speak) also is a traditionally rich source of medals for U.S. athletes. Track and field was the source of 28 medals in London; that could increase due to the absence of Russians who have been banned as a result of the country's systematic drug cheating.
Tori Bowie of Sand Hill, Miss., is attempting a 100-200 sprint double and likely will be part of the 400-meter relay team, giving her a strong shot at three medals and instant stardom. Justin Gatlin, a four-time Olympic medalist who has served two doping suspensions, is pursuing the same double on the men's side and can win a relay medal, too. LaShawn Merritt, going for the 200-400 double, has run the fastest times in the world this year in both events and will also have chances to pad his total in the relay. Allyson Felix of Los Angeles won't defend her Olympic title in the 200-meters because she didn't finish in the top three at the trials, but she is a contender for gold in the 400 and in at least one relay.
American athletes have a history of success in those events but could make history with the first U.S. women's 3,000-meter steeplechase medal. Only two other women have run faster in that event this year than Emma Coburn of Boulder, Colo. Chaunte Lowe of Riverside and Vashti Cunningham are contenders in the women's high jump, and Joe Kovacs and Ryan Crouser are expected to extend an eight-Olympics medal streak for U.S. men in the shotput.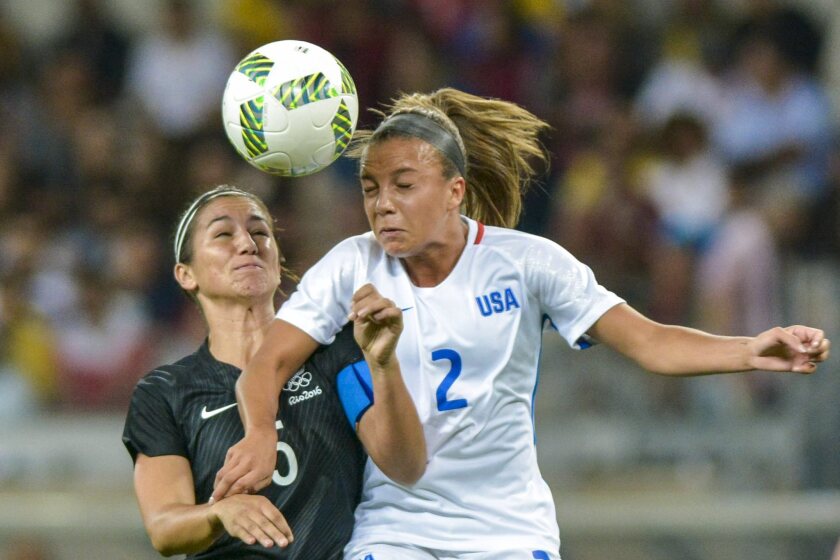 Other athletes whose faces might become familiar include fencer Alexander Massialas, ranked No. 1 in the world in men's foil; archer Brady Ellison, a member of the men's silver medal-winning 2012 team and an individual medal contender in recurve; and archer Mackenzie Brown, ranked fourth in the world in women's recurve.
The U.S. men's water polo team, shut out in London after winning silver in Beijing, is projected to contend for gold again after finishing second to powerful Serbia in the most recent FINA World League final. The women's team is touted to follow its world championship with a second straight gold-medal effort with Maggie Steffens of San Ramon, Calif., MVP of the London tournament, set for another star turn.
The U.S. women's soccer team, led by veteran Carli Lloyd and 18-year-old newcomer Mallory Pugh, will again have a high profile here. It's a big moment for Pugh, whose skills put her in line to be the next Mia Hamm. That's a big burden, but one she seems capable of carrying. "What I like about her is that she's come in, held her own and she doesn't get fazed or rattled," U.S. Coach Jill Ellis said. "She's a quality player and she's a big part of this future, this program, going forward."
For Pugh, like many others, the future might be now.
Staff writer Lisa Dillman contributed to this story.
Times Staff Writer Kevin Baxter contributed to this story.
ALSO
In Rio, poor families are pushed out of their neighborhoods to make way for the Olympics
Zika, dirty water and more than 7,500 hours of Olympics TV: How NBC is preparing for the Rio games
2016 Rio Summer Olympics: Keep track of all the Rio Olympics news
---
Get the latest on L.A.'s teams in the daily Sports Report newsletter.
You may occasionally receive promotional content from the Los Angeles Times.