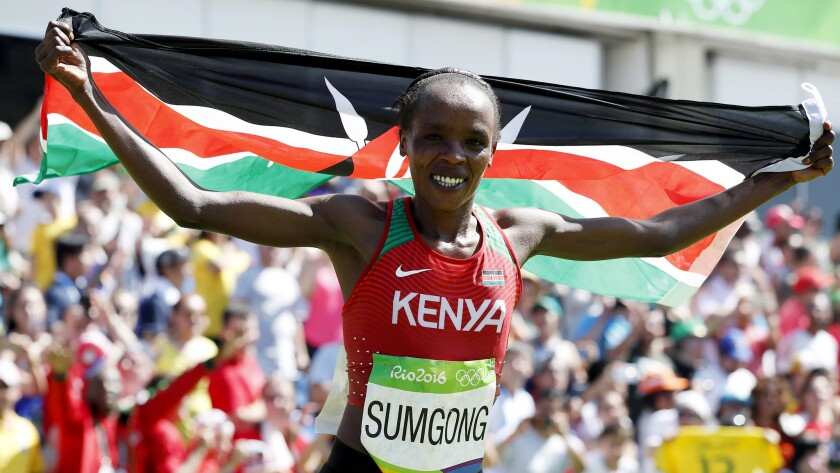 Reporting from Rio de Janeiro —
As her competitors wilted in the scorching heat and dropped off the pace along the Olympic marathon course, Kenyan Jemima Sumgong became more confident she would win.
"At 40 kilometers I knew the gold was mine," she said. "At 35 kilometers I noticed that my other two teammates had dropped off and that gave me the motivation to carry on."
Sumgong, 31, defied the heat and intense humidity to make a late surge that allowed her to pass Eunice Kirwa, a Kenyan who now competes for Bahrain. When Sumgong crossed the finish line at the Sambodromo in 2 hours, 24 minutes 4 seconds she became the first Kenyan woman to win the Olympic marathon. Kirwa was second in 2:24:13, and Mare Dibaba of Ethiopia won the bronze in 2:24:30.
"I'm so happy, I feel extremely proud," said Sumgong, who won the London marathon earlier this year. "I can't even explain what I'm feeling."
The three U.S. entrants had a strong showing despite being unable to win a medal, and Shalane Flanagan hung with the lead pack and was a factor until about the 35-kilometer mark, when the top three pulled away. Flanagan finished sixth in 2:25:26, Chula Vista native Desiree Linden was seventh at 2:26:08, and Amy Cragg—who won the U.S. marathon trials six months ago in Los Angeles on a hot day—battled against an upset stomach to finish ninth in 2:28:25.
No American woman has won an Olympic marathon medal since Deena Kastor won bronze at Athens in 2004, and all three were disappointed they couldn't end that streak Sunday. But they were encouraged by their ability to keep going under tough circumstances.
"We didn't come here to get ninth. It's one of those things, immediately it's disappointing," Cragg said amid tears "But when I think about it, like, ninth is great. Ninth is awesome. We placed three American women in the top 10, which is just crazy. I honestly can say, even at the end, I was competing with the people who were around me as much as I could, so I never gave up. The last homestretch hurt so bad."
Flanagan said she wasn't immediately aware all three finished in the top 10. "We all were pretty much delirious," she said. "That's unbelievable. I think that's got to be the best we've ever done. I told Desi as soon as we finished, 'I'm so proud of us. We came here ready to run hard and I felt like we did.'"
It wasn't enough, though. "The last 7K was very much technical and they threw in some good surges," Flanagan said of the leaders. "I felt like I tried to cover the surges but I just obviously didn't have the gear change quite as much as they did. It was right around 35K where it starts to get twisty and turny and you lose eyesight of where they are and you think you're still in contact with them and before you know it, the gap's opened up."
Linden, who led the race at the 8-kilometer and 14-kilometer marks, rued that being too aggressive early left her unable to reach another gear later, but she was philosophical. "I put everything out there. I'm not upset at all," she said. "I wish I were a little bit better. I wish I were a little closer. That's as good as I am."
helene.elliott@latimes.com
Twitter: @helenenothelen
---