Chris Chelios is still contributing to U.S. men's hockey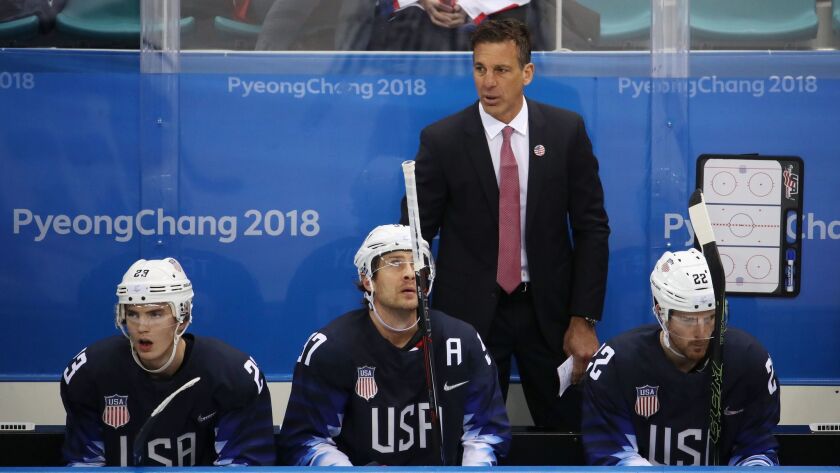 Reporting from PYEONGCHANG, South Korea —
Chris Chelios was on the U.S. bench Saturday in the Olympic hockey game against Russia. He was stuffed into a dark blue suit, with a pressed shirt and tie. He looked uncomfortable and out of place.
In the suit, not the Olympics.
No American has been part of more of these five-ring adventures than the guy who attended that hockey hotbed of Mira Mesa High in San Diego. He was on the 1984 team when they still took college kids, then was the captain of the 1998, 2002 and 2006 teams with NHL players, plus six other international tournaments between the ages of 20 and 44. Now he's an assistant coach on Tony Granato's staff in South Korea.
Chelios retired in 2010 after 26 seasons and 1,651 games in the NHL, the most by a defenseman. He worked in the Detroit Red Wings front office for a while, as a Fox TV analyst and as an assistant coach for Team USA at international youth tournaments.
But mostly he hung out at his beachfront home in Malibu, went snowboarding in Utah, traveled around to watch his daughters play lacrosse at Northwestern and his son play minor league hockey with the Charlotte Checkers.
He was in Malibu in August, sitting on the deck, gazing out at the Pacific, when his cell phone buzzed. It was Jim Johannson, the general manager of USA Hockey and a former teammate at Wisconsin. Did he want to go to a fifth Olympics?
"From out of nowhere," Chelios said. "It wasn't like Jimmy Johannson had mentioned it to me or asked me if I'd be interested. I just got a call. Right away, yes. Really honored and thankful that these guys picked me."
The obvious next step for Chelios, 56, is to become an NHL head coach, but he has never been an obvious sort of guy.
He spent his formative years in the sunshine of San Diego after his father moved the family from Chicago to open a restaurant, and initially his only college offer was at nearby U.S. International University (now Alliant), which had started a hockey program in 1979. He washed out there and headed north for tryouts with Junior B teams on the frozen prairies of Canada. He was cut from both and had to raise money to pay for the bus trip home.
He finally caught on with the Moose Jaw Canucks of the Saskatchewan Junior Hockey League and landed for two seasons at Wisconsin, where he won a national championship with Johannson. Then Montreal, Chicago, Detroit and Atlanta in the NHL.
Coaching in it, though, requires 82 games worth of travel and film breakdowns and practices and headaches.
"The grind of the schedule," he said, "is the only thing stopping me."
But the Olympics? Right away, yes.
He "doesn't like to be told what to do" because of "the stubbornness in me," but Granato has known Chelios for 35 years and knows enough to get out of his way. Chelios handles the defense and penalties, and the U.S. team, which faces Slovakia on Tuesday (local time) for a spot in the quarterfinals, successfully killed 17 minutes 30 seconds of penalty time until Russia scored late in the second period Saturday.
That Chelios is here, that he is wearing a USA jacket and cap in practice, that he is still part of the national program, is a testament to his value and reputation. Because few other guys could have survived what happened in 1998 in Nagano, Japan.
It was the first Olympics with NHL players, and the U.S. team won only one of four games and was eliminated in the quarterfinals. Then they returned to the athletes village.
They trashed their rooms in an alcohol-fueled rage, with reports of broken chairs and fire extinguishers being tossed from balconies into a courtyard. The players were spirited out of the country before Japanese authorities could apprehend them, an embarrassing episode in U.S. Olympic history.
The NHL launched an investigation that went nowhere when members of the team refused to point fingers.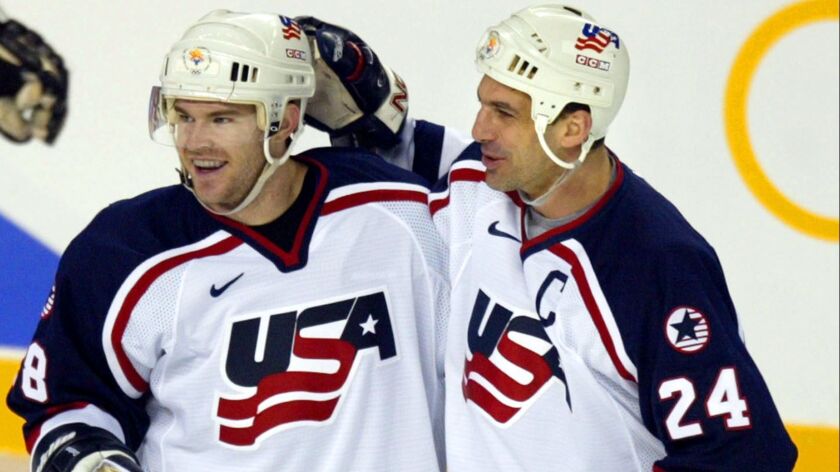 Chelios issued a letter of apology "to the people of Japan, the Japanese Olympic Committee, the USOC, and to all hockey fans throughout the world," along with a check for $3,000 to cover the damages.
These are the first Winter Olympics in Asia since then.
"I was the captain, and we made a mistake," Chelios said here. "I'll still blame it on Canada for blowing it out of proportion because they lost [in a shootout in the semifinals] and they were trying to shift the [attention] to us. But we made a mistake. I'm not going to go as far as saying it was a disgrace. We made a big mistake, and you move on from it."
Chelios devotes a chapter to Nagano in his 2015 book "Made in America," recounting how he knew there was trouble when he returned to the village and thought he was walking in snow, only to realize it was foam from a fire extinguisher.
"I'm still not going to say who was responsible," Chelios wrote. "That's just not who I am. Teammates stick together. When it comes to something like this, you keep it in the dressing room. … I put the word out and everyone clammed up. I still believe today it was the right thing to do."
It may not have endeared him to the American public or NHL executives bent on identifying the perpetrators. But it endeared him to fellow players and coaches, and there he was in Salt Lake City in 2002 as captain. And at age 44 in 2006 at Turin, Italy.
"He's a warrior, he's an American hero, he's been a tremendous leader for our program, a tremendous player and ambassador," Granato said of the man considered by many as the greatest U.S.-born hockey player. "There was no hesitation whether Chris Chelios would be on our staff. He was going to be on our staff.
"It speaks to his character. Anyone who has ever played with or been around Chris Chelios wants him on his team, and we're fortunate enough to have him on our side."
Chelios speaks nostalgically about the 2002 tournament as "some of the greatest games I've ever played," even if one was a 5-2 loss to Canada in the final. The silver would be his only piece of Olympic hardware.
But if anyone understands the ethos of the Olympics, it is a guy who has been to five. A guy who believes in the movement so much that, during the 2004-05 NHL lockout, he trained with a Greek bobsled team using his father's heritage with an eye toward 2006.
"As disappointing as it is sometimes," Chelios said of his five-ring adventures, "you look back and you feel lucky you were part of it."
---
Get the latest on L.A.'s teams in the daily Sports Report newsletter.
You may occasionally receive promotional content from the Los Angeles Times.