Column:: Despite slip, French couple is in second after short dance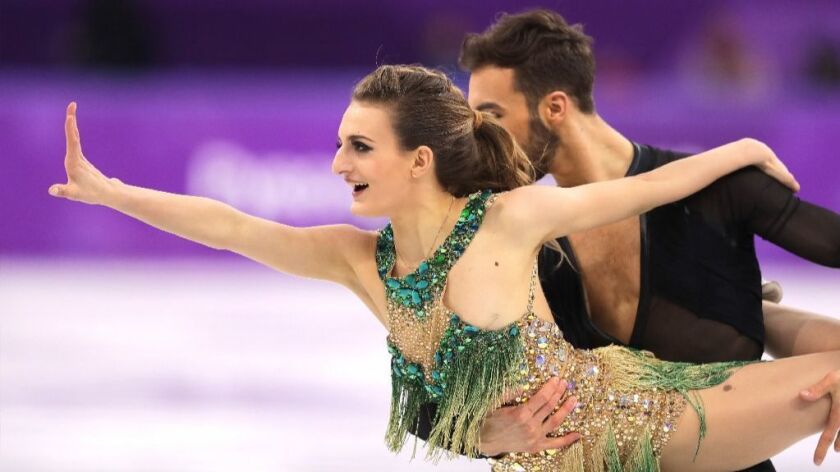 Reporting from PYEONGCHANG, South Korea —
All that held Gabriella Papadakis' costume together were a few frayed threads and the prayers of her partner, Guillaume Cizeron.
The top of her dress came loose while the French couple warmed up for the short dance portion of the ice dance competition on Monday at Gangneung Ice Arena but they had no time to fix it. Her desperate efforts to keep it from slipping off hampered her movement and spoiled the stunning unison the two-time world champions usually display during their routine to samba and rumba music. "I think in the twizzles it kind of affected us the most," Cizeron said, referring to the rapid, one-footed turns that ice dancers frequently perform, "because when you are rotating it is hard to keep your dress on when it's open."
Her costume eventually gave way and she experienced a wardrobe malfunction that exposed her breast, much to her embarrassment. That's what most casual watchers will remember. But it shouldn't be forgotten that they managed to hold things together well enough artistically to stay within reach of a gold medal despite a world-record short dance performance by Canadians Tessa Virtue and Scott Moir, the 2010 Olympic champions and 2014 silver medalists.
Skating to samba, rhumba and cha-cha music, Virtue and Moir danced their way to 83.67 points to top the field leading into Tuesday's free-dance finale. Papadakis and Cizeron scored 81.93 points despite their problems. "Two points can be caught up," Cizeron said. "If we do our best, we have our chances to win."
U.S. champions Madison Hubbell and Zachary Donohue are third with a personal-best 77.75 points in their Olympic debut, ahead of the American brother-sister duo of Maia and Alex Shibutani (77.73). The third American entry, Madison Chock and Evan Bates, did well to rank seventh after a mishap on a lift during their warmup aggravated a loose bone fragment in Chock's foot and caused her intense pain. They had a season-best 75.45 points.
Hubbell said she and Donohue planned to be aggressive with their samba-rumba program, and they succeeded. "We wanted to be proud of ourselves, we wanted to be proud of the effort and show all of the work we did back home," Hubbell said. "I was really inspired watching some of the other events, watching pairs and Adam [Rippon]. People just really have been going for it at these Games. Even in the team event nobody held back, and that's something the Olympics are about."
An American couple has won an ice dance medal at three straight Olympics, and a fourth straight visit to the medal stand is distinctly possible. Tanith Belbin and Ben Agosto won silver at Turin in 2006, Meryl Davis and Charlie White won silver at Vancouver in 2010, and Davis and White won gold at Sochi in 2014.
Virtue and Moir, who also won a team silver medal at Sochi and a team gold medal here last week, surpassed their effort in the team event by more than four points with a sizzling routine. "It's as if you were watching a ballroom team compete, and the rumba is a very sensual, sexual dance," Virtue said. "The samba and cha-cha rhythms are fun. It's an easy program to engage the audience, so we're really trying to bring people in with this and hopefully have some fun."
The Shibutanis shrugged at their score, clearly believing their marks didn't reflect the quality of their performance, which improved upon the 75.46 points they had gotten for their short-dance performance in the team event. They also performed their free dance in the U.S. team's bronze-medal effort.
"That was the skate that we wanted to have," Maia Shibutani said. "Going into [Tuesday] we have three fantastic skates under our belt, and that gives us a lot of confidence to just go out there and enjoy it."
Chock said she and Bates had altered their short program following their third-place finish at the U.S. championships last month, "to have our short dance be rejuvenated and have a fresh feel." They were happy with the changes — and with her new dress, which had a bird theme and incorporated all five colors in the Olympic rings — but she found it difficult to ignore the pain in her foot, which has led her to get frequent cortisone injections. "Considering everything, considering the stumble in the warmup and the pain that Maddie skated in, it's incredible," Bates said. "We'll definitely take that performance and that score and look for a special performance [Tuesday]."
Papadakis and Cizeron are looking for a performance that's special because of what they do, not what she's wearing. "Tomorrow is a new day and we'll do our best as always," he said. "There is nothing we could do about this. We just have to keep going."
Follow Helene Elliott on Twitter @helenenothelen
---
Get the latest on L.A.'s teams in the daily Sports Report newsletter.
You may occasionally receive promotional content from the Los Angeles Times.