Column:: Women's hockey preview: U.S. doesn't want to finish second again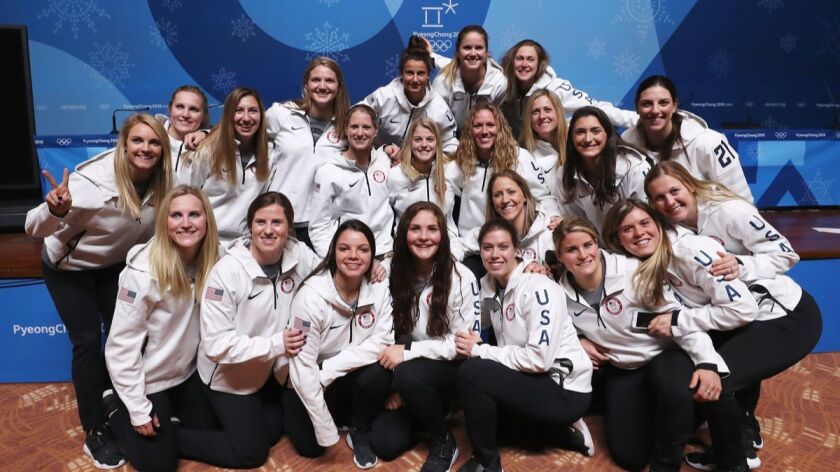 Reporting from Pyeongchang, South Korea —
The pain of the U.S. women's hockey team's overtime loss to Canada in the gold medal game of the 2014 Sochi Olympics was still fresh when USA Hockey executives began planning how to avoid experiencing that anguish again four years later.
"It was certainly a tough loss for us," said Reagan Carey, the team's general manager in Sochi and here in Pyeongchang. "We went hunting for all the small differences and changes we could so that we could make sure to have success here in 2018."
Four years after their second straight loss to Canada in the finale and 20 years after winning the inaugural women's Olympic hockey tournament at Nagano, Japan, the U.S. women are still seeking the ingredients that will lift them back to the top.
Canada, driving for five straight gold medals, is confident of its position as favorites.
"We are ready. We are well prepared," coach Laura Schuler said. "I know we've got a great team with probably the best chemistry, the best group of girls that I've ever, ever had an opportunity to coach. And when you have that, good things happen."
The women's tournament will open Saturday at Kwandong Hockey Centre, highlighted by the unified North/South Korean team making its debut against Switzerland, which became a first-time women's hockey medalist by winning bronze in 2014. The top-seeded U.S. will open against Finland on Sunday, followed by No. 2 Canada against the Olympia Athletes from Russia.
The top four teams — the U.S., Canada, Finland and Olympic Athletes from Russia— are in Group A. Sweden, Switzerland, Japan and Korea are in Group B. After round-robin play the top two teams in Group A will get a bye into the semifinals. In the quarterfinals, the third-place team in Group A will face the second-place finisher in Group B and the fourth-place team in Group A will face the top team in group B. Those winners will advance to the semifinals.
This version of the U.S. team is faster and can move the puck more quickly than its predecessors. The roster has six savvy players who won silver medals at Vancouver and Sochi, as well as an infusion of creativity and speed from younger players, including 19-year-old defenseman Cayla Barnes of Eastvale in Riverside County.
"Our group is a fantastic mix of experience but incredible energy and youth. Every single person on our team brings so much to our locker room," team captain Meghan Duggan said. "And all of us expect a lot out of each other. And we as a team expect the most out of ourselves. It's a fantastic group. It's the right group."
But the problem for the U.S. is that Canada is fast and deep too. And although the two fierce rivals are still the superpowers of women's hockey, other countries are closing the gap. Canada failed to reach the final of this year's women's under-18 world championships for the first time in 11 tournaments because of good showings by Russia and Sweden, which bodes well for elevating the quality of play here and in future Olympics.
"I think that's a good indication of where the youth is and where the competition is," said Melody Davidson, Team Canada's general manager. "The parity is phenomenal. …There's some pretty good teams we have to get through before we play the U.S."
Canada had a 5-3 edge over the U.S in pre-Olympic exhibitions and held the U.S. to only three goals in the teams' last four games. The U.S. lost all four of those games, two by shutouts.
Coach Robb Stauber, a former Kings goaltender, used the final weeks of preparation to emphasize the need to manufacture goals, but he wouldn't specify the strategic or personnel changes he had implemented.
"Quite frankly, we believe that we can score more than we have and we've made it a very strong focus point because at the end of the day it's really a very simple game: whoever scores more goals, wins," he said. "The players understand that, and you will see a team that gets pucks to the net more than we have in the past. And if we do that, we really, really like our chances. It's really a mind-set. There's not one shot we can't be willing to take because that could be the shot that makes the difference."
Every women's Olympic tournament has featured a Canada-U.S. final except at Turin 2006, when Canada beat Sweden for the gold and the U.S. won bronze.
The sport wouldn't advance if both teams breeze through the field to reach the final again. Being challenged along the way would help the future of the game and make a third straight showdown that much sweeter.
"I think the rivalry between Canada and the U.S. has been there since the inception," said Shuler, who played for Canada in the 1998 Games. "Every single time we've faced the U.S. it's always been a one-goal difference. It's gone into OT. It's a back and forth hockey game. It's best-on-best competition. And I think that's what makes it so great."
Facing Canada again is a tantalizing prospect, but Duggan said the Americans aren't looking beyond their opener against Finland. This is when they will put into use the lessons they learned from that 2014 gold-medal game loss.
"This is a different group. This is a different team than everyone saw four years ago," she said. "We really looked ourselves in the mirror. We've all matured in our habits, matured in our mind-sets and we're ready to go. We're excited to be here. We've been focused on Feb. 11, our first game of this tournament, for the last four years."
Follow Helene Elliott on Twitter @helenenothelen
---
Get the latest on L.A.'s teams in the daily Sports Report newsletter.
You may occasionally receive promotional content from the Los Angeles Times.