Russia's Olympic team barred from 2018 Winter Games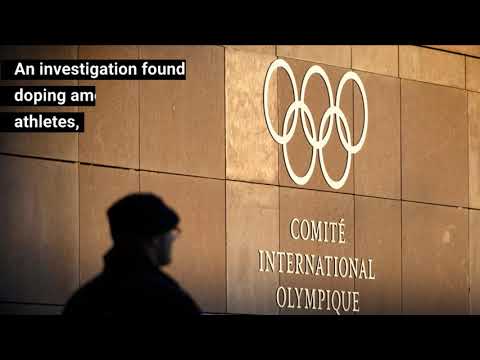 Russia's Olympic team is barred from 2018 Olympics. The announcement followed a day of debate among the members of the IOC executive board, who are meeting in Lausanne, Switzerland this week. 
Taking decisive action they had previously avoided, Olympic leaders have banned Russia from the upcoming 2018 Winter Games.
The announcement on Tuesday follows multiple investigations that produced evidence of systemic doping and cheating among Russian athletes, coaches and officials.
"This was an unprecedented attack on the integrity of the Olympic Games and sport," said Thomas Bach, president of the International Olympic Committee. "As an athlete myself, I feel very sorry for all the clean athletes from all the [nations] who are suffering from this manipulation."
The IOC did leave an opening for Russian athletes: those who can prove they have competed cleanly will be allowed to participate under a neutral flag.
But authorities barred the Russian sports ministry from attending when competition begins Feb. 9 in Pyeongchang, South Korea, and demanded a $15-million payment for investigative expenses and independent drug testing.
The penalties were announced less than two years after the IOC debated, but stopped short of, making a similar move for the 2016 Summer Olympics in Rio de Janeiro.
In that instance, Olympic officials decided to let the international federations that govern each sport decide, case by case, who should be eligible. Much of the Russian team competed in Brazil.
"This time, it was something I don't think they could let pass," said Mark Dyreson, a Penn State professor who has studied the history of the Games. "What nation are you ever going to bar if you have this clear and convincing evidence" and you don't ban them?
The Olympics previously have excluded entire countries, but only for geopolitical reasons. South Africa was banned for refusing to condemn apartheid; Afghanistan for discriminating against women under Taliban rule.
Russia is different because it has been an Olympic powerhouse for decades, finishing high in the medals table at both the Summer and Winter Games.
It will have an opportunity to appeal the ban to the international Court of Arbitration for Sport.
There has been speculation that Russian officials might respond by having all of their athletes — including approved "neutrals" — boycott the Pyeongchang Games.
President Vladimir Putin repeatedly denied government involvement in doping and, earlier this year, suggested the U.S. was quietly behind the ongoing investigation.
"In response to our supposed interference in their elections, they want to cause problems in the Russian presidential election," Putin, who is expected to run in March, told the TASS news agency.
But other countries had favored a ban, and the U.S. Olympic Committee voiced its support on Tuesday.
"The IOC took a strong and principled decision," USOC chief executive Scott Blackmun said. "There were no perfect options, but this decision will clearly make it less likely that this ever happens again."
It was late in 2015 when the World Anti-Doping Agency began releasing a series of reports on widespread cheating in Russia. WADA subsequently alleged that approximately 1,000 Russian athletes in 30 or more sports participated in an "institutional conspiracy" that evolved over five years.
Summer and winter competitors, many of whom won medals in 2012 and 2014, were aided by their national sports ministry, their national anti-doping agency and the government's FSB intelligence service, WADA stated.
"For years, international sports competitions have unknowingly been hijacked by the Russians," Richard McLaren, a Canadian attorney who headed the investigation, said at the time. "Coaches and athletes have been playing on an uneven field. Sports fans and spectators have been deceived."
Following allegations made public by "60 Minutes" and the New York Times, investigators presented evidence that Russian officials falsified hundreds of doping tests. Some of that tampering allegedly took place at a Russian lab during the 2014 Sochi Winter Games, when samples were manipulated so Russian athletes could avoid testing positive for banned substances.
The international track federation banned Russians from international competition in late 2015. Asked why the IOC did not take similar action in 2016, Bach insisted there wasn't time to address the substantial and complex allegations.
"At the time of Rio, we had no opportunity to follow due process," the IOC president said. "There was no opportunity to hear the Russian side."
The IOC recently formed two commissions to study the allegations. Modern techniques have been used to retest samples from previous Games, stripping dozens of Russian athletes of medals they won.
This week, a delegation from Russia attended an IOC executive board meeting in Lausanne, Switzerland, to present their case during a lengthy session.
"In this meeting, this afternoon, the president of the Russian Olympic Committee has apologized," Bach said on Tuesday.
It remained unclear if the Russians admitted to state-sponsored doping or stuck to their previous stance that all cheating had been done by individuals without the government's knowledge.
Allowing athletes to compete as "neutrals" was seen as something of a compromise. These "Olympic athletes from Russia" would wear uniforms bearing "OAR." If any of them won, the Olympic anthem would be played during the medals ceremony.
Once the Pyeongchang Games have concluded, Russia can seek to have the ban lifted but must show it has satisfied a series of predetermined criteria.
"We believe that this decision goes a long way toward protecting the interests of clean athletes," said Linda Hofstad Helleland, vice president of WADA.
Nothing the IOC has done changes Russia's status as host of soccer's 2018 World Cup, a marquee event being organized by Vitaly Mutko, who was banned from the Olympics for life on Tuesday.
However, some Olympic experts remain skeptical. They said the temptation to cheat remains substantial for both individual athletes and countries hungry to boost their international prestige with victories on the playing field.
"I would love to be an optimist and tell you this is the nail in the coffin for cheating," said Scott Minto, director of San Diego State's sports business MBA program. "The IOC had to do something … I just don't know if there's anything you can do that is forceful enough."
Twitter: @LAtimesWharton
---
UPDATES:
11:10 a.m.: This article was updated throughout with additional details and background.
This article was originally published at 10:50 a.m.
Get the latest on L.A.'s teams in the daily Sports Report newsletter.
You may occasionally receive promotional content from the Los Angeles Times.