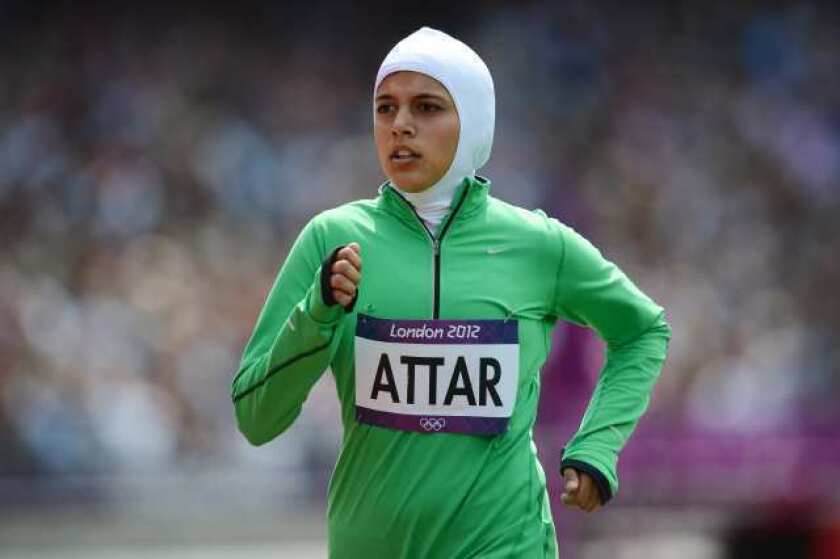 LONDON — Sarah Attar and Amy Atkinson finished last in their respective 800-meter heats Wednesday morning but both women still took great strides forward.
Attar, a Pepperdine University junior who became Saudi Arabia's first female track Olympian, received a huge ovation from the crowd at the Olympic Stadium when she was introduced and an even louder ovation after she crossed the finish line. Her time was 2 minutes, 44.95 seconds, placing her 39th among 40 competitors, but her performance requires some context.
Attar, 19, ran while wearing a full, white head-covering, a long-sleeved green jacket and long pants in deference to Saudi cultural restrictions on women. She has dual U.S. and Saudi citizenship because her father is Saudi. She usually competes in the 1,500 and 3,000 and is coached in San Diego by Joaquim Cruz, who also coaches elite U.S. 800-meter runner Alice Schmidt.
After her race Attar declined interview requests. Asked how the Games have gone for her, she said, "It's a really incredible experience," and continued walking toward the athletes' area beneath the stadium.
Atkinson, who turned 23 last week, is a graduate of Biola University and represents Guam, where she grew up while her father pastored a church. She said her church, at the last minute, came up with funding to send her parents to London to see her compete Wednesday.
"I was excited to run. It was the first time they've seen me race off of Guam, said Atkinson, whose time of 2:18.53 set a national record for Guam.
"I just didn't even think about the crowd. I just pictured God looking down, smiling down and cheering, and that's all that mattered."
She said she plans to enjoy the rest of the Games and support three Guam teammates who are still competing here. Her competitive time may have been brief but she will remember this for a lifetime.
"It was an amazing experience," she said.
ALSO:
London Olympics: What to watch for on Thursday
FIFA will look at end of U.S.-Canada women's soccer match
Kessy, Ross win to ensure all-U.S. women's beach volleyball final
---