Greg Louganis remembers the Olympic dive that made history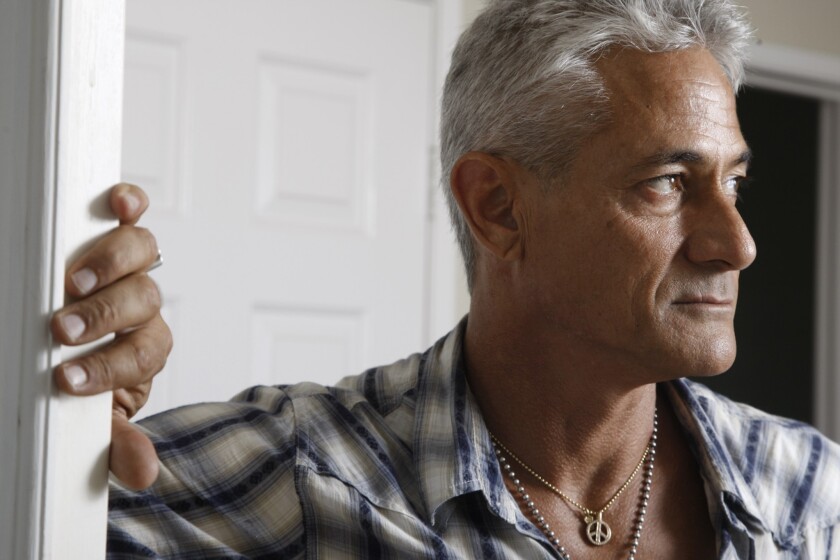 His fabled accomplishments occurred on a board, above a pool, across an international sports stage upon which he became one of the greatest of Olympic athletes.
Yet Greg Louganis is most frequently reminded of his past glory when he gets a haircut.
"Everyone who touches my head wants to see the scar," he says. "They're always like, 'Oh, my God, is it still there, can I touch it?"
Twenty-five years ago, the scar was a wound that bled its way into Olympic history. It emerged from an unforgettable moment of terror, followed by an equally memorable act of triumph. It not only shaped Greg Louganis' scalp, but, as the world later learned, it provided a new definition of human strength.
"Somebody once said that, at that moment, I was the toughest sissy in the world," Louganis says with a grin.
At the 1988 Summer Games in Seoul, Louganis hit his head on the end of the board during a reverse somersault dive in the preliminaries of the 3-meter springboard competition. Less than 30 minutes after suffering a cut that eventually required five stitches, he climbed back up on the board and executed the best-scored dive of the day, leading to an eventual gold medal that helped cement his status as the greatest male diver ever.
That head is now gray. The diving has been replaced by spinning and yoga. Thankfully, the scar remains.
"I tell the stylists, 'Hey, you're gonna be up there anyway, you might as well look at it," Louganis says.
Louganis is sitting on a couch at his fiance's Beverly Hills apartment. He is 53 now, and even though he looks as fit as when he became the only male diver to win two Olympic individual golds in consecutive Olympics, much has changed.
"In some ways, if feels like a lifetime ago," he says.
Since winning his third and fourth gold medals in Seoul and immediately retiring from competitive diving, Louganis has made a different sort of splash. In 1995, he disclosed that he was gay and that, six months before the Seoul Games, he had been diagnosed as HIV-positive. These revelations resulted in criticism of Louganis for not explaining his condition to anyone who might have been touched by his blood on the day of his diving accident, including the U.S. doctor who stitched him up.
"At the time, if people in Seoul knew I was HIV-positive, I would never have been allowed into the country," Louganis says today. "I was paralyzed by fear."
As time has passed and more information about the risks of HIV has become known, that criticism has been replaced with acceptance, understanding and, ultimately, a celebration of the life of an athlete whose toughness is beyond question.
Twenty-five years ago, Louganis found the best in himself at a time when he had to hide his true self, earning the victory of his life when he thought he was dying.
"Yeah, I didn't expect to be here right now," he says.
At times, it seems he is everywhere, as an actor, a coach on the celebrity diving competition "Splash," a motivational speaker, a mentor for the U.S. diving team and even an occasional beach volleyball player.
"Of course, every time I dig into the sand for the ball, somebody makes some crack about diving," he says with a grin.
He lives in a Malibu home overlooking the ocean, he will soon marry his partner, paralegal Johnny Chaillot, and he is active in calling for a boycott of Olympic sponsors in the wake of Russia's new anti-gay laws.
But he is still remembered most for that day that could have finished him, a day that instead defined him.
It was the eighth dive of a 10-dive preliminary round, just another small leap in Louganis' long flight toward greatness. He had won two gold medals in the previous Olympics. He was already considered the world's greatest diver. It was a dive he had successfully executed hundreds of times in his career, a reverse 2 1/2 somersault.
And then … clunk.
"I heard a big hollow thud," he recalls. "I went crashing into the water and I thought, What was that? Was that my head?"
The replay shows the back of Louganis' head bouncing against the end of the board as he falls into the pool. The replay then shows fans in the nearby stands gasping in disbelief.
Louganis emerged from the pool holding his head in pain. Blood began to trickle down the back of his neck. His longtime coach Ron O'Brien met him and immediately pushed his hand up against Louganis' scalp to hide the bleeding from the crowd.
"At first, I was just so embarrassed," Louganis recalls. "I was like, 'How do I get out of this pool without anybody seeing me?' This is the Olympic Games, you are supposed to be a pretty good diver. Good divers don't do stuff like that."
Then, he was just scared. Dr. James Puffer, the chief physician for the 1988 U.S. Olympic team, was unaware of Louganis' condition and began treating the wound without latex gloves. Louganis wanted to stop him but couldn't.
"I knew what the situation was, and I wanted to scream out to everybody, 'Don't touch me!"' Louganis remembers. "But I knew how inappropriate that would be. I didn't know what my responsibility was. I was just scared."
That fear increased when he realized he had less than 30 minutes to climb back on the board and complete his final dive of the day. He huddled with O'Brien in a quiet area away from the cameras and tried to find himself.
"I had absolutely no confidence in myself," he recalls. "I didn't know what I did wrong, so I didn't know how to fix it."
In the end, he was drawn back to the board after an O'Brien pep talk and a realization that if he quit then, all of his struggles as an athlete and a closeted gay man would be wasted.
"I finally turned to Ron and said, 'We've worked too long and hard to give up now,'" Louganis recalls.
When he climbed back on the board, the crowd gasped again in surprise. Louganis beat his hand over his chest as if imitating his wildly pumping heart. The crowd giggled. Louganis giggled back.
"I was like, 'Oh my God, we're in this together,"' Louganis recalls. "I was like, 'I have no idea what's going to happen, but let's just go for it.'"
He did, and he nailed it, a 1 1/2 somersault with 3 1/2 twists, the best dive of the day, although he never bothered to look at the scoreboard.
"It was a huge relief. I heard the crowd reaction; I didn't need validation of the score," he says.
Though his career ended soon thereafter, one bit of unfinished business remained from that day. Seven years after Seoul, shortly before the publication of his bestselling autobiography, "Breaking the Surface," Louganis finally phoned Dr. James Puffer and informed him of his condition at the time of the cut. Louganis had assumed that, as a doctor, Puffer received regular HIV screenings, so he didn't feel it necessary to inform him earlier. It turned out that Puffer had not been screened. The doctor tested negative, and later told the New York Times that, given the circumstances, he could not criticize Louganis for his decision.
"I felt terrible," Louganis says. "But at the time, I was so young, this was all so new, I just didn't how to handle it."
Today, two of Greg Louganis' gold medals are in the International Swimming Hall of Fame in Fort Lauderdale, Fla. Another is with Jeanne White, the mother of Ryan White, the teenager who became a symbol of AIDS awareness in 1999 when he died of complications from AIDS at age 18 after acquiring the condition through an infected blood transfusion.
Louganis kept only one gold medal for himself. It is tucked away in his Malibu home. You have probably already guessed. It is the medal that began as a scar.
Twitter: @billplaschke
---
Get the latest on L.A.'s teams in the daily Sports Report newsletter.
You may occasionally receive promotional content from the Los Angeles Times.