U.S. long-track speedskaters, led by Shani Davis, expect big things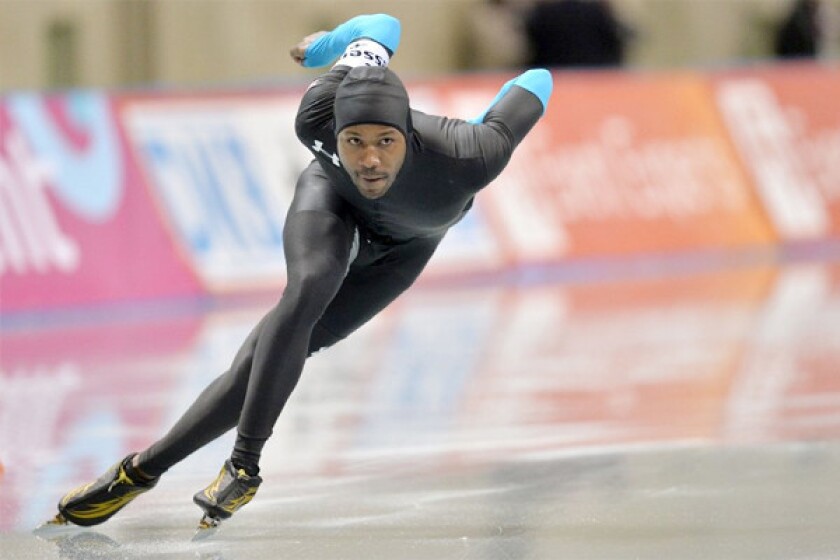 SOCHI, Russia — While the U.S. short-track speedskating tries to shake off a scandal, its counterpart begins competition in the Winter Olympics on Saturday having dodged most of the fallout.
The U.S. long-track speedskating team is also poised to gobble up a mouthful of medals.
The last dominant Olympic U.S. long-track team was in 2002, when it won eight medals in Salt Lake City. Now, comparisons are being made to this team. In the current World Cup season, the U.S. women have won 15 medals and the men 13.
"I definitely think we can challenge what they did in 2002," said Brian Hansen, 23, who won three medals this season. "We have the World Cup results to prove it."
Leading the way is Shani Davis, the 31-year-old overall world No. 1 and four-time Olympic medalist. Davis, the world-record holder in the 1,000 and 1,500, is hoping to win the 1,000 meters and become the first U.S. male Olympian to win an event three straight times.
"If I skate well enough to do it, I'll be obviously more than happy to take the title," Davis said this week. "But it's a big challenge."
Chasing Davis will be Hansen, a 2010 silver medalist in the team pursuit who is ranked ninth in the world and comes off his strongest year on the World Cup circuit. Joey Mantia, a world champion inliner, is ranked 23rd overall and is an outside medal contender.
The women's side is expected to bring home its first Olympic hardware since 2002 with the tandem of Heather Richardson, 24, ranked first overall in the world, and Brittany Bowe, 25, ranked second.
Bowe, who holds the 1,000 world record, is a former inline skater who played college basketball before starting to skate. She caught the bug after watching her friends compete in 2010.
"My dream has always been to be the best and I'm here, I've made that dream come true, and hopefully I can find myself on the podium in the next few days," said Bowe, who won six medals this season and leads the 1,500 standings.
Richardson and Bowe are also ranked 1-2 in the world in the 1,000. Richardson won eight World Cup medals this season, including three golds in the 1,000.
"This is an extremely strong team," said Richardson, from North Carolina.
Unlike his first two Olympics, Davis plans to participate in the team pursuit and trained with his teammates in the U.S. The team won two silver medals this season and has become a threat to a Dutch team that won every race this season.
"Between our top skaters we definitely can field one of the best team pursuit in the world, if not the best," Hansen said. "When everything is put together we can go against the Dutch, even on their best days."
U.S. Coach Ryan Shimabukuro said it's unfair to compare Olympic teams but said the season's results show the depth and strength of the United States.
"This is probably one of the best teams to be a part of so we're pretty excited for the competition to get going," he said.
Meanwhile, short-track speedskating begins competition less than two years after a skate tampering scandal that led to a splintering of training groups and the resignation of the sport's national coach. It continues to rebuild with the retirements of eight-time Olympic medalist Apolo Ohno and Katherine Reutter, a 2010 silver medalist.
J.R. Celski, 23, who won two bronze medals four years ago, is the best shot for an individual medal. Celski, the 500 world-record holder, has been a force on the world circuit and won two medals this season, including one gold.
"There's a very good team vibe there," Celski said. "If we can continue that, and continue that into the competition, then we're going to produce some very good results."
Twitter: @jaredshopkins
---
Get the latest on L.A.'s teams in the daily Sports Report newsletter.
You may occasionally receive promotional content from the Los Angeles Times.