Sochi Olympics: Finishing 10th, luger Kate Hansen is Games' big winner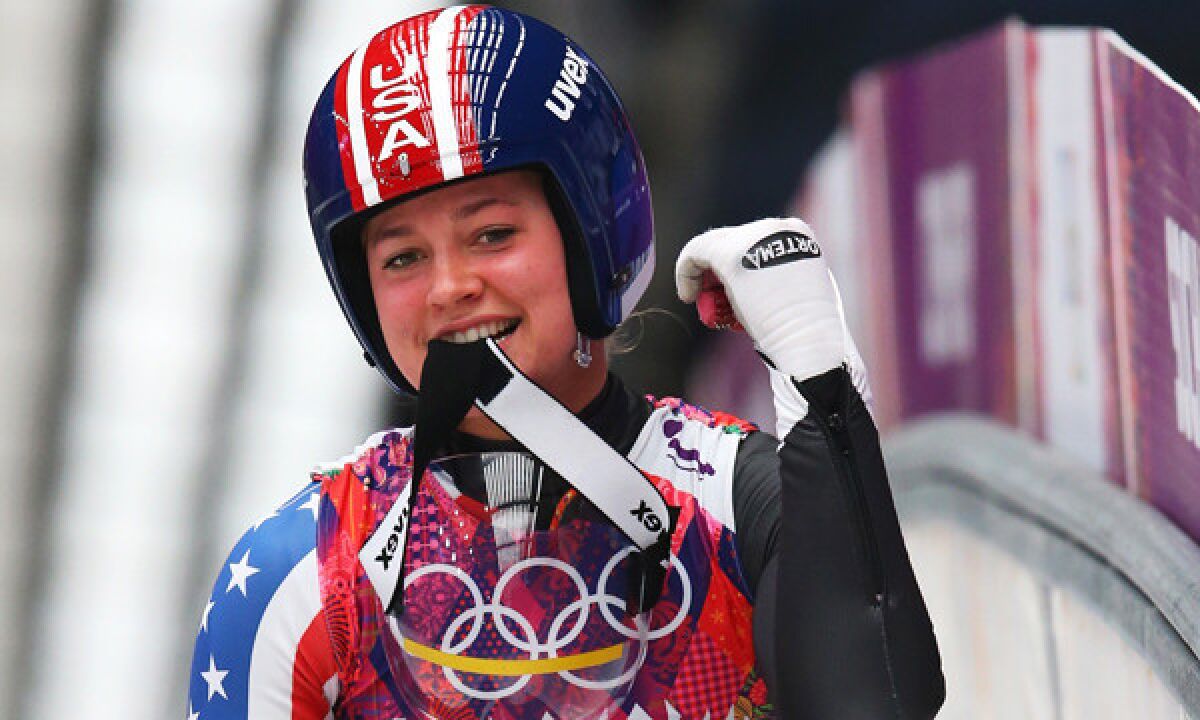 SOCHI, Russia — The happiest 10th-place finisher in the history of the Olympics sat on her motionless sled in the middle of the ice.
Her race was over, but she didn't want to leave. She pounded the slush. She waved to her weeping family. She climbed above the finish line and began to boogie.
"Everybody was chanting, 'Dance, dance, dance,'" Kate Hansen said. "I'm so grateful to be here, I didn't want to be that kind of person to just walk away."
FRAMEWORK: Best images from Sochi
And so the luger who once flew down the streets of La Cañada on a skateboard charmingly skidded through the Sanki Sliding Center on Tuesday night with a whoosh of perspective.
There's nothing in the Olympic motto about winning. None of the five Olympic rings is gold. Sometimes it's not about the speed of the sled, but the view from the sled, especially if it's in the eyes of a 21-year-old Southern California kid riding atop a snow-covered sport on the other side of the world.
Sometimes, as Kate Hansen reminded everyone, it's not about greatness you take from these Games, but the gratitude you leave behind.
"I will be so thankful for this moment for the rest of my life," Hansen said after using her strongest run of the two-day meet to finish 10th in the luge. "This moment is what people talk about in all those movies, what people dream about, it's all real, and I'm just so grateful."
Hansen hit a wall on her first run and was never really in contention. She wasn't even the best luger on her team, as Erin Hamlin finished third to earn the first U.S. women's luge medal in Olympic history.
But perhaps no luger made a bigger impact this week, from her dance moves that went viral to her postrace interviews to an unbridled joy that led one website to refer to her as the Olympics' most "charming athlete."
"I won't have words for this for years," she said. "Honestly, dude, I am just so, so happy."
When Hansen overcame a broken foot this fall to surprisingly qualify for the Olympics, one wondered how this aura of energy and passion would survive the pressure of the greatest athletic competition in the world?
Turns out, the essence of Kate Hansen not only survived, but triumphed, beginning with the opening ceremony, when she marched into Fisht Olympic Stadium with her iPod blasting an R. Kelly song — "The World's Greatest" — that she had been saving for years for this moment.
"The music started blasting and I started crying and couldn't stop," she said. "My long journey, every broken bone, every concussion, it all amounted to this march, and I was total waterworks."
Hansen clearly wasn't going to roll up her emotions to fit the seriousness of the Games, something that gained criticism before her first heat Monday night when the NBC cameras caught her warming up by doing her usual wild, rhythmic dance to a Beyonce song on her iPad.
Her moves became an Internet rage and earned a mention from Beyonce on her Facebook page, and one website even called her dancing "perfection." Yet it was ripped by NBC luge commentator Duncan Kennedy, who said, "I would like to see something a little more sports specific from her."
Kennedy was lambasted on social media for being a party pooper, while Hansen's parents John and Kathie, who adorned a huge "Go Kate" sign signed by folks from La Cañada, just smiled.
"The great thing about these Olympics are that people got a chance to see Kate for something beyond her sled," said John. "Kate dances through life. That's who she is."
At the starting line, before her helmet visor was lowered, she led the event in giant smiles. After each of her four runs, no matter what the time, she would pump her fists and point to the crowd in glee.
She even showed her emotional side during her runs in the simplest of ways. Hansen had earlier received a letter from a young girl that contained a weathered penny and three sentences: "I have a lucky penny. I want you to have it. Good luck with your race."
Hansen didn't know the girl but stuck the penny in her suit and raced with it anyway. Afterward she told her parents she couldn't wait to write back to the girl and inform her of the penny's amazing journey.
"I didn't come here assuming I'd win anything, I just came here to go for it and do my best," she said. "I'm so lucky that happened."
In the end, she walked away thanking reporters and fighting back tears and waving to fans who kept wanting her to dance, something she is scheduled to do on NBC on Wednesday morning.
"I was sitting on that track thinking, 'Honestly, you've been through so much and you're here, you're actually at the Olympics, you've made it, Hansen!'" said the kid who didn't bring home a medal, but left us something just as shiny.
Twitter: @billplaschke
---
Get the latest on L.A.'s teams in the daily Sports Report newsletter.
You may occasionally receive promotional content from the Los Angeles Times.