At worlds, Michael Norman wins 400 and Sydney McLaughlin shatters 400 hurdles mark
EUGENE, Ore. —
The night before the race and redemption he had sought for 11 months, Michael Norman cut off communication with everyone in his life but his coach.
"I texted him after the 200 meters [Thursday] and he said, 'I'm done,' " his father, Michael, said. "He went dark."
Norman, the record-breaking star at Vista Murrieta High and USC, silenced his notifications on one phone. He grabbed his second and fell down a rabbit hole of YouTube videos.
Norman's attention would be only on outrunning the world's best quarter-milers at the championships — and any lingering doubts about his readiness on the global stage on which track and field's elite are judged.
The world championships begin with what USA Track & Field officials call a critical window for hopes of becoming the fifth-most popular sport in the nation.
Hurt at the 2019 world championships in Doha, and nursing what his coach, Quincy Watts, said was a tendon injury that removed his usual burst in Tokyo, Norman was fully healthy as he entered the final straightaway of Friday's 400-meter final inside Hayward Field — and instead of fading, he fought off the field to leave them, and his anguish from Tokyo, behind for good.
On a day at the world track and field championships that will be remembered for its speed and Sydney McLaughlin's all-time performance in the 400 hurdles that reset what is possible in the event, Norman outran a breakaway pack of four competitors to win his elusive gold in 44.29 seconds. Kirani James of Grenada earned silver in 44.48 and Britain's Matthew Hudson-Smith earned bronze, with American Champion Allison fourth.
With one stride to go before the finish, Norman raised his arms, the first time since the previous day that his father, watching from the stands, knew without a doubt what his son was feeling.
"The last couple of years he's suffered a couple of setbacks," his father said. "To see him achieve his goal, it's hard to describe. I told him, 'You finally got your gold, and you worked hard for it.' "
Norman's title continued the dominance of the U.S. men in the sprints, one night after a sweep of the medals in the 200 and six days after another sweep in the 100, and it capitalized on the promise he'd shown while racing to records in high school and college, success he'd yet to replicate on the world-championship or Olympic levels. Injuries played a part, Watts said, adding that Norman called it "no excuse" for his fifth-place finish in Tokyo.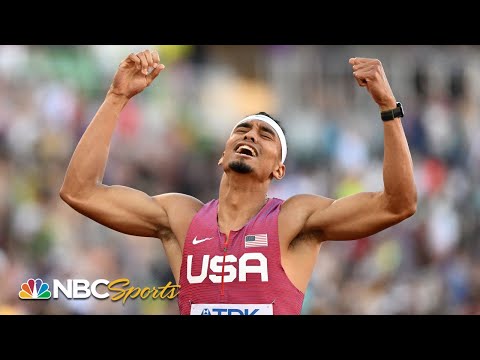 "Doha was kind of just a reminder of a welcome to the pro leagues," Norman said. "I suffered injuries; it's part of the sport and part of life and track and field. But Tokyo was a slap in the face. That one stung. I probably went through every emotion from the Tokyo final to probably like January — frustration, anger, everything."
Where he'd faded over the last 150 meters in Tokyo, he held off James, a former world champion and Olympic gold medalist, and Wayde van Niekerk, the world record-holder and two-time world champion in the final 10 seconds as the crowd roared. Norman is the first American to win the event at the world championships since LaShawn Merritt in 2013.
"He's in a championship atmosphere and he rose to the occasion," Watts said. "And when there's a healthy Mike Norman, I put my money on Mike."
McLaughlin, the 22-year-old Olympic champion, lowered her own record of 51.41 seconds set just four weeks ago to a previously unfathomable 50.68. The silver medalist, Femke Bol of the Netherlands, ran the 11th-fastest time ever — and still was beaten by 1.59 seconds.
McLaughlin had shaved tenths of a second off the world mark for more than a year. But the improvement of 73-hundredths was so stunning that the bronze medalist, American Dalilah Muhammad, said she thinks a sub-50-second race is possible.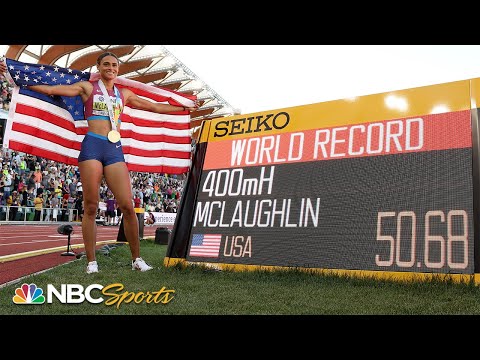 "We're pushing the bounds of the sport, especially in our event, of what's possible in this race," McLaughlin said. "I definitely think there's always more that can be shaven off, for sure."
It capped a night of the unexpected. Kara Winger, in fifth place in the javelin and down to her final throw in her final season before retirement, uncorked a throw of 210 feet 1 inch that pushed her into silver, the first javelin medal won by a U.S. woman at a world championship. She covered her face with the knowledge that at 36, she'd earned her first world championship medal in a world championship or Olympics. And she did it competing two hours from her Washington hometown, in the stadium where she had qualified for four Olympics and suffered her first torn knee ligament at 26 — an injury she worried had prematurely put a ceiling on her potential.
Even more stunning was that for at least one more race, Allyson Felix's retirement is on hold. One week after earning a bronze medal in the mixed 1,600 relay in what she and U.S. officials intimated was the last run of her illustrious career, the sprinter who burst out of Los Angeles Baptist nearly two decades earlier will run in Saturday's women's 1,600 relay semifinals. Officials had asked whether she would run, an opportunity she could not turn down, Felix told the Associated Press.
Qualification for the men's 4x100-meter relay begins Friday and the U.S. is under pressure in winning an event that they've struggled as of late.
The U.S. men, the Jekyll and Hyde of the short relay for two decades, also will enter Saturday with the fastest qualifying time after the seamless first handoff between Christian Coleman and Noah Lyles — two members from the gold-medal team in 2019 — put Elijah Hall and Marvin Bracy-Williams in position to finish in a world-leading 37.87 seconds. That lineup isn't guaranteed to run in Saturday's final, which the U.S. will enter as the heavy favorite to win gold. Lyles' leg Friday was his fourth race in five days, though 24 hours after setting the American record in the 200 he said, with a broad smile, that he "woke up good today."
The U.S. women, traditionally steadier in the short relay, also easily posted the fastest qualifying time of 41.56 seconds.
The men's clean run was a result of trust and practice at "relay camp," Bracy-Williams said. Their preparation wasn't limited to handoffs. Amid an interview Lyles sang a bar from Meek Mill's "Dreams and Nightmares" — a title that, considering the U.S. history in the event, felt wholly appropriate.
"I used to pray for times like this," Lyles said, pointing to teammates who answered, "to rhyme like this, so I had to grind like that to shine like this!"
They will have their time Saturday. Friday belonged to McLaughlin and Norman.
Get the latest on L.A.'s teams in the daily Sports Report newsletter.
You may occasionally receive promotional content from the Los Angeles Times.