Ray Lewis: Colin Kaepernick's girlfriend played role in him not getting Ravens' quarterback job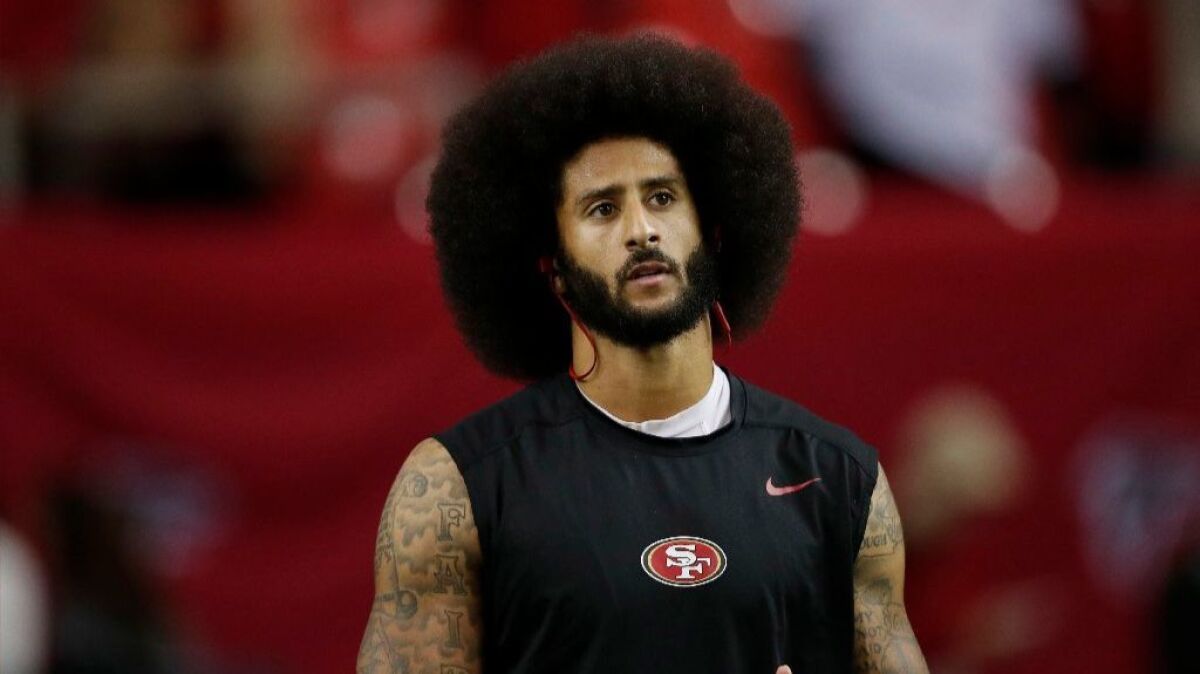 A tweet from Colin Kaepernick's girlfriend may have played a role in preventing the former San Francisco 49ers quarterback from getting a job with the Baltimore Ravens, according to former football great Ray Lewis.
Lewis was one of several people Ravens owner Steve Bisciotti and general manager Ozzie Newsome consulted with while trying to decide whether to bring Kaepernick in to back up the banged-up Joe Flacco at quarterback.
Kaepernick created a storm of controversy last season by refusing to stand for the national anthem before games. He hasn't found work since opting out of his contract with the 49ers in March, and some people think he's being blackballed.
In his new role as analyst on Showtime's "Inside the NFL," Lewis spoke of how close the Ravens were to bringing Kaepernick in to discuss a possible contract.
"Steve Bisciotti said, 'I want to hear Colin Kaepernick speak to let me know that he wants to play football,' " Lewis said on the episode that aired Tuesday night. "It never happened because that picture comes out the next day."
The picture Lewis referred to is actually a tweet sent out by TV and radio personality Nessa Diab, pairing a photo of Lewis with his arms around Bisciotti to one of a slave with his arms around his master from the movie "Django Unchained." Her caption was simply a bull's-eye emoji along with Lewis' Twitter handle.
She tweeted the image on Aug. 2, the same day Lewis was facing criticism for seeming to defend the Ravens' hesitation to sign Kaepernick on FS1's "Undisputed."
"His girl goes out and puts out this racist gesture and doesn't know we're in the back office about to try to get this guy to sign," Lewis said on "Inside the NFL."
"… The only thing that went bad was that image where she tried to make us [into] racist individuals."
Lewis added: "When they call me, it's to say, 'Yes,' or, 'No.' We were gonna close the deal to sign him. All we wanted to hear was Colin Kaepernick speak."
Asked whether Kaepernick would be a Raven if it weren't for that tweet, Lewis said: "Then he's flying him to Baltimore, I'm sitting with all three of those [guys], we're all having a conversation about bringing Colin Kaepernick in."
It's unclear just what role the tweet played in the decision not to bring in Kaepernick. Did it offend Bisciotti so much that he pulled the plug on the whole idea? Did it change the mind of Lewis, who said he had been supportive of Kaepernick throughout the process? Did the decision-makers feel the tweet was indicative of Kaepernick's feelings about the organization?
Lewis didn't say. But he did indicate that he's unhappy with the way he's been portrayed.
"This is the only thing that frustrates me a little bit," Lewis said. "I lived police injustice — I lived it. So for somebody to tell me that I'm racist? No, what I found out was, I found out that all cops are not bad cops. And I found out that all people that work for the system are not bad people. You can't put everybody in one box. There's not one word you can ever find where I criticized and said, 'I don't like Colin Kaepernick, and I think it's terrible.' I never said it."
Twitter: @chewkiii
ALSO
Seahawks' Michael Bennett claims police used excessive force against him for 'being a black man'
Colin Kaepernick tweets thanks to those who rallied on his behalf outside NFL offices
Ray Lewis to Colin Kaepernick: 'Get back on the football field and let your play speak for itself'
Patriots owner Robert Kraft touches down in Jerusalem, where he's bringing football to the Middle East
---
Get our high school sports newsletter
Prep Rally is devoted to the SoCal high school sports experience, bringing you scores, stories and a behind-the-scenes look at what makes prep sports so popular.
You may occasionally receive promotional content from the Los Angeles Times.