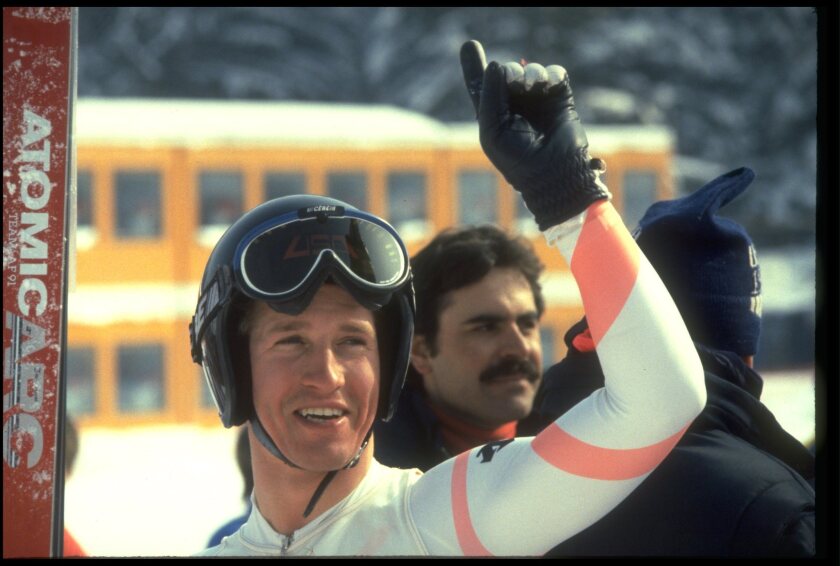 In the days before the 1984 Winter Olympics, Bill Johnson told anyone who would listen that he was sure to win the men's downhill race.
It did not matter that to him that no American had ever prevailed in alpine skiing's premier event. Or that he was young and relatively new to big-time racing.
"I'm going to win the gold medal," he said. "They might as well give it to me now."
Brash. Full-speed ahead. Daring to the point of reckless.
That was how Johnson lived and, after making good on his Olympic promise, he continued down a path that had more twists and turns than any mountain course could throw his way.
The former Olympic champion died Thursday at an assisted living facility in Oregon, where he had suffered through years of deteriorating health. He was 55.
For all his success, Johnson leaves behind a complex legacy. Some will recall him as a supremely gifted athlete and rebel who jolted the American program from a long dry spell, inspiring generations of racers to come.
Others will remember his history of injury, hard partying and a desperate comeback attempt that ended with a crash and a coma.
"Such a glorious, unlikely and eminently sad tale," said Christin Cooper, a former teammate. "The stuff of legend."
William Dean Johnson was born March 30, 1960, in the last place you would expect to find a skier: the San Fernando Valley. He gravitated to the slopes after his family moved to Idaho and, later, Oregon.
It took an unlikely push to get his athletic career going. Arrested at 17 for stealing a car, he encountered a judge who sent him to ski academy instead of prison.
It turned out that Johnson had the perfect body for the downhill, with knees and elbows that fit neatly into a tuck and narrow shoulders that gave him a bullet shape as he flew down the hill.
U.S. ski officials soon came to know "Wild Bill" as confident and iconoclastic. They added him to the national team in 1979, kicked him off shortly thereafter, then brought him back.
"We traded flesh once or twice," his former coach, Erik Steinberg, told The Times in 2010. "It was like the bully on the playground. Once you stood up to him, he respected you."
Johnson made his World Cup debut in 1983 with a promising sixth-place finish at the downhill in St. Anton, Austria. Subsequent results, however, were less impressive.
Then, a month before the 1984 Sarajevo Olympics, he won the famed Lauberhorn downhill in Switzerland, a sign that he had a chance at the Games, a stage normally dominated by Europeans.
"Billy was a fighter and went about things his way," said Phil Mahre, a teammate and Olympic medalist. "That toughness allowed him to reach heights in the skiing world that few will ever accomplish."
Conditions in Sarajevo helped. The relatively straight course and stormy weather were perfect for a tucking "glider" such as Johnson.
"His skis were rockets and he knew it," Mahre recalled. "He just gleefully hung on for the ride."
After defeating the favored Europeans, Johnson said: "I supposed I would have been a bum if I'd finished second."
It would be the highlight of his career. His results steadily declined after that season, with injuries taking a toll. There were reports of late nights and drinking. U.S. team officials grew frustrated with his attitude — he once struck a coach with a ski pole — and left him off the squad for the 1988 Winter Games.
Johnson retired in 1990, his life after racing marked by personal hardship. A 1-year-old son drowned in a backyard hot tub in 1992, and his marriage, which had resulted in two additional sons, ended in 1999.
Ensuing years saw him work as a ski resort "ambassador" and an itinerant carpenter. These struggles set the stage for an ill-considered attempt to make the 2002 Salt Lake City Olympics at age 40. "I was broke," he told The Times. "I needed to get back my wife and kids."
Age had robbed him of his speed and a new generation of athletes had changed the sport with better equipment and more-intensive training. On a Montana course, the site of the national alpine championships, Johnson caught an edge and smashed face-first into the snow, biting off a piece of his tongue as he tumbled through safety netting.
Rescue workers inserted a breathing tube and rushed him by helicopter to a hospital, where he lay in a coma with brain trauma for three weeks.
Bucking the odds once again, he recovered sufficiently to drive a car and even ski — albeit recreationally. But as the years passed, Johnson suffered multiple strokes that ultimately paralyzed the right side of his body, further slowing his thinking and speech. His condition kept him homebound, cared for by his mother and a friend.
In that 2010 interview, he was asked to describe what he did with his time. "Absolutely nothin'," he said.
Time, it seems, had clarified Johnson's standing. Last spring, on his birthday, top ski racers posted tributes from around the world.
"It's really important to recognize where we have come from as a country in this sport," said Andrew Weibrecht, who won silver at the 2014 Sochi Olympics. "And Bill was a big part of that."
Follow David Wharton on Twitter: @LATimesWharton
---