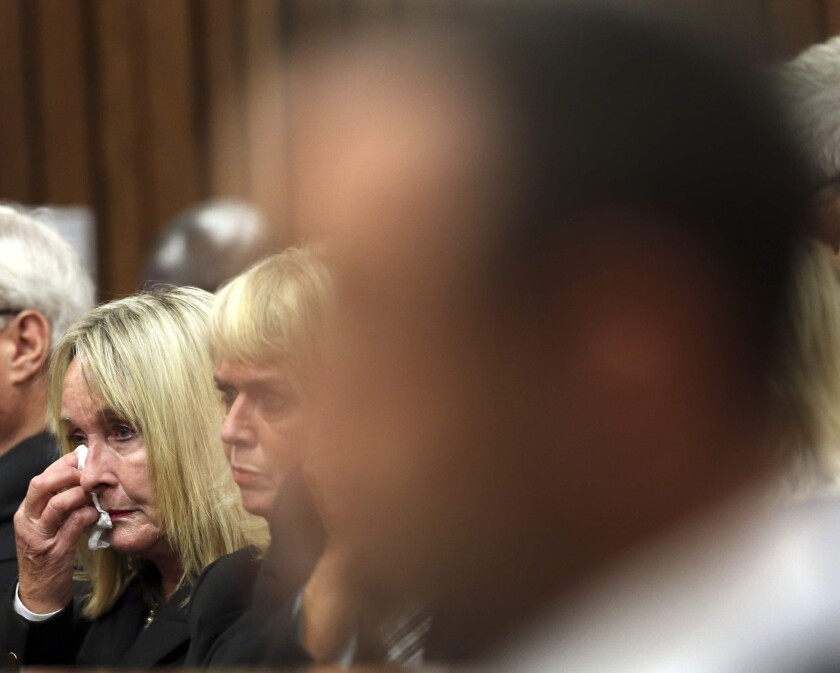 June Steenkamp told a British newspaper that she was hoping to see Oscar Pistorius face to face as he goes on trial for allegedly murdering her daughter, Reeva Steenkamp.
"I want to look at Oscar, really look him in the eyes, and see for myself the truth about what he did to Reeva," she said, according to the Pretoria News. "Whatever the court decides at the end of his trial, I will be ready to forgive him.… But first I want to force him to look at me, Reeva's mother, and see the pain and anguish he has inflicted on me. I feel I need that."
She may have gotten her chance as Pistorius' murder trial began Monday morning in Pretoria, South Africa, as the double-amputee Olympic runner was seated very close to June Steenkamp and other family members.
According to The Times' Robyn Dixon, the Steenkamp family members looked grim as Pistorius walked into court and passed in front of them to take his seat.
Pistorius has admitted to killing Reeva Steenkamp by shooting her through the bathroom door, but has maintained that he thought she was an intruder. Prosecutors are saying the shooting occurred after an argument between the famous athlete and his girlfriend.
The first witness, neighbor Michelle Burger, testified she heard "blood-curdling" screams from a woman before the gunshots that night.
Follow all of The Times' coverage of Pistorius' trial here.
---