St. Louis starting preparation work on proposed NFL stadium for Rams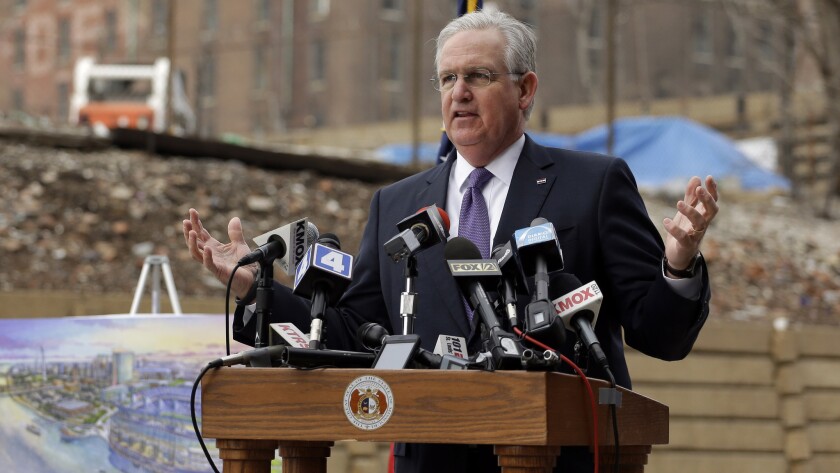 Missouri Gov. Jay Nixon announced Tuesday that preparation work is set to begin on the site of a proposed stadium aimed at keeping the Rams in St. Louis, but stressed that the project still hinges on significant investments being made by the franchise and the NFL.
During an appearance at the proposed stadium site, Nixon highlighted many of the actions the state and city of St. Louis are taking to try to move the project forward. He said the NFL and the Rams must provide the financial backbone for the stadium so it doesn't become a burden for taxpayers.
The St. Louis Post-Dispatch reported the Missouri government is looking for the Rams and the league to pay at least $400 million in construction costs for a project estimated to cost close to $1 billion.
"We're going to need the NFL and the team to show us that they're willing to make a substantial investment in making this work," Nixon said, "and on terms that will benefit not only the citizens of this region, but all Missourians.
"While many more pieces have to come into place, we're making solid progress, and I'm proud to stand shoulder to shoulder with the leaders here today who are united in a common purpose of making sure St. Louis remains an NFL city now and for years to come," he said.
In addition to financial support from the Rams and the NFL, Nixon's criteria for project construction calls for a plan that makes the Rams' current stadium, the Edward Jones Dome, economically viable and for redevelopment of the area surrounding the planned stadium.
Nixon announced steps to accommodate construction of the proposed open-air, 64,000-seat stadium. Transmission towers, power lines and a rail line are scheduled to be relocated away from the 90-acre site south of I-70 near the Mississippi River.
If the Rams were to leave St. Louis, Nixon said the state would lose about $10 million in annual tax revenue paid by players.
The proposed stadium came in response to Rams owner Stan Kroenke's plan to build an 80,000-seat NFL stadium in Inglewood in a massive development that would include retail, office, hotel and residential space. The project, first reported by The Times, is the latest of more than a dozen proposals that have been made over the last two decades since the Rams and Raiders left Los Angeles.
An NFL memo obtained by The Times on Monday reiterated the league's stance that franchise relocation must be spearheaded and approved by the NFL.
---
Get the latest on L.A.'s teams in the daily Sports Report newsletter.
You may occasionally receive promotional content from the Los Angeles Times.