Navy and Army investigating whether hand gesture at game intended to be racist message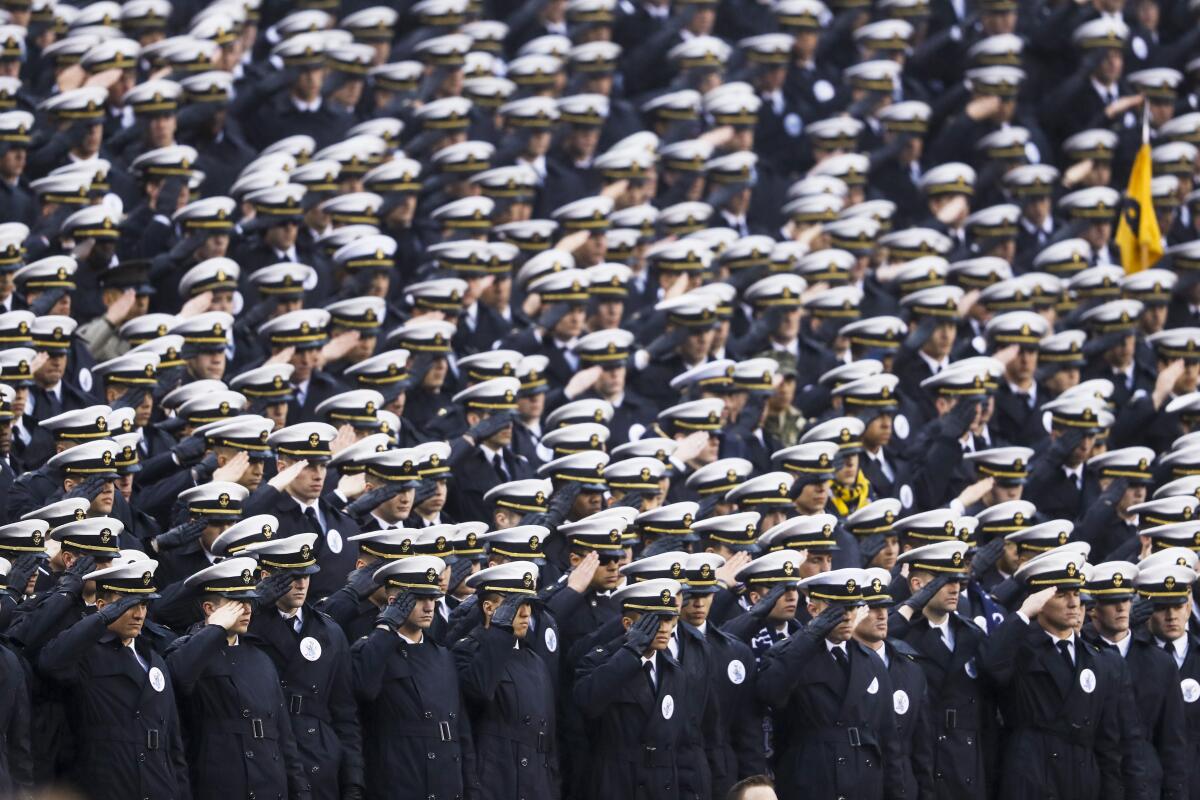 Officials from the Army and Navy academies launched investigations Monday into whether hand signals flashed by students standing in the background of a TV broadcast before the schools' annual football game Saturday were intended to convey a message of white supremacy.
During ESPN's "College GameDay" taping live from Philadelphia, two U.S. Military Academy cadets and one Naval Academy midshipman were captured behind the show's host, Rece Davis, making a gesture that has come to represent the "white power" movement in recent years.
The gesture resembles the one used to indicate "OK," with the thumb and forefinger in a circle and the three other fingers spread out like a "W." When the hand is pointed downward, it has been used to designate "white power" with the circle becoming a "P," and in September, it was moved from a trolling gesture to a symbol of hate by the Anti-Defamation League, which noted that the symbol does carry different meanings.
"The United States Military Academy is fully committed to developing leaders of character who embody the Army Values," Lt. Gen. Darryl Williams, West Point's superintendent, said in a statement. "I have appointed an investigating officer … to conduct an administrative investigation into the facts, circumstances and intent of the cadets in question."
Cmdr. Alana Garas, a spokesperson for the Naval Academy, said the Navy is conducting a probe into the matter.
"U.S. Naval Academy officials have appointed a preliminary inquiry officer to conduct an internal investigation into the hand gestures made during the ESPN College GameDay broadcast prior to yesterday's Army-Navy game. Based on findings of the investigation, those involved will be held appropriately accountable. It would be inappropriate to speculate any further while we are conducting this investigation."
"The investigation is ongoing; we're looking into the facts, circumstances and intent of the Midshipmen in question."
The hand signal in question was used by Brenton Tarrant, an Australian man charged with killing 51 people at New Zealand mosques in March, in a courtroom appearance.
In Southern California, there have been several racially charged incidents in the last year across the high school sports scene.
In August, school officials in Orange County reopened an investigation into a group of high school students caught on video with their arms raised in a Sieg Heil salute while singing a Nazi marching song. The video, shot during November 2018, shows about 10 boys from Pacifica High School in Garden Grove standing in what appears to be a banquet room giving the stiff-armed salute used in Nazi Germany. The song "Erika," written by German composer Herms Niel during Adolf Hitler's ascent to power, plays in the background.
In September, an investigation by San Clemente High School confirmed that racist slurs were directed at visiting students from San Diego's Lincoln High School during a football game Sept. 13. A Lincoln High majorette wrote in an Instagram post that she was subjected to racist taunts by both children and adults at the game, where the N-word was used.
As a response, students from both schools were asked to participate in a one-day workshop facilitated by the Anti-Defamation League.
In October, a football game between Marina High School and Segerstrom High School was marred by Marina students making signs with racial undertones.
Segerstrom is about 90% Latino, compared with about 20% at Marina. Photos posted on social media showed that the signs said "Segerstrom favorite color is brown."
Get our high school sports newsletter
Prep Rally is devoted to the SoCal high school sports experience, bringing you scores, stories and a behind-the-scenes look at what makes prep sports so popular.
You may occasionally receive promotional content from the Los Angeles Times.