The last few years, Kayla Harrison has felt mixed emotions watching the Larry Nassar molestation scandal and the rise of the #MeToo movement.
The two-time Olympic judo champion has felt immensely proud of the women who have stepped forward to demand justice. She also knows how tough that can be.
"Sexual abuse is a scar you carry the rest of your life," she says.
Back in 2011, shortly before winning her first gold medal, Harrison revealed that she had been molested by a former coach when she was younger. Speaking out was not as common then.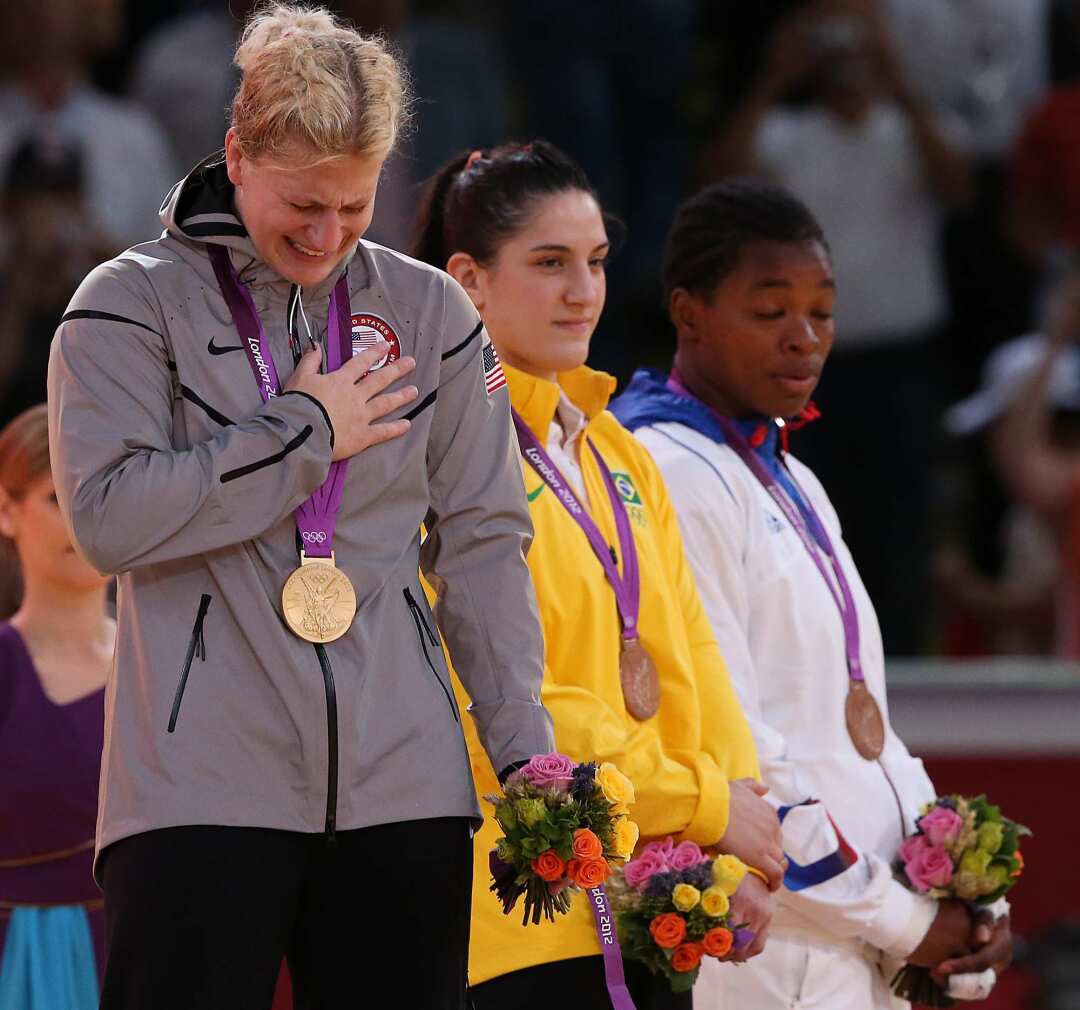 "Very taboo," she recalls. "It was really scary."
But this is a woman with a knack for facing adversity and doing whatever it takes to come out on top.
Years of sexual abuse might have driven her from sports. Instead, she chose to leave her Ohio home as a teenager and move to the Boston suburbs, to a dojo run by two-time Olympic medalist Jimmy Pedro and his father. They not only revived her passion for judo but also enrolled her in therapy.
"They basically saved my life," she says.
Harrison eventually became the first American to earn Olympic gold in her sport, winning the women's 78-kilogram division at the 2012 Summer Games in London. She successfully defended the title in Rio de Janeiro four years later.
Now, the 29-year-old has engineered a mid-career change, switching to mixed martial arts as one of top names in the fledgling Professional Fighters League.
Her experience on the judo mat has translated well to this new endeavor, where Harrison has made a habit of fighting close-up, taking opponents down and using her strength in grappling.
"She's always going to be aggressive," PFL President Ray Sefo told reporters last summer. "If she happens to ground-and-pound, I'd hate to be one of the ladies on the receiving end."
Claressa Shields delivers messages more powerful and persuasive than her devastating right cross.
On New Year's Eve, Harrison defeated Larissa Pacheco of Brazil in a lightweight championship bout that paid a $1-million purse.
Innate feistiness was, perhaps, the quality that impelled her to go public with a secret she had kept since her early teens.
Her former coach, Daniel Doyle, pleaded guilty to illicit sexual conduct in 2007 and was sentenced to 10 years in prison. Harrison moved on, growing a little older and a lot stronger, surrounded by people who supported her.
But in the fall of 2011, a sexual abuse scandal erupted at Penn State, where a longtime assistant football coach, Jerry Sandusky, faced multiple allegations of sexual assault. As part of the fallout from that case, the team's renowned coach, Joe Paterno, was fired.
Fans took to the streets, protesting in support of Paterno. Harrison was incensed.
"I couldn't believe our society was so uneducated," she said. "They didn't seem to care about the victims."
It just so happened that a reporter came to her dojo the next day. During that interview, Harrison opened up about her personal experiences, launching a journey that would take her far beyond the parameters of sport.
Working with two Harvard assistant professors, she co-wrote a book, "Fighting Back," which deals with recognizing signs of predatory behavior, especially among coaches. It worries her that young athletes and their parents are so hungry for success that they will overlook a powerful dynamic in which abuse can thrive.
Harrison has also created the Fearless Foundation, determined to educate survivors and encourage them to seek help.
"Winning a gold medal for your country is amazing, but it is a very selfish thing," she said. "To make a difference in the world, to leave a positive impact, that's truly my greatest accomplishment."
Her campaign grew more urgent as the Nassar case unfolded, with authorities discovering the disgraced sports doctor molested scores of young athletes under the guise of providing medical treatment. Then came the #MeToo movement, raising awareness of sexual harassment and assault, particularly in the workplace.
If anything, these recent development have strengthened Harrison's resolve while also making her hopeful. The judo star turned MMA-fighter can imagine a time when society deals even more frankly with a difficult subject, when victims feel even freer about speaking out.
"It was the best decision I ever made," she said. "And I haven't shut up since."
---
Get our high school sports newsletter
Prep Rally is devoted to the SoCal high school sports experience, bringing you scores, stories and a behind-the-scenes look at what makes prep sports so popular.
You may occasionally receive promotional content from the Los Angeles Times.