ESPN's 'The Last Dance' Michael Jordan docuseries: Reactions to the first episodes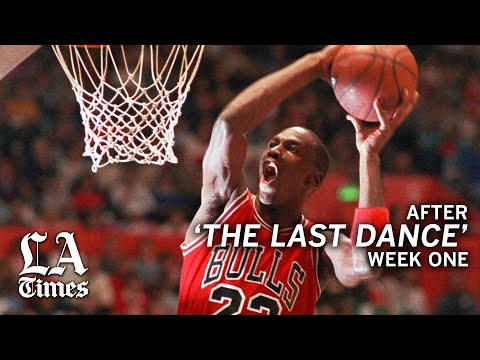 The debut of ESPN's "The Last Dance" documentary series on Michael Jordan and the 1997-98 Chicago Bulls debuted Sunday evening with Episodes 1 and 2.
The 10-part series, which features never-before-seen video of the sixth and final title run of Jordan, coach Phil Jackson and Co., continues the next four Sundays.
Jordan "was surprisingly forthcoming, candid and eager to discuss a lot of the topics that I think people are going to be interested in," director Jason Hehir said. "… He was all-in from Day 1. He was an active participant."
Episode 1 fills in the history as to how the Bulls' 1997-98 season became "The Last Dance," as named by Jackson after it was determined by general manager Jerry Krause that the coach would receive a final one-year contract and be gone at season's end even "if the team went 82-0."
Spoiler alert: The Bulls did not go undefeated that season!
Thus Krause becomes an early villain in the series. "Sometimes, he would love people who really wouldn't love him back," said Bulls owner Jerry Reinsdorf of Krause, who was described as a lovable guy in the first episode.
The much-anticipated Michael Jordan docuseries will be the Super Bowl of the sports shutdown: It also will paint a very human picture of No. 23.
Well, one problem crops up several minutes into the opening episode:
Episode 1 ventures back to Jordan's glory days at North Carolina, including a certain shot that won the NCAA title for the Tar Heels over Patrick Ewing and the Georgetown Hoyas.
Future Lakers Hall of Famer James Worthy, another UNC star, said of Jordan: "I was better than him … for about two weeks."
The underbelly of the late 20th century NBA is mentioned about 35 minutes into Episode 1: cocaine and partying.
Jordan, a rookie, said he knew of the partying but it wasn't something that interested him.
Forty minutes into the first episode all the spectacular highlights arrive from his rookie season.
One West Coast guy and perennial All-Star, Damian Lillard, calls out another, a former Olympian and current NBA referee:
The second episode opens with Scottie Pippen's greatness.
"Whenever they speak Michael Jordan, they should speak Scottie Pippen. … I didn't win without Scottie Pippen," Jordan said in the documentary. "That's why I consider him my best teammate of all time."
Pippen missed the early portion of the 1997-98 season after waiting to have offseason surgery for a toe injury. Some thought he waited in protest because of his low salary.
Without Pippen in the lineup that fall, Jordan took it upon himself to try to motivate the rest of the team to raise their level of play.
The middle part of the second episode digs into Jordan's competitiveness and determination.
"My innate personality is to win at all cost," Jordan said.
Jordan suffered a foot injury during the 1985-86 season and was out of commission for 61 games, returning in time for the end of the season and the playoff.
Secretly he was staying in shape and playing pickup games. Bulls executives found out and there was a lively chat with a supposition about the dangers of not following protocols to prevent a recurrence of the injury.
Asked Reinsdorf of Jordan, "If you had a terrible headache and I gave you a bottle of pills and nine would cure you and one would kill you ..."
Replied Jordan: "It depends on how bad the [expletive] headache is."
Jordan was on a seven-minutes-per-half limit upon his return.
The last part of the episode follows Jordan's amazing games against the top-seeded Boston Celtics in the first round of the playoffs and Pippen's bitterness over his contract situation.
Jordan opened the playoffs with a 49-point effort in a loss. After a round of golf with Celtics guard Danny Ainge, who took some money off Jordan, the Bulls guard had a warning for Boston and premier defender Dennis Johnson: "I got something for him."
That would be a record 63 points in an overtime loss. Boston would sweep the five-game series.
Pippen's bitterness included a request for a trade since he couldn't get a raise, blaming Krause. "Couldn't tolerate him anymore," Pippen said. "I don't see myself carrying on."
"I felt like Scottie was being selfish," Jordan said of the situation toward the end of the second episode.
Here are some other reactions to the debut episodes:
Here is some background on the development of the series:
Get our high school sports newsletter
Prep Rally is devoted to the SoCal high school sports experience, bringing you scores, stories and a behind-the-scenes look at what makes prep sports so popular.
You may occasionally receive promotional content from the Los Angeles Times.