Kyle Anderson could feel at home when UCLA plays at Madison Square Garden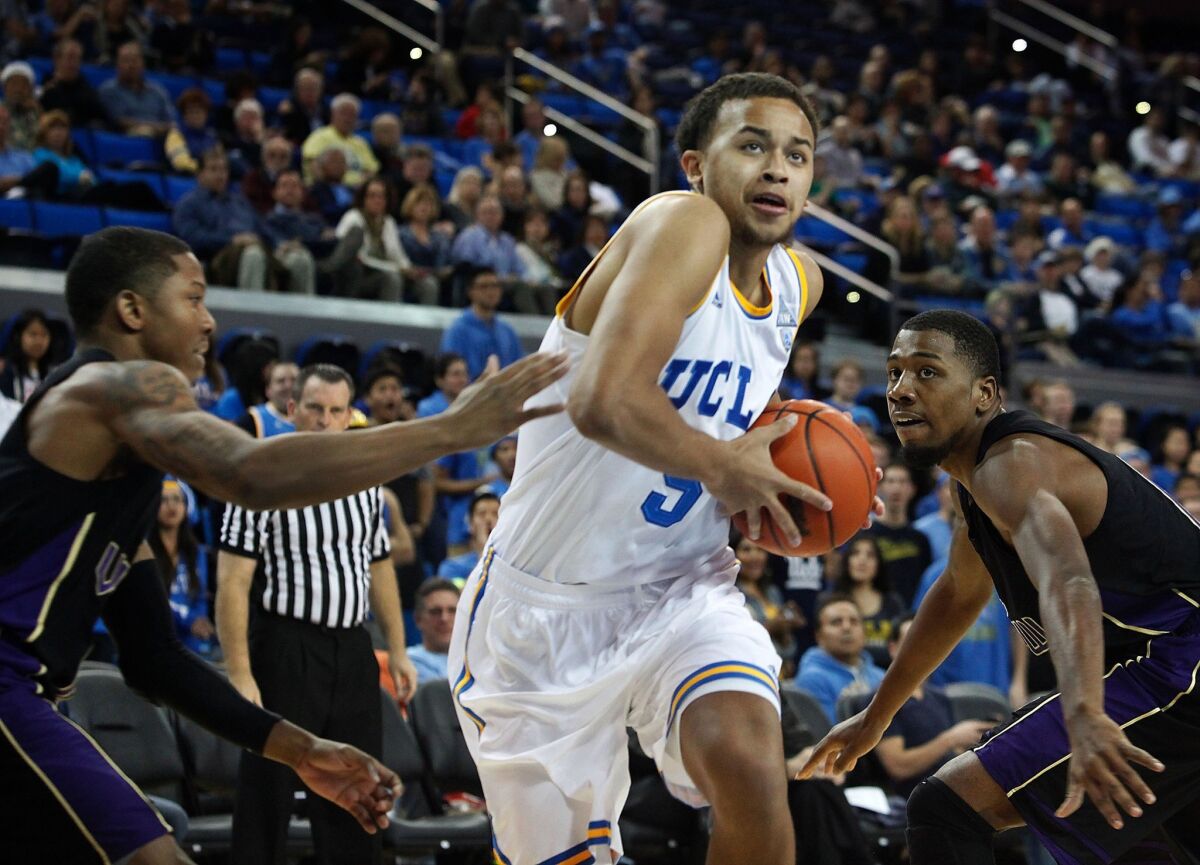 Kyle Anderson is headed home.
Madison Square Garden, where the UCLA basketball team plays a nationally televised game Thursday night against eighth-ranked Duke, is less than a half-an-hour drive from his hometown of Fairview, N.J., and you know what that means.
Yes, his cellphone has been buzzing with ticket requests from family and friends.
He gets only four to distribute, though.
"I don't know who to choose, so it's tough," he said before practice at Pauley Pavilion on Monday, "but I'm sure they'll make it work."
Growing up, Anderson was a regular at the Garden as a spectator, watching high school, college and NBA games at what he called "the epitome of a great basketball environment."
He even played there once, as a boy of 9 or 10 as part of an exhibition at halftime of a New York Knicks game.
Anderson is not only familiar with the venue, but also the opposition. He played against Duke's star freshman, Jabari Parker, on the club basketball circuit.
Their last meeting, Anderson said, was in the championship game of an AAU tournament in Phoenix when his team got the better of Parker's.
"He's always been the best player on the floor. He's dominant," Anderson said. "I love his game. I enjoy watching him."
Parker leads Duke with averages of 22 points and 7.6 rebounds. Anderson hasn't been a slouch, either. He is averaging as close to a triple-double per game as any player in the nation: 13.8 points, 8.7 rebounds and 6.7 assists.
Without a hitch
Anderson, a 6-foot-9 sophomore, played a lot of forward last season. Now he's back at point guard, his natural position.
"We knew from day one we wanted him at the point guard position because he gave us something that few people in the country have, and that's someone who's 6-9, and you're going to have to prepare for a 6-9 point guard," said Steve Alford, UCLA's first-year coach. "We can post him. We can get an awful lot out of him. He sees over people; he's a great passer."
Anderson has also found an outside shooting touch — he's nine for 15 from three-point range — with some help from his coach, who was a pretty good jump shooter in his day.
Alford noted something of a hitch in Anderson's form, and they've been working on streamlining his shot into one fluid motion.
"That's why he's shooting it better, and that's why he's got a lot of confidence right now," Alford said.
Anderson said a lot of what Alford told him he'd heard before — from his father.
"But I never listened to him," Anderson said, jokingly, "so it's great to have someone else tell me."
This is only a test
Although Thursday counts only as a nonconference game, Duke (8-2) provides an early-season barometer on the Bruins' progress under Alford.
UCLA (9-1) has been tested once, a game at now-24th-ranked Missouri 10 days ago, and the Bruins failed, folding in the last 10 minutes of an 80-71 loss.
The problem in that game was defense, and Alford said his team still needs to "mature" and become "tougher- minded" when it comes to making stops.
UCLA's offense is just fine. The Bruins are third in the nation in scoring and shooting percentage, averaging 89.1 points on 54.3% shooting. UCLA is also third in assists-to-turnover ratio, 18.9 to 10.2 per game.
Twitter: @MikeHiserman
Get the latest on L.A.'s teams in the daily Sports Report newsletter.
You may occasionally receive promotional content from the Los Angeles Times.