UCLA battles past South Florida to reach Sweet 16 for first time since 1999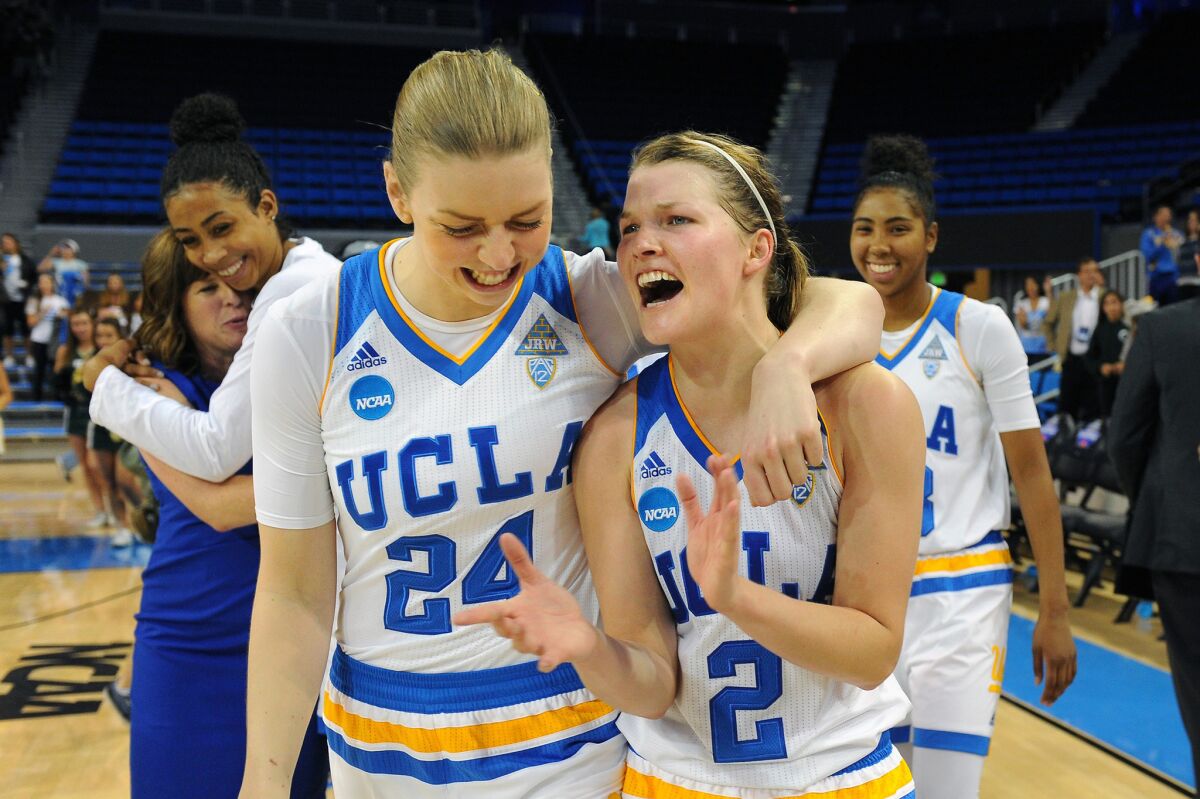 It took 17 years, peppered with five sub-.500 seasons and two coaching changes, but the UCLA women's basketball team is back in the third round of the NCAA tournament for the first time since 1999.
Playing their second home game in the Bridgeport Regional, the third-seeded Bruins survived a disastrous third quarter Monday to beat sixth-seeded South Florida, 72-67.
"It feels like the next step in our development of building a sustained, championship-level program," Coach Cori Close said. "That's what we're trying to do here. Not just one good team, but to have sustained excellence over an extended period of time."
As in their first-round win over Hawaii, the Bruins (26-8) weren't particularly sharp offensively. But they're moving on to the round of 16 because of a 23-11 second quarter and some clutch free throws in the closing moments.
Four Bruins scored in double figures — sophomore guard Jordin Canada had 19 points, senior guard Nirra Fields put up 14, junior guard Kari Korver scored 12, and sophomore forward Monique Billings had 11 points and 10 rebounds. Only four South Florida players scored in the game, led by senior guard Courtney Williams (29 points) and senior forward Alisia Jenkins (23).
The theme on Monday was normally consistent players shooting poorly for long stretches, interspersed with much-needed baskets by both teams. Canada was six for 18 from the field, but five of her baskets (in seven attempts) came in the fourth quarter. After the one-for-11 start she put up 17 points in the final period.
"My coaches just told me to stay focused on the process," Canada said. "Everybody is going to have a bad shooting night, it doesn't matter. You just have to get over that and keep shooting, be confident that you're going to make it. Once I got that first shot and I made it, I got a flow going."
For South Florida (24-10), the same could be said for Williams. She missed her first eight shots and was just three for 15 in the first half.
But then she exploded for 23 points in the second half.
Even so, Close was pleased with how Fields, who was assigned the matchup against Williams, competed defensively for the full 40 minutes.
"[She] forced her to shoot the ball 32 times to get those 29 points," Close said. "That's the part that shows her incredible stamina. One of the things I told Nirra in the locker room is she came to us really defining herself as a scorer. She has broadened her game to do so much more. Tonight, we just needed her to be a defensive stopper. . . . She stepped up and did that."
The Bruins jumped to a 7-0 lead, and midway through the second quarter it was looking like a blowout in the making. UCLA led, 40-24, at halftime.
But the Bulls began the second half with 9-0 run and went on to outscore UCLA, 23-10, in the third quarter.
South Florida got as close as one point in the fourth quarter, but never caught up. Canada made six of six free-throw attempts in the last 30 seconds to keep the Bulls at bay.
Next up for the Bruins is second-seeded Texas, which won its first two tournament games by an average of 31 points. Last season, UCLA lost to the Longhorns, 75-65.
sports@latimes.com
---
Get the latest on L.A.'s teams in the daily Sports Report newsletter.
You may occasionally receive promotional content from the Los Angeles Times.