Defense is missing for Bruins in second half of loss to Oregon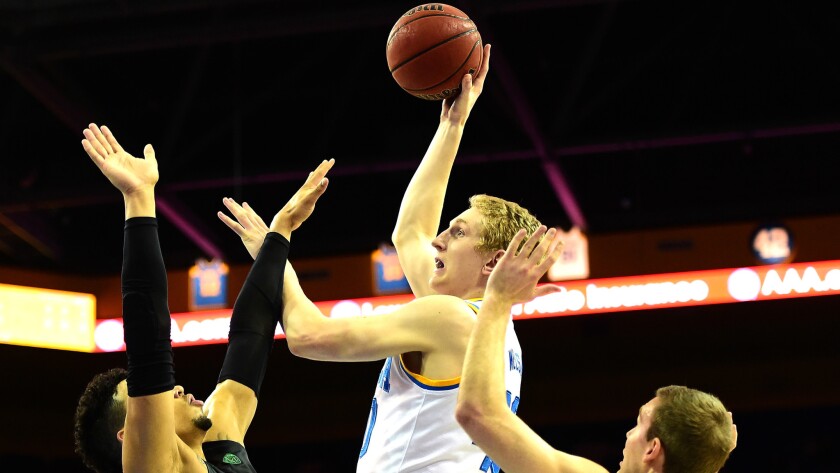 After another loss to a conference opponent, UCLA senior Tony Parker admits he sounds like a broken record.
At this point, he's not sure what else there is to say. After all, Wednesday night's matchup against the No. 9 Oregon Ducks was the eighth consecutive game that the Bruins failed to eclipse the 80-point mark.
Down the stretch, UCLA couldn't secure defensive rebounds and committed costly turnovers in what was ultimately a 76-68 defeat at Pauley Pavilion.
"Second half, we didn't guard well," Parker said. "We've got to pick it up. They got second shots and we should've never given them second shots. That's really the biggest key to winning, especially in March."
There were glimmers of hope for UCLA (15-15, 6-11 in the Pac-12), especially during the 14 consecutive minutes they held a lead.
Early on, the Bruins confounded Oregon (24-6, 13-4) with a trapping zone defense, forcing the Ducks into chucking from the perimeter. During a six-minute stretch in the first half, eight of Oregon's nine attempts were from beyond the arc. That worked in UCLA's favor, because Oregon was just three for 13 on three-pointers heading into the break.
Still, UCLA's advantage looked fragile even when it ballooned to double digits. The Ducks began to poke holes in the zone, and jumped from 35.7% shooting in the first half to 54.8% in the second.
After junior guard Isaac Hamilton converted a reverse layup and a free throw to put UCLA up by seven, Oregon ripped off a 7-0 run to tie it at 48 with a little more than 13 minutes remaining.
"I think they've been the best team in our league all year," UCLA Coach Steve Alford said. "They proved it again in the second half. They did a lot of good things in the second half. The difference was in the free-throw line — they beat us by 10 at the line — and they beat us bad in the second half on the boards."
Five Oregon players accumulated at least five rebounds, led by Tyler Dorsey's all-around effort of 20 points and nine rebounds.
UCLA threatened to stick around in the deciding moments with consecutive three-pointers by junior guard Bryce Alford (16 points), but the Ducks responded with offensive rebounds on separate possessions that led to four points, plus a three-pointer from Dillon Brooks (15 points) to put the game out of reach.
"Dillon Brooks, who I think might be player of the year in this league, wasn't having the best game, but he came up big late," Steve Alford said. "I thought that [shot] was huge."
Parker (18 points on eight-for-10 shooting) was a man possessed at the start of the game. He had UCLA's first nine points with an array of impressive post moves. But he picked up two quick fouls, sending him to the bench less than five minutes in. He wasn't alone in that department — fellow starters Jonah Bolden and Aaron Holiday were also whistled for two quick personals, and Holiday would eventually foul out.
The loss means the Bruins will open the Pac-12 tournament no higher than the 10th seed. The Ducks clinched at least a share of the Pac-12 regular-season title.
"When you lose, you feel terrible, it messes up your whole night," Parker said.
---
Get the latest on L.A.'s teams in the daily Sports Report newsletter.
You may occasionally receive promotional content from the Los Angeles Times.