Column: UCLA simply got outplayed in its play-in game
Reporting from Dayton, Ohio —
The UCLA pep band didn't show up. Only a couple of dozen UCLA fans showed up.
On a snowy night on the outskirts of the NCAA tournament, it seemed like few Bruins folks were even remotely interested in UCLA's play-in game against St. Bonaventure.
This apparently included the players.
They didn't show up either.
The Bruins' journey into March Madness lasted exactly 40 minutes worth of March Badness. At the first strains of the Big Dance, they tripped on their shiny shoes and landed on their scrubbed faces. Forced to play their way into the tournament for the first time in program history, they played their way into next November with one of the worst tournament losses in program history.
The final score was St. Bonaventure 65, UCLA 58, and while that might look respectable, don't be fooled. It could have been worse. It would have been much worse.
The Bruins lost dribbles, lost passes and seemingly lost their minds while committing 20 turnovers that resulted in 30 Bonnies points.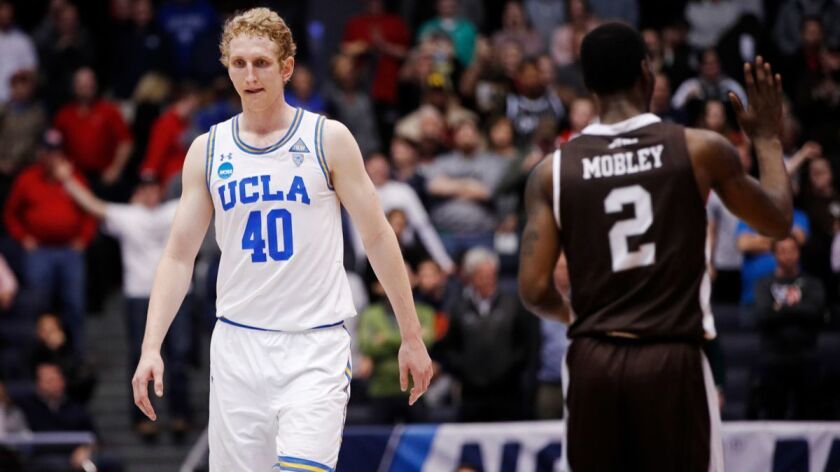 The Bruins were outhustled for seemingly every loose ball, outshoved in nearly every physical encounter, and outplayed even after the final buzzer.
As UCLA walked slowly off the University of Dayton court, a couple of Bonnies celebrated their first NCAA tournament win in 48 years by actually doing choreographed dance steps amid a gleeful midcourt party.
Even the venerable Dayton arena, which has hosted more NCAA tournament games than any other gym, pounded all night on the Bruins. The place was filled with St. Bonaventure fans who made the six-hour drive from the 2,000-student campus located in southwestern New York. They booed UCLA's every move and roared with the Bonnies' every success. It was all so intense, it was surprising that afterward, they didn't become the first NCAA tournament crowd to storm the court.
"It felt like the Reilly Center all over again,'' said St. Bonaventure coach Mark Schmidt, referring to the Bonnies' home court. "And we just beat UCLA. How much prouder can I be?"
The depth of his pride was matched by the Bruins' disappointment, particularly since, as bad as they played, it was still 58-all with 1:11 remaining before they handed it back to the Bonnies for good.
"You know, it sucks," said the Bruins' Kris Wilkes. "It's hard. It's hard to believe."
The Bruins' downfall was actually epitomized with the gifted freshman Wilkes, who was late for a team bus on Monday's hasty journey here and benched for the game's first five minutes.
"My phone was dead, I didn't wake up in time, and that really hurt us," acknowledged Wilkes.
It was almost as if the entire Bruins mojo was dead and didn't wake up in time, and that normally doesn't happen to this program in this month.
When it does, it becomes a dark part of UCLA history, and so this now joins a short list of other maddening tourney upset losses.
This was Tulsa in 1994. This was Princeton in 1996. This was Detroit Mercy in 1999. This is also the first time in coach Steve Alford's four UCLA tournament appearances that his team didn't advance to the Sweet 16.
As with Jim Harrick and Steve Lavin in past early tourney exits, Alford will bear the brunt of the blame for this one. His team never adjusted to St. Bonaventure's zone. His team just didn't seem ready to play. That's on him.
He's done enough in five years, and has recruited well enough for next year, to survive what surely will be calls for his firing. But make no mistake, his career at UCLA will not survive another tournament game like this one.
"Unfortunately in March, there's a finality to it, and we've reached our finality today," Alford said.
Fill out and print your NCAA tournament bracket »
Nowhere was that finality more evident than on the finally sagging shoulders of guard Aaron Holiday, a junior probably playing his last UCLA game before entering the NBA, a guy who had carried the Bruins throughout this shorthanded season.
In the end, he tried to do too much, tried to drive into too much traffic and make too many impossible passes, and he finally succumbed to the weight of it all. He scored 20 points, but committed 10 turnovers, and finally fouled out in the final seconds while throwing elbows and glares.
You know that 58-all tie? The Bonnies scored the last seven points after Holiday committed three turnovers and a foul in that span.
"They were grabbing me, so I used my arm to get them off me,'' Holiday said.
It seemed like the Bruins spent the entire night backed against the ropes and covering up against a team that just kept coming.
"This hit us hard,'' said Wilkes.
Thomas Welsh could have dominated the smaller Bonnies inside, but he was shut down by a swarming zone defense and wound up with just two points. Fellow big man Gyorgy Goloman took just one shot. Freshman Jaylen Hands had two turnovers and one basket.
"We played hard, we just didn't play smart at times,'' said Wilkes. "I don't know if we weren't prepared, it was just a tough loss all around.''
One theory is that the Bruins just didn't want to be here. After all, they finished the season strong, pushed Pac-12 champ Arizona into overtime in the Pac-12 tournament, and expected to be seeded in the regular tourney beginning Thursday or Friday.
They were surprised to be sent to a play-in game, and seemingly unprepared for the quick turnaround it required.
"They know this is the tournament,'' said Alford, discounting that theory. "They had a very serious approach.''
Another theory is that, after losing three players in the China shoplifting incident at the beginning of the season, the Bruins finally just wore down. That theory would be supported by the eventual pained and weary stumbles by Holiday and Welsh.
Five top recruits join the Bruins next season, the third-ranked class in the country, and they'll be needing every one of them.
"We had to ask a lot out of [Holiday],'' said Alford. "We had to ask a lot out of Tom. We didn't have that depth.''
In the end, they just didn't have much of anything, the game actually turning with seven minutes remaining, when UCLA blew its last lead in a series of plays fitting for this night: a Chris Smith air ball, a bad pass by Hands, and a bad pass by Prince Ali. They looked up and a 51-49 edge was a 58-51 deficit, and they never recovered.
"It's still hard for me to wrap my head around it," said Wilkes.
Join the club.
Get more of Bill Plaschke's work and follow him on Twitter @BillPlaschke
---
Get the latest on L.A.'s teams in the daily Sports Report newsletter.
You may occasionally receive promotional content from the Los Angeles Times.