UCLA guard Japreece Dean has Bruins playing unified as UConn awaits in Sweet 16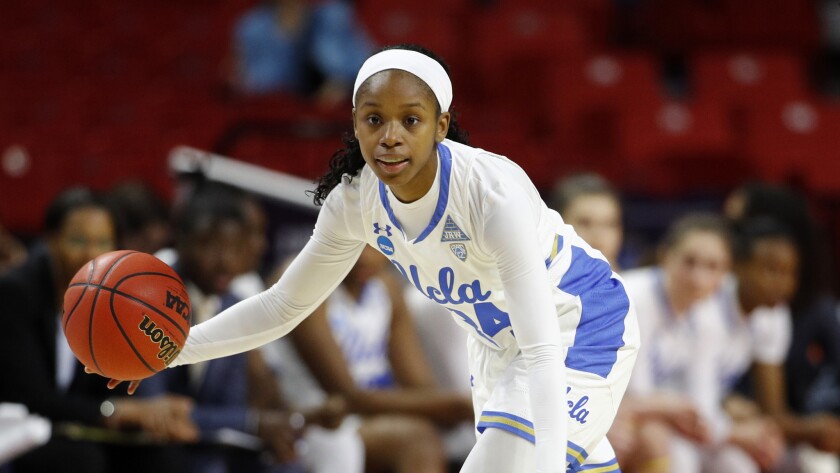 Reporting from Albany, N.Y. —
Even as she jogged off the court and planted her feet on the blue strip of sideline under the basket, Japreece Dean was anything but quiet.
Dean shouted advice to her UCLA women's basketball teammates during a drill at the start of practice Thursday, punctuating her words by clapping her hands. When it was her turn, Dean shuffled across the court on the balls of her feet. She communicated her position, called for the pass, then swished another jumper.
"Get big," coach Cori Close, wearing a playful grin, called to the 5-foot-6 Dean.
Once Dean finished, Close tapped her with a folded sheet of paper. "Great job, Japreece," she said. "Great talk."
Dean smiled back. Earlier in the day, Close said communication contributed to the consistency of No. 2-seeded Connecticut, the Bruins' opponent Friday in the Sweet 16. It is also an essential aspect of Dean's role as point guard — to direct plays, to lead. She is averaging 14.1 points and 4.9 assists per game, but Close deemed leadership one of Dean's greatest areas of growth this season.
The Bruins reached the Sweet 16 for the fourth straight year after losing their top two scorers, point guard Jordin Canada and forward Monique Billings. UCLA started the season 3-5 but eventually found a new identity — one that relies on team cohesion — bolstered by leaders such as Dean, a junior.
Dean has drained multiple three-point shots in both of UCLA's NCAA tournament games, after sinking a school-record 40 consecutive free throws this season. She has scored in double-digits in four consecutive games and has at least five assists in the last six games.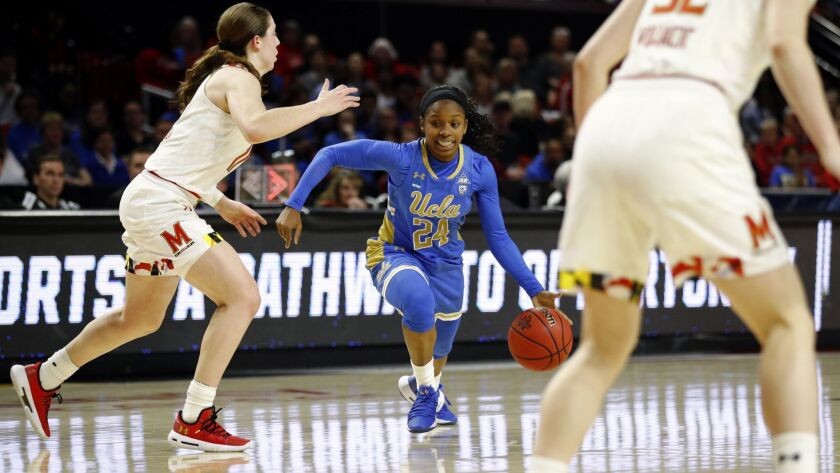 "When I watch them play," Connecticut coach Geno Auriemma said, "their point guard right now looks a lot like Jordin Canada."
The comparison to Canada, the No. 5 pick in the 2018 WNBA draft who won a league championship in her first season with the Seattle Storm, emerged as Dean's leadership role for the Bruins became obvious and UCLA's success grew.
Dean regularly talks with Canada, but as Close noted at the start of the NCAA tournament, Dean is not filling anyone else's shoes. She is not another Canada.
"That's not my name," Dean told the Daily Bruin before UCLA's second-round win against Maryland. "My name is Japreece, and we're different."
Said Close: "She's trying to create her own journey. … That's what I really admire."
Sign up for our daily sports newsletter »
Dean averaged 7.7 points per game for the Bruins last season after sitting out the first nine games to meet transfer requirements pertaining to her move from Texas Tech. During an offseason of training at UCLA, she watched NBA players practice at UCLA and shot on her own, plus anything she could do to grow her basketball IQ and prepare for the season ahead.
"My goals?" Dean asked. She bulged her eyes as she sat in front of her wooden locker inside the Times Union Center here, after a practice. Gazing down to the right, she released a puff of air. "I don't know," she said, "I think I had pretty big goals."
To improve, she sought input from Close, who assigned a challenge to Dean every time they met. Take one teammate out to a meal, another to shoot in the gym. Use quality time and handwritten notes to connect.
"I think she knew …" Dean said, "that I wanted to be a better leader."
Through UCLA's rocky start, Dean did not see the results she wanted. So she turned inward, embracing her responsibility as a role model.
"Trying to figure out, 'OK, how can I help the team?'" Dean said. "And how can we move on to win games?"
The turning point for UCLA, Close said, came during a January trip to Arizona. It ended with an overtime win over Arizona and started with Dean, dribbling as she approached the arc against then-No. 16 Arizona State. With fewer than 10 seconds to play, she juked to the right and stepped back to swish the game-winner.
"This is what we've been looking for," Dean said during a post-game interview with Pac-12 Network.
She has since scored a career-high 28 points against California on Feb. 17, one of nine 20-point games she has posted this season while providing direction to a UCLA squad that has once again earned a place among the top 16 teams in the NCAA tournament.
"It's really fun to coach somebody with that much passion for the game …" Close said. "It's so fun for me to have her passion even exceed mine."
---
Get the latest on L.A.'s teams in the daily Sports Report newsletter.
You may occasionally receive promotional content from the Los Angeles Times.