Chip Kelly leads UCLA to his first nonconference win
Chip Kelly finally did it. He won a nonconference game at UCLA.
It took four seasons and seven tries, but there was no doubt Saturday afternoon that the Bruins were the far superior team at the Rose Bowl.
UCLA's 44-10 victory over Hawaii also gave Kelly his first victory in a season opener with the Bruins and may have heralded that this team is capable of far greater things than a rout over a Mountain West Conference opponent.
Kelly's nonconference record had been such a sore spot with UCLA fans that it could be rattled off at a moment's notice: He had gone 0-6, including 0-4 against Group of Five opponents.
No more.
UCLA dominated in every facet Saturday. Running backs Zach Charbonnet and Brittain Brown combined for 184 yards and four touchdowns, an attacking defense held the Rainbow Warriors without a touchdown until late in the third quarter, and the Bruins' special teams blocked a punt for a touchdown.
Skeptics screaming "It's just Hawaii!" should get some answers as to the Bruins' potency in just a week. No. 16 Louisiana State and its throng of fans will visit the Rose Bowl on Sept. 4, providing more definitive clues whether UCLA will be a player on the national stage, or what happened Saturday was just a Hawaiian dream.
The announced attendance of 32,982 was the second lowest for a UCLA game at the Rose Bowl, topping only a crowd of 32,513 against Oregon State in November 1992.
Dorian Thompson-Robinson shines in third quarter
Hey, don't forget about me!
It had been a struggle of a first half for UCLA's Dorian Thompson-Robinson, who completed four of 12 passes and could have hospitalized himself when he was upended while trying to hurdle a defender.
The senior quarterback put all of that ugliness in the rearview mirror on the opening drive of the third quarter against Hawaii on Saturday at the Rose Bowl.
Thompson-Robinson completed all four of his passes, including a 44-yard touchdown strike to Kazmeir Allen after Allen caught the ball around the eight-yard line and ran into the end zone.
UCLA's Ale Kaho added to the excitement a few minutes later when he blocked a punt and teammate David Priebe pounced on the ball in the end zone for a touchdown that put the Bruins ahead, 44-3.
UCLA is well on the way to its first nonconference victory of the Chip Kelly era, taking a 44-10 lead into the fourth quarter after Hawaii scored its first touchdown late in the third quarter on a one-yard pass from Chad Cordeiro to Caleb Phillips.
With UCLA well on its way to its first season-opening victory under Kelly, Thompson-Robinson gave way to backup Ethan Garbers late in the third quarter. Thompson-Robinson completed 10 of 20 passes for 130 yards and a touchdown, avoiding a turnover after having struggled in that department in previous season openers. The quarterback had four turnovers in a loss to Cincinnati in 2019 and two turnovers in a loss to Colorado in 2020.
Zach Charbonnet racks up 106 rushing yards and 3 TDs on six carries in first half
Zach Charbonnet, ladies and gentlemen.
The Michigan transfer and Southern California native made a grand entrance in his UCLA debut Saturday at the Rose Bowl, helping his new team take a 31-3 halftime lead over Hawaii. Charbonnet rolled up 106 rushing by early in the second quarter on just six carries, three of which went for touchdowns.
A former standout at Oaks Christian High in Westlake Village, Charbonnet juked a couple of defenders on his second 21-yard touchdown run of the game, which put the Bruins up by 28 points early in the second quarter.
Charbonnet's first touchdown came after he burst untouched through a huge hole up the middle for 21 yards in the first quarter, his most difficult challenge eluding an official in his way. His second touchdown came on a 47-yard run in which he broke five tackles, including two from the same defender.
Charbonnet did not get another carry in the second quarter after his third touchdown. He was averaging 17.7 yards per carry to that point.
Fellow UCLA running back Brittain Brown complemented Chabonnet with 76 yards and a touchdown in 12 carries.
UCLA's defense was also stout, defensive back Mo Osling III breaking up a fourth-down pass in the corner of the end zone late in the second quarter to give the ball back to the Bruins.
Fans who made their return to the Rose Bowl after a 637-day absence cheered the Bruins on their way toward the locker room after they outgained Hawaii, 248-147, in total yardage.
UCLA dominates Hawaii in first quarter
It's gotta be the visor, right?
Chip Kelly broke out a visor for the first time in his four seasons at UCLA and his Bruins began to resemble some of Kelly's overpowering predecessors at Oregon, where he popularized the same headwear.
The Bruins' running game was potent and its defense continually stuffed Hawaii, helping UCLA take a 24-3 lead at the end of the first quarter on Saturday in both teams' season opener at the Rose Bowl.
UCLA defensive lineman Datona Jackson made the best defensive play of the game's early going, reaching out with his right hand and snagging a pass before pulling it in for an interception that he returned to the Hawaii nine-yard line.
Four plays later, Brittain Brown ran into the end zone for a one-yard touchdown that gave UCLA a 17-0 lead.
Brown and fellow running back Zach Charbonnet were the big story on offense, with Brown gaining 48 yards in seven carries with a touchdown and Charbonnet collecting 81 yards in four carries with two touchdowns.
Charbonnet's first touchdown came after he burst untouched through a huge hole up the middle for a 21 yards. His second came on a 47-yard run in which he broke five tackles, including two from the same defender.
Hawaii committed a huge blunder at the end of its first drive when punter Matthew Shipley's knee touched the ground as he received the snap, giving UCLA the ball at the Rainbow Warriors' 15-yard line.
The Bruins went for a touchdown on the next play, receiver Kyle Philips running open toward the corner of the end zone. But UCLA quarterback Dorian Thompson-Robinson overthrew his intended target. A short run by Thompson-Robinson and another incomplete pass later, the Bruins had to settle for Nicholas Barr-Mira's 27-yard field goal for the game's first points.
Tailgating returns to the Rose Bowl after COVID disruption
Will Chip Kelly finally get his first nonconference win? We're about to find out
Can Chip Kelly finally do it? Can he win a nonconference game at UCLA?
An answer is only several hours away as the Bruins prepare to face Hawaii on Saturday afternoon in their home opener at the Rose Bowl.
Kelly's nonconference record has been such a sore spot with UCLA fans that it can be rattled off at a moment's notice: He's gone 0-6, including 0-4 against Group of Five opponents.
All that could change in a game that the Bruins entered as 18-point favorites on a warm, sunny day. UCLA quarterback Dorian Thompson-Robinson said in the days leading up to the game that the team had built "something special."
Everybody will know soon enough.
Fans who returned to the Rose Bowl for the first time since November 2019 were treated to stadium-wide beer and wine sales for the first time since 1989. They were also greeted by giant blue and gold tarps covering seats in the upper reaches of one end zone and spelling UCLA in block letters, a tipoff that a relatively small crowd was expected.
UCLA announces changes to schedules for 2024, 2027 and 2031 seasons
UCLA announced several changes to its future football schedules Thursday, starting with a heavily anticipated road game against Louisiana State in 2024.
The Bruins agreed to push back their game against the Tigers that was originally scheduled for Aug. 31, 2024, in Baton Rouge, La., to an open date on Sept. 21 so that LSU could open that season against USC at Allegiant Stadium in Las Vegas. A UCLA athletic department spokesperson said the Tigers did not have to pay a penalty for shifting the date of their game against the Bruins.
UCLA will now open the 2024 season at Hawaii on Aug. 31, completing its efforts to reschedule a 2020 game between the teams that was canceled because of the pandemic. The Bruins' other nonconference game in 2024 will come against Fresno State on Sept. 14 at the Rose Bowl after UCLA moved a game that had been scheduled against Nevada Las Vegas back to Sept. 6, 2031.
Additionally, UCLA announced that it would play at Hawaii on Sept. 18, 2027, before the Rainbow Warriors come to the Rose Bowl on Sept. 9, 2028.
UCLA's Matt Sykes, a high school star in Honolulu, to face familiar foes this week
Matt Sykes didn't get his Hawaiian homecoming, but he'll be feeling the aloha spirit when UCLA opens its season at the Rose Bowl.
He'll be surrounded by lifelong friends from his home state.
The sophomore wide receiver who once starred at Saint Louis High in Honolulu will be reunited with Crusaders teammate Koali Nishigaya, among other alumni of his alma mater, when the Rainbow Warriors face the Bruins on Saturday. Sykes said earlier this week that he had texted Nishigaya in advance of the game.
"It's been exciting having Hawaii on the schedule for the first game," Sykes said, "because I know a ton of my friends from high school playing there."
Hawaii quarterback Chevan Cordeiro is among the other Saint Louis graduates who play for the Rainbow Warriors.
"Chevan's the man, he's got wheels, he's got everything it takes to be a great QB, so I know he's gonna do well against us," Sykes said of the dual-threat quarterback who was an All-Mountain West Conference honorable mention selection last season. "Of course, I hope we win. But I'm still supporting him, supporting my hometown boys, for sure."
Sykes, who caught three passes for 24 yards last season, said he grew up a fan of the Rainbow Warriors and attended a few games at Aloha Stadium in Honolulu. He would have gotten to play there in his first season at UCLA had the pandemic not forced the cancellation of the Bruins' 2020 season opener against Hawaii.
His consolation prize arrives Saturday when his friends visit his new home.
Etc.
Redshirt sophomore running back Christian Grubb, who has been sidelined since tearing his Achilles' during track season in the spring, tweeted this week that he was making progress in his recovery.
"When I had surgery in April, all I could think of was FB in 2021 wasn't going to happen for me," Grubb wrote. "Today, 4 months post surgery, I was back at the UCLA FB and it felt great. I have several months of rehab to go. Just a little set back for a big come back."
A former CIF Southern Section Division 3 champion sprinter in the 100 and 200 meters, Grubb has not appeared in a game for the Bruins.
Living in the moment may be just what UCLA's Chip Kelly needs in his now-or-never season
Three seasons, 31 games and 1,372 days after he was hired, Chip Kelly may be on the verge of a first at UCLA.
His first nonconference victory.
Las Vegas oddsmakers have made the Bruins 18-point favorites to beat Hawaii in their season opener Saturday at the Rose Bowl, suggesting that Kelly will finally break through after a litany of losses. He's gone 0-6 in nonconference games, including 0-4 against Group of Five opponents, before his team played exclusively a Pac-12 Conference schedule in 2020.
In what might be a more telling assessment of the strength of Kelly's team, UCLA is only a four-point underdog against No. 16 Louisiana State on Sept. 4.
The coach who guided Oregon to national prominence only to commence a 10-21 nosedive at UCLA might be forgiven for his early stumbles in Westwood if the Bruins can start 2-0, portending the kind of dizzying success that was expected upon his hiring in November 2017.
UCLA players looking forward to finally playing in front of home crowd
As he often does, Qwuantrezz Knight found himself in the middle of things Tuesday morning.
The UCLA defensive back known for breaking into spontaneous song broke a huddle of teammates and classmates from the Den student group who had come to watch practice.
"One, two, three, family," Knight said, with everyone saying the final word in unison.
On Saturday, Knight finally will be surrounded by a much bigger throng of his Bruins brood.
Fans and students will be permitted inside the Rose Bowl for the first time since November 2019 when UCLA opens the season against Hawaii. It will represent the first time many players such as Knight, a graduate transfer from Kent State, will have played before home fans as a Bruin.
Pac-12, Big 10 and ACC commissioners seek stability in the college sports landscape, but will their alliance bring long-awaited change or just more or of the same?
"This is about to be amazing for us," Knight said.
Though Knight can provide energy with his effervescent personality, getting his teammates to smile with a joke or to bop to one of his ditties, he's eager to let someone else provide the jolt for a change.
"Definitely I'm a player that would love hearing that crowd noise out there," Knight said. "Just to hear the fans when you're making plays, it makes you want to go make the next play even more."
Edge rusher Mitchell Agude, a transfer from Riverside Community College who is beginning his second season with the Bruins, smiled broadly when asked about what it might feel like to experience fans inside the Rose Bowl for the first time.
"Electric," Agude said. "That's all I've got to say. … It's going to be crazy because I come from the juco side that never had like a lot of fans in the stadium, but it's going to be a blessing see all those fans coming out to play."
UCLA is hoping an infusion of experienced transfers and more time with the Bruins' defensive coordinator will help them stop Hawaii dual-threat quarterback Chevan Cordeiro.
The members of the Den who attended Tuesday's practiced posed with coach Chip Kelly for a photo before heading inside the Wasserman Center to watch from a balcony overlooking the practice field, where they were greeted by athletic director Martin Jarmond.
Their presence was a reminder that UCLA players and coaches aren't the only ones who care whether they win or lose.
"We're not just playing for ourselves," Agude said, "we're playing for all of L.A."
UCLA's first depth chart reveals a few surprises
UCLA released its first official depth chart of the season on Monday evening, with a few mild surprises.
If the depth chart holds up Saturday when the Bruins play Hawaii at the Rose Bowl in their season opener, transfer Cam Johnson will supplant Jay Shaw as one of the starting cornerbacks. Shaw, who started all seven games last season, is not listed on the two-deep, with freshman Devin Kirkwood listed as Johnson's backup.
Obi Eboh is listed as the other starting cornerback, over Mo Osling III, after the two split starting duties last season, with Osling starting the final two games.
As expected, Jon Gaines II is listed as the starting center as Sam Marrazzo continues to work his way back from an undisclosed injury that has slowed him since spring practice. Marrazzo practiced Monday and would be evaluated as the week unfolded, coach Chip Kelly said, though he did not appear on the depth chart; redshirt freshman Bruno Fina was listed as Gaines' backup.
Washington transfer Ethan Garbers has overtaken Chase Griffin as the top backup quarterback after a strong showing upon his arrival on campus. Griffin started two games last season and played admirably while starter Dorian Thompson-Robinson was in the COVID-19 contact tracing protocol.
Bo Calvert's move to outside linebacker will result in a starting spot at inside linebacker for Jordan Genmark Heath, the transfer from Notre Dame, alongside Caleb Johnson.
Former running back Kazmeir Allen is listed as a reserve receiver, behind Texas A&M transfer Kam Brown.
UCLA hoping high schoolers will help them crowd out LSU faithful at Rose Bowl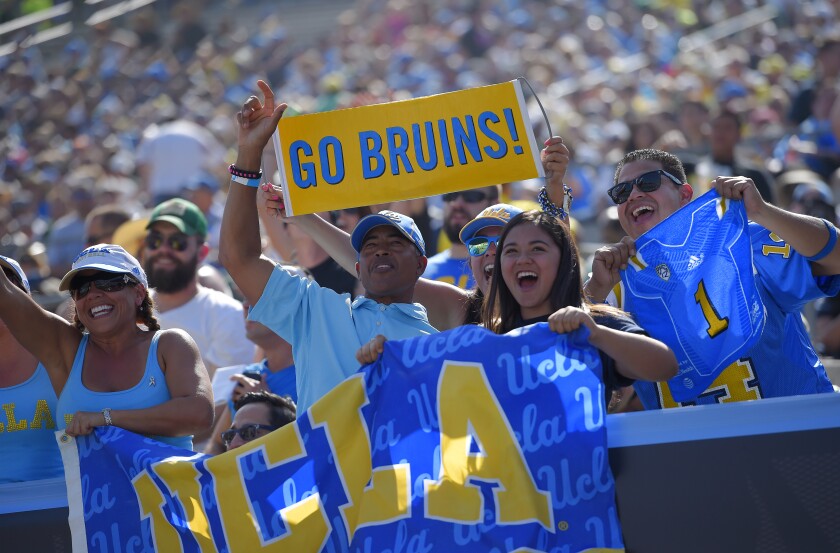 UCLA has intensified its efforts to fill the Rose Bowl and offset the expected throng of visiting fans when No. 16 Louisiana State plays the Bruins on Sept. 4, offering free tickets to high school students in Southern California.
Each high school student with valid identification can get one free ticket while purchasing up to eight guest tickets at $30 each, based on availability.
UCLA's Den student group had previously announced that students could attend the game for free and those who had already purchased a Den pass could bring a friend for a complimentary ticket.
As of Monday afternoon, the cheapest available tickets on UCLA's website were going for $115 each, plus an additional $10.25 fee per ticket.
A UCLA athletic department official declined to provide sales figures for the game, citing "competitive reasons." An LSU official said his school had sold 12,000 tickets for the game and anticipated around 20,000 Tigers fans in attendance.
UCLA is hoping an infusion of experienced transfers and more time with the Bruins' defensive coordinator will help them stop Hawaii dual-threat quarterback Chevan Cordeiro.
In recent seasons before the pandemic prevented fans from attending in 2020, fans of college football powers Oklahoma and Texas A&M have matched, if not outnumbered, their UCLA counterparts at the Rose Bowl.
Previous efforts to boost attendance have largely fallen flat. UCLA provided four complimentary tickets to season-ticket holders for a game against Oklahoma in 2019. The school distributed over 75,000 tickets before announcing a crowd of 52,578 that featured heavy pockets of crimson and cream.
UCLA drew an average of 43,849 fans that season, the lowest on record since moving into the Rose Bowl for the 1982 season.
Asked Monday about his efforts to connect with fans, Bruins coach Chip Kelly said he attended booster events when requested to do so.
"I go to whatever they ask me to go to here, so I'm not in charge of the scheduling of that," Kelly said. "That's all coordinated through the athletic department. We just had a nice kickoff dinner the other night that was good because it was the first chance we had to be around fans since two years ago."
UCLA to require fans to wear face masks at season opener Saturday
UCLA outlined its COVID-19 protocols for the opener against Hawaii on Saturday at the Rose Bowl, requiring that all fans age 2 and older, regardless of vaccination status, wear a face covering except when actively eating or drinking.
A spokesperson for the Pasadena Public Health Department said it was also highly recommended to wear masks while tailgating because of the likelihood of interacting with nearby tailgaters.
There is no vaccination requirement for fans, but public health officials strongly recommended either vaccination or obtaining a negative COVID test prior to attendance.
Heavily trafficked and touched areas are expected to be routinely cleaned and sanitized during the event, and handwashing and sanitizing stations will be available throughout the stadium.